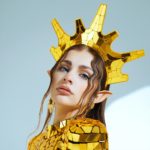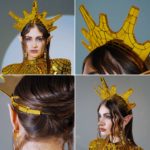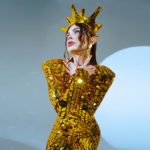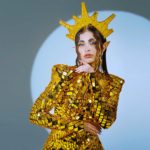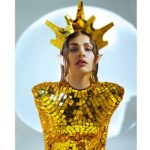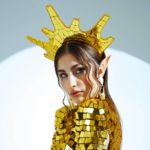 OVERVIEW:
A Gold Mirror crown has been designed for event agencies and individual performers like dancers, animation artists, or singers.
It will look great at festivals, concerts, and photoshoots, in nightclubs, casinos.
⚠️ ADVANTAGES:
– Light up your show with color effects on your mirror crown.
– The crown is unisize, so it can be worn by different people.
– Your hands are free so you are not limited by complicated construction and can move freely.
– Mirror crown can be personalized up to your needs: shape and size, the color of mirror.
 HOW TO GET IT:
1. Choose the design of your future gold mirror crown (color, shape, and pattern) + additional modifications for a personalized version if necessary.
2. Send a request and get a sketch for approval.
3. Find out when and how you can get your gold mirror crown.
4. Approve all the details and wait for your Gold Mirror crown to arrive.
5. Get your Mirror crown and start earning money with it.
6. Use a repair kit for a quick fix or contact us 24/7 if you need any help.
ℹ️ WHO WE ARE:
ETERESHOP designs and produces LED and mirror costumes, accessories, and decorations for performers from all over the globe since 2013. Among our most notable clients are Daddy Yankee, Take That, dancers team of Muse band in their latest world tour, BMW, Germany's Next Top Model 2020 planners and many others.
✅ СHARACTERISTICS OF THE PRODUCT:
Weight: approx. 0,41 kg or 0,9 pounds
Colors: gold
Color of the base: white
Gender: unisex
Production time: 2 weeks
GET READY FOR THE NEXT EVENTS AND FESTIVAL SEASON.
Contact our managers to find out if anyone from your country/city has already ordered this costume to keep your shows unique!
Timings and shipping:
The product has a guarantee and can be shipped to any part of the world within 2 weeks. If we have this costume in stock, normally, the processing of your order takes 3­-5 days, if your order is urgent,­ please, contact your manager. We also have the following shipping options:
➊ Air registered mail (6­-30 days)
➋ Express Mail Service (6­-15 days)
If you have an urgent order please contact us and we will provide you cost with the fastest delivery option
➌ First-class express shipping (3-­7 days / 310-­730 USD)
Delivery set: gold mirror crown, repair kit
Payment options:
— Bank Wire Transfer (Visa/ Mastercard)
— by credit card (Visa/ Mastercard)
Recently Viewed
You have not viewed any product yet!