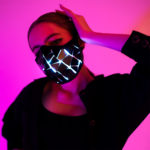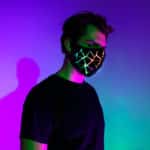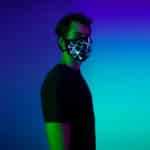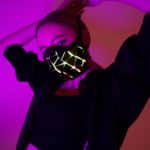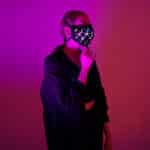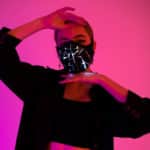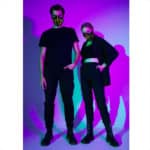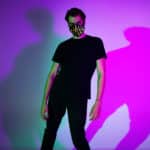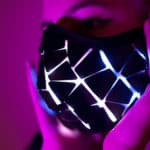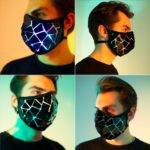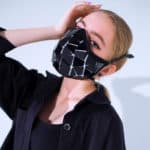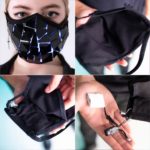 OVERVIEW:
Black mirror Smart LED face mask with symmetrical mirror effect has been designed for musicians, artists, bloggers, models working with different genres and ready to shine every day just like on stage in post-lockdown times.
It will look great in night clubs, at festivals, concerts and photoshoots.
⚠️ ADVANTAGES:
– LEDs shine bright under mirror tiles which creates an unusual effect of cracked ground rainbow lava.
– The mask shines bright enough to be seen in different lighting conditions.
– The mask has a detachable washable inner fabric layer for safety purposes during the pandemic.
– Play instruments or dance freely as your hands are free.
– This black mirror mask with LEDS comes in different styles: broken, asymmetrical, cracked mirror with tiles of different forms, and arrangement + you can choose between male and female sizes.
? HOW TO GET IT:
1. Choose the design of your future pixel mask (mirror tiles shape, and pattern, size) + additional modifications for a personalized version if necessary *additional fee required
2. Send a request.
3. Find out when and how you can get your LED face mask.
4. Approve all the details and wait for your Smart LED face mask to arrive.
5. Get your black mirror light up mask and start earning money with it.
6. Use a repair kit for a quick fix or contact us if you need any help.
? SEE IT IN ACTION:
Have a look at our LED masks at work:
ℹ️ WHO WE ARE:
ETERESHOP designs and produces LED and mirror costumes, accessories, and decorations for performers from all over the globe since 2013. Among our most notable clients are Daddy Yankee, Take That, dancers team of Muse band in their latest world tour, BMW, Germany's Next Top Model 2020 planners and many others.
It's a new design of a Smart LED mask.
You can read more about us HERE.
✅ СHARACTERISTICS OF THE PRODUCT:
Amount of LEDs: 25 Smart LEDs
Density of LEDs: 1 LED per each 10 cm (4 inches)
Weight: approx. 0,41 kg or 0,9 pounds
Operating time: approx. 2 hours and more
Working mode: stand-alone
Batteries: 1 piece of Li-pol 900
Colors of LEDs: multicolor
Mirror color: black
Mirror shape: broken symmetrical *can be customized (broken asymmetrical, broken symmetrical, cracked)
Gender: unisex
Ability to wash: the inner part of the mask has a removable layer of fabric that can be washed separately and attached to the mask when dry
Size: you can choose between male/female size
How to switch effects: with the help of two small buttons (forward/backward)
Production time: 1 week
Important to know:
Before using the product, we kindly ask you to check the equipment (we remind you that batteries and chargers are not included in it. We do not have the right to send them in accordance with the rules of international transportation). Please note that the exploitation of LED suits sooner or later leads to the breakdown of moving parts (wires, LEDs). Such a risk exists and is based on the fact that currently the production technologies of wires and LEDs are not designed for constant flexion/extension of soft structures. For long-term work with the aim of stable usage, sometimes you will need to do repairs yourself. We, in our turn, can repair your product, but dispatch and repair may take a long time, which may not match your deadlines. For your comfort, we have a technical support service that will help you solve questions on the product online.
GET READY FOR THE NEXT EVENTS AND FESTIVAL SEASON.
Contact our managers to find out if anyone from your country/city has already ordered this costume to keep your shows unique!
Timings and shipping:
The product has a guarantee and can be shipped to any part of the world within 2 weeks. If we have this costume in stock, normally, the processing of your order takes 3­-5 days, if your order is urgent,­ please, contact your manager. We also have the following shipping options:
➊ Air registered mail (6­-30 days)
➋ Express Mail Service (6­-15 days)
If you have an urgent order please contact us and we will provide you cost with the fastest delivery option
➌ First-class express shipping (3-­7 days / 310-­730 USD)
Delivery set: black mirror LED mask, controller, 1 battery, repair kit
Payment options:
— Bank Wire Transfer (Visa/ Mastercard)
— by credit card (Visa/ Mastercard)
| | |
| --- | --- |
| Size | Male, Female |
| Type of activity | |
| Size | XS, S, M, L, XL, XXL |
| Product status | |
| Materials | LED, Mirror |
| Gender | Man, Unisex, Woman |
| LED density | |
| Mirror color | Black |
Recently Viewed
You have not viewed any product yet!