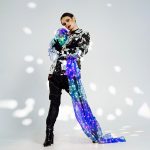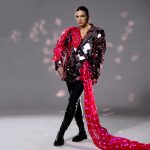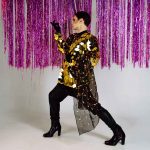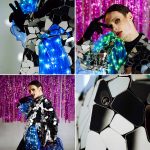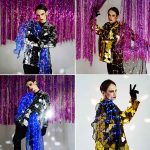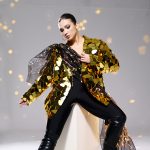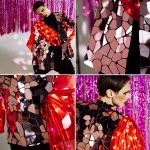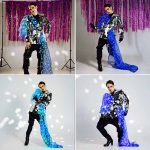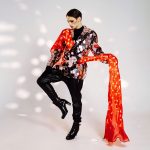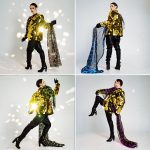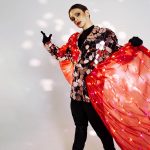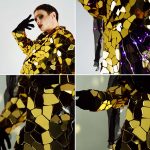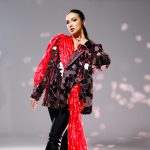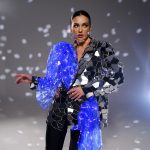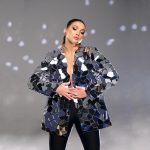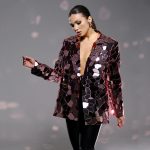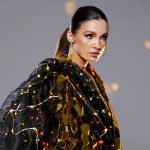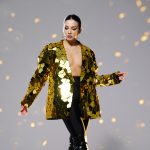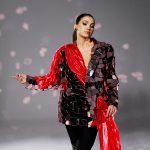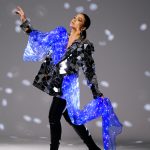 Mirror blazer with LED light up shawl and disco ball effect_O301 – by ETERESHOP
$1 402.00
We can create a costume with a personalized size for you. Contact our managers for relevant prices.
---
The audience will definitely be delighted with the combination of a sparkling mirror and a multicolored shawl. The jacket looks amazing in any light: in daylight, a disco ball effect is created, and at night, an LED shawl shines. The jacket is perfect for absolutely everyone: from large performers to simple party-goers. Mirror blazer with variations are among the best options for animation artists, singers and party hosters working at festivals, light and lazer shows, parties and presentations, strolling among guests and meeting them near photo zones. Mirror blazer made of an acrylic mirror with mirrors of various shapes. This mirror looks like a real mirror and reflects well the lights of night and the sun's rays, so you can use it at any daytime and any event – a meeting of guests, photo sessions, laser and light shows, dance competitions and etc. Mirror suits are safe, ergonomic, easy in use and repair.
➨ How we can help you:
If you need something new and extraordinary for your show, concert or any other upcoming event, we are always ready to help.
You can come to us with an idea in your head or a rough sketch on a napkin and will turn your idea into reality, step-by-step approved by you from the stage of a sketch and up to the finished item. You'll get a unique custom made costume, technical support and a great tool to make money with.
➨ Why you need exactly these mirror blazer:
✔ High-quality acrylic mirror from Italy
Those mirrors only looks like a real mirror – but it is difficult enough to break or split it, weight is also much inferior to the real mirror, which makes it possible to wear a suit for hours.
✔ Wide opportunities to use
Those mirrors reflect light very well, that's why these mirror suits are suitable for any events. Mirror clothing can work day and night, also they are excellent for photo session. You can use in your performance stage lighting equipment, laser projectors, or even sunlight.
✔ Safety for you and your audience
We use an acrylic mirror and cut it with a laser. We make sharp edges – round, so you can't cut yourself with this mirror.
✔ Easy to use and repair
The base of the jacket is made up of two types of fabric – a breathable and flexible material that gives freedom for any movements and sufficient airing of the suit. Disco ball mirror jacket is very easy to repair, and everything you need can be found in Repair Kit, that comes with the jacket.
 СHARACTERISTICS OF THE PRODUCT:
Materials: acrylic mirror, fabric for base, natural silk fabric
Size shawl: approx. 250*114 cm or 59×45 inches
Amount of LEDs: 286
Operating time: approx. 1 hour and more
Weight: approx. 3,6 kg or 7.9 lb
Working mode: stand-alone, remote control, DMX switching
Batteries: 2 pieces of Li-pol 3.7v *not included to the set
How to switch effects: with the help of two small buttons (forward/backward or other options if you preorder them)
Light effects: effects are uploaded to an SD card with the help of our program called Screen Recorder or via ArtNet recorder (with ArtNet software)
Synchronization with music: available – contact the manager for details
Sound activation: available for additional fee (20 USD) – contact the manager for details
Washable: yes
Customization available: yes
Time of work: unlimited (subject to correct and careful usage)
Production time: 2-3 weeks
Important to know:
Before using the product, we kindly ask you to check the equipment (we remind you that batteries and chargers are not included in it. We do not have the right to send them in accordance with the rules of international transportation). Please note that the exploitation of LED suits sooner or later leads to the breakdown of moving parts (wires, LEDs). Such a risk exists and is based on the fact that currently the production technologies of wires and LEDs are not designed for constant flexion/extension of soft structures. For long-term work with the aim of stable usage, sometimes you will need to do repairs yourself. We, in our turn, can repair your product, but dispatch and repair may take a long time, which may not match your deadlines. For your comfort, we have a technical support service that will help you solve questions on the product online.
➨ Standard delivery set:
1. Mirror blazer
2. LED shawl
3. Repair Kit
4. Documents (sale agreement, invoice, bill of lading – if you pay by bank)
➨ Timings and shipping:
If we have mirror suit on stock, normally, the processing of your order takes 3­-5 days, if you have urgent order ­ please write your manager. We also have the following shipping options:
➊ Express Mail Service (6­-15 days)
➋ First class express shipping (3-­7 days / 310-­730 USD)
If you have an urgent order please contact with us and we will provide you cost with the fastest delivery option
➨ Warranty:
Warranty ­30 days from the date of delivery. More information about warranty services and exchange you can find in the rules of our shop.
This product is on stock or is created for order. Contact your trade manager to clarify the time of production.
➨ How to place an order:
You can order this iteam here on our website by adding it to your cart and proceeding to checkout.
| | |
| --- | --- |
| Size | XS, S, M, L, XL |
| Height | 160 cm, 165 cm, 170 cm, 175 cm, 180 cm, 190 cm |
| Colors | Silver blazer with blue shawl, Pink blazer with red shawl, Gold blazer with black shawl |
| Type of activity | |
| Product status | |
| Mirror color | Gold, Silver |
| Materials | LED, Mirror |
| LED density | |
| Gender | Man, Unisex, Woman |
Recently Viewed
You have not viewed any product yet!