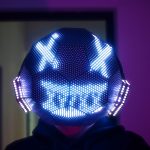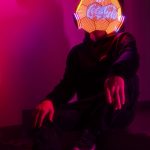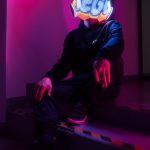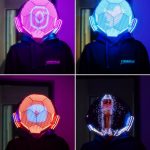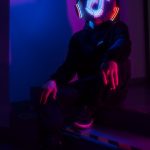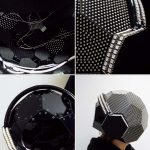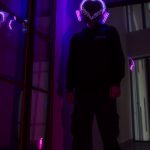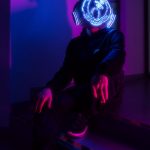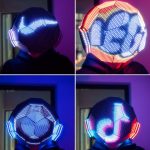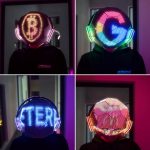 Dense Programmable LED light up DJ helmet in the shape of a dodecahedron H102 – by ETERESHOP
$1 649.00
---
OVERVIEW:
This unique programmable led  light up DJ Helmet, shaped like a dodecahedron, is densely packed with 4640 LEDs, capable of displaying high-quality logos, animations, and text. The helmet is designed to sync with music, samplers, and other LED devices, making your performance a captivating audio-visual experience. The Dense Programmable LED DJ Helmet transforms performances into immersive experiences. Its high-density LED display, synchronization capabilities, and unique design provide DJs an unparalleled blend of style, function, and visual engagement. Stand out, sync up, and step into the spotlight.
Ideal for: DJs and performers looking to enhance their stage presence with an innovative, visually engaging element.
Benefits:
Visual Engagement: Turn your performance into a dynamic visual show. The high-density LED array allows for clear and intricate displays.
Synchronization: Seamlessly integrate your audio and visual effects. The helmet easily syncs with your music and other LED devices.
Comfort & Visibility: Designed for performers, it ensures unrestricted movement and clear visibility, letting you focus on your performance.
Reliable Battery Life: With a 2-hour battery life on rechargeable batteries, it won't leave you in the dark mid-performance.
Unique Aesthetic: Stand out from the crowd with the helmet's distinctive dodecahedron shape.
HOW TO GET IT:
1. Choose the design of your future  led light up helmet (plastic color, any additional modifications) + light effects for your show.
2. Send a request and get a sketch for approval.
3. Find out when and how you can get your light up helmet.
4. We'll create awesome light effects for you.
5. Approve all the details and wait for your light up helmet to arrive.
6. Get your Led helmet and start earning money with it.
7. 24/7 tech support is always here to help you.
Watch a video with a Dense Programmable LED light up DJ helmet
ℹ️ WHO WE ARE:
ETERESHOP designs and produces LED and mirror costumes, accessories, and decorations for performers from all over the globe since 2013. Among our most notable clients are Daddy Yankee, Take That, dancers team of Muse band in their latest world tour, BMW, Germany's Next Top Model 2020 planners, and many others.
We've sold 40 Smart LED screen masks to clients from 11 countries of the world over the past 12 months.
Smart LED Screen Mask was recently ordered by many prominent artists and agencies, including La Tribu Performance Panama agency, Tambores Mestizo event agency from Mexico, Fédération des Fous group of performers from Belgium, the event planner Ricardo Ralph Lopez and others.
You can read more about us HERE.
✅ СHARACTERISTICS OF THE PRODUCT:
Amount of LEDs: 4640
Density of LEDs: strip used for this helmet has 0,7 cm
Size: universal
Weight: approx. 2.kg
Operating time: approx. 1,5 hours and more
Working mode: stand-alone. For an additional fee, you can configure remote control, switching by DMX – contact managers.
Batteries: 24 pieces of Li-ion 18650, 3.7 v, No less than 10 A, 3000 Mah, Flat top *not included in the set
Colors: red, blue, purple, white, green, yellow, orange
Gender: unisex
Base: printed circuit boards for LEDs, LEDs, plastic, black mirror, wires, silicone, eva
How to switch effects: with the help of two small buttons (forward/backward), auto-switching can be possible too
Light effects: effects are uploaded to an SD card with the help of our program called Screen Recorder or via ArtNet recorder (with ArtNet software)
Customization: available
Synchronization with music: available for additional fee
Sound activation: available for additional fee (20 USD) – contact the manager for details
Production time: 2-3 weeks
Important to know:
Before using the product, we kindly ask you to check the equipment (we remind you that batteries and chargers are not included in it. We do not have the right to send them in accordance with the rules of international transportation). Please note that the exploitation of LED helmet sooner or later leads to the breakdown of moving parts (wires, LEDs). Such a risk exists and is based on the fact that currently the production technologies of wires and LEDs are not designed for constant flexion/extension of soft structures. For long-term work with the aim of stable usage, sometimes you will need to do repairs yourself. We, in our turn, can repair your product, but dispatch and repair may take a long time, which may not match your deadlines. For your comfort, we have a technical support service that will help you solve questions on the product online.
GET READY FOR THE NEXT EVENTS AND FESTIVAL SEASON.
Contact our managers to find out if anyone from your country/city has already ordered this costume to keep your shows unique!
Timings and shipping:
The product has a guarantee and can be shipped to any part of the world within 2 weeks. If we have this costume in stock, normally, the processing of your order takes 3­-5 days, if your order is urgent,­ please, contact your manager. We also have the following shipping options:
➊ Air registered mail (6­-30 days)
➋ Express Mail Service (6­-15 days)
If you have an urgent order please contact us and we will provide you cost with the fastest delivery option
➌ First-class express shipping (3-­7 days / 310-­730 USD)
Delivery set: Led light up helmet in the shape of a dodecahedron, repair kit *batteries are not included
Payment options:
— Bank Wire Transfer (Visa/ Mastercard)
— by credit card (Visa/ Mastercard)
| | |
| --- | --- |
| Type of activity | Bars/Night-clubs, Circus-performers, Dancers, DJs, Event-agencies, Musicians, Party-people, Street performers |
| Size | XS, S, M, L, XL, XXL |
| Product status | |
| Materials | LED |
| LED density | |
| Gender | Man, Unisex, Woman |
Recently Viewed
You have not viewed any product yet!