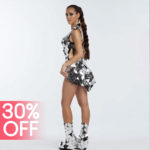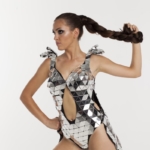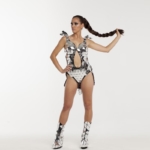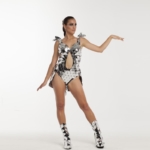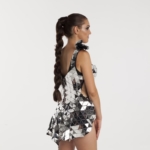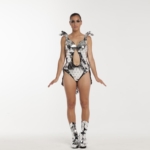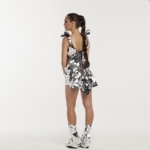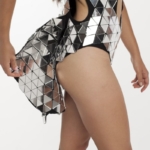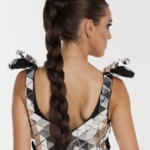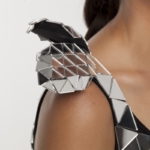 Disco ball glitter sparkly mirror dress with skirt costume for sale _M43
$709.00 – $966.00
---
➨ Overview:
Glitter silver outfit is made of high quality acrylic mirror tiles. Dancers, party hosters and entertainers can create a unique show thanks to disco ball sparkling and sexy design of the dress. It is an excellent solution for many performances at any time. It's safe, lightweight, easy to use and repair. Most mirror costumes by ETERESHOP are unisex and suitable for different body sizes.
➨ What you will get:
Event companies and dance teams
You will get an easy and unique solution for many events, without considerable investments of time and money. Mirror sparkly bodysuits are flexible and suitable for people of different body sizes. Sparkly mirrors tiles allow you to create an unforgettable light show with the help of stage equipment. Silver mirror bodysuits are suitable for any kind of dance performances, mirror animation or photo sessions and look great both in the daytime and at night. And you can easily order several silver costumes for the whole team for big shows.
Solo and group performers
High quality mirror glass suits are rarely seen on stage. This can become a significant advantage over your competitors. Disco ball suits are simple in use and easy to dress up, you can even swim in it, and wash in a washing machine. Mirrors on the mirror suit well reflect light, sunlight or light from the laser reflected without distortion. Mirror suit can operate day or night. Disco ball outfit are ideal for dance, animation or photography. In case of breakage – repair takes only a few minutes, and there are parts in the repair kit.
➨ Why you need exactly these costume:
✔ High-quality acrylic mirror from Italy
These mirrors reflect light very well. You can use in your performance stage lighting equipment, laser projectors, or even sunlight.
✔ Safety for you and your audience
We use an acrylic mirror and cut it with a laser. We make sharp edges – round, so you can't cut yourself with this mirror.
✔ New exclusive show for your audience
Disco ball bodysuit from this mirror are very rare. With these disco ball outfit you will be able to create an unique performance, gain an advantage over the competition and win new markets.
✔ Excellent investment
Mirror glitter outfits look very impressive. These mirror outfit don't require maintenance and can work for a long time. All this time, they will bring you money.
✔ Wide opportunities to use
These disco ball clothing are suitable for any events. Mirror wear can work day and night, as you can swim in the mirror costume and run in the rain. Mirror glitter clothes is excellent for photo session.
✔ Unisex and suitable for different body sizes
If your team is changing the actor – it's not a problem. Disco ball suit easily stretches to fit different body sizes and is suitable for boys and girls.
✔ Easy to use and repair
Mirror wear completely hugs the body, it is very comfortable to move. It weighs only 7 lbs (3 kg). Mirror glitter bodysuit very easy to repair, and everything you need can be found in Repair Kit.
➨ Save your money!!!
Save 10% per suit ­ when you order more than 10 pcs
Save 10% per suit ­ with delayed shipping (40 days)
Save 5% per suit ­ if you send money by western union
Save 4% per suit ­ if you pay by bank transfer
Pay +15% more ­ if you want to use PayPal
➨ Standard delivery set:
1. Disco ball dress
2. Repair Kit
3. Documents (sale agreement, invoice, bill of lading – if you pay by bank)
➨ Timings and shipping:
Normally, the processing of your order takes 1­-3 days, if you have urgent order ­ please write your manager. We also have the following shipping options:
• Air registered mail (5­-30 days / 45-­65 USD)
• Express Mail Service (5­-14 days / 60­-165 USD)
• First class express shipping (3-­5 days / 170-­255 USD)
➨ Important:
Please, before placing your order, specify all your questions at the manager.
Please be careful with choice of your body size – price depend on your weight.
➨ Warranty:
Warranty ­30 days from the date of delivery. More information about warranty services and exchange you can find in the rules of our shop.
This product is on stock or is created for order. Contact your trade manager to clarify the time of production.
| | |
| --- | --- |
| Weight | 4 kg |
| Options | Dress, Dress & overshoes |
| Size | XS, S, M, L, XL |
| Height | 155 cm, 160 cm, 165 cm, 170 cm, 175 cm, 180 cm |