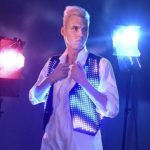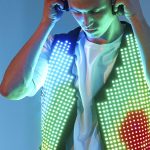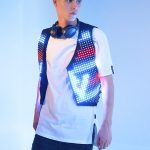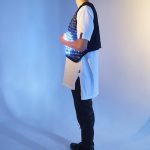 Light up vest are perfect costumes for DJs, musicans, party hosters, dancers, festival lovers and stage performers of various kinds. They are light, easy to use and to move in them. Light up effects, logos and images on front HD screens will underline your image and help stand out in a crowd both in daytime and at night.
➨ How we can help you:
If you need something new and extraordinary for your show, concert or any other upcoming event, we are always ready to help.
You can come to us with an idea in your head or a rough sketch on a napkin and we will turn your idea into reality, step-by-step approved by you from the stage of a sketch and up to the finished item. You'll get a unique custom made costume, technical support and a great tool to make money with.
Important to know:
Before using the product, we kindly ask you to check the equipment (we remind you that batteries and chargers are not included in it. We do not have the right to send them in accordance with the rules of international transportation). Please note that the exploitation of LED suits sooner or later leads to the breakdown of moving parts (wires, LEDs). Such a risk exists and is based on the fact that currently the production technologies of wires and LEDs are not designed for constant flexion/extension of soft structures. For long-term work with the aim of stable usage, sometimes you will need to do repairs yourself. We, in our turn, can repair your product, but dispatch and repair may take a long time, which may not match your deadlines. For your comfort, we have a technical support service that will help you solve questions on the product online.
➨ Timings and shipping:
Normally, the processing of your order takes 5­-15 days, but if you have urgent order – please write your manager and we will provide you cost with the fastest delivery option.
We provide free express delivery (7-15 days delivery).
But we also can provide first-class express shipping (3-­5 days ).
➨ Important:
In order to make the product lightweight and absolutely not affecting on the work of the artist, we use very thin wires. They do not break on the bend, but they can break at the place of soldering. This is a constructive feature of production, the lighter weight of the product, the more easily it breaks.
We try our best to prevent damage, but in this product there are about 2000 soldering points, and the failure of one of them may require repair of the entire product. We've made the design modular, so you can repair the product without the need for soldering. But you should understand that breakdowns can occur during the entire time of use and you will have to use a soldering iron.
Our support service is always online and we will help you with the repair. But you must understand that 100% strength is not possible with light weight wires.
If the weight of the product doesn't matter to you and you want less maintenance problems, then order our product – strong edition.
❢❢❢Use only rechargeable batteries❢❢❢
Please, before placing your order, specify all your questions at the manager.
➨ Warranty:
Warranty – 30 days from the date of delivery. More information about warranty services and exchange you can find in the rules of our shop.
This product is on stock or is created for order. Contact your trade manager to clarify the time of production.
➨ How to place an order:
You can order this iteam here on our website by adding it to your cart and proceeding to checkout.
| | |
| --- | --- |
| Size | XS, S, M, L, XL, XXL |
| Height | 160 cm, 165 cm, 170 cm, 175 cm, 180 cm, 190 cm |
| Type of activity | Bars/Night-clubs, Circus-performers, Dancers, DJs, Event-agencies, Musicians, Party-people, Singers |
| Product status | |
| Materials | LED |
| LED density | |
| Gender | Man, Unisex |
Recently Viewed
You have not viewed any product yet!