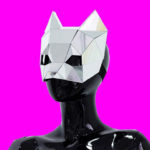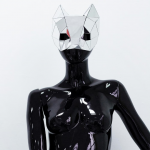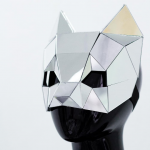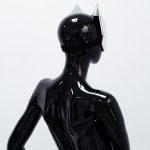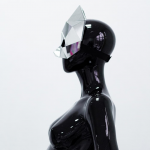 3D mirror Cat mask is a bright addition to your costume if you are a gogo dancer, animation artist at a nightclub party, festival or a thematic event, photo- or video-shoot. 3D disco ball masks catch all light around and reflect it perfectly well both in daylight and at dim light of a nightclub with flashlights and lasers. You don't even need any special costume if you already have a 3D mirror disco ball mask, so it's a perfect investment.
➨ How we can help you:
If you need something new and extraordinary for your show, concert or any other upcoming event, we are always ready to help.
So, you can come to us with an idea in your head or a rough sketch on a napkin and we will turn your idea into reality, step-by-step approved by you from the stage of a sketch and up to the finished item. You'll get a unique custom made costume, technical support and a great tool to make money with.
➨ What you will get:
● For business clients
Kitty mask is a good investment, as buying one mask, you get a lot of images. Changing costumes, you change the image. The mask is completely universal, it is suitable for any artist. We have experience working with business clients and we easily adapt to any terms.
● For personal use
The mask is able to give you a wide range of different emotions. Wearing a Kitty mask, you seem to fall into a fairy tale. You are in the spotlight, everyone is looking at you. But since you are inside, we can feel confident. Wear a mask for various holidays, festivals and surprise your friends in an interesting way.
➨ Overview:
We are glad to present you a mirror mask of a Kitty. A new solution from our designer. The mask is able to give a lot of interesting emotions to you and people around you. The unique image will fit perfectly into any theme of the event. The convenient and light mask will allow you to easily move and even dance.
➨ Why you need exactly these mirror masks:
1. One mask for all
Dancers, animators, living statues, or people living full of life, this mask is for you. Thanks to the large number of combined images, you can change the subject of events. The mask of the Kitty will look good both on a children's holiday and on a dance show.
2. Easy to use
We've left wholes for eyes in this mirror Cat mask, so the person inside can move easily and even dance. Behind the mask is fixed with elastic and Velcro, so it's easy to adjust it exactly for you!
3. Durable Mirror
Despite the size, the Kitty mask is light. It is made of an acrylic mirror that does not break even when falling. And in case the mirror is scratched, we can send you a replacement mirror!
4.  Can be used in any weather
The acrylic mirror underlying the mask is very high quality. You can use the mask in any weather conditions, it's not afraid of water or sand!
5. Long use
The mask requires minimal care, which does not take a lot of time. A durable and easily replaceable material will serve you long.
➨ Standard delivery set:
1. Mirror Cat mask
2. Repair Kit
3. Documents (sale agreement, invoice, bill of lading – if you pay by bank)
➨ Timings and shipping:
So, if we have mirror mask on stock, normally, the processing of your order takes 3-5 days, if you have urgent order ­ please write your manager. We also have the following shipping options:
1.  Air registered mail (5­-30 days / 45-­65 USD)
2.  Express Mail Service (5­-14 days / 60­-165 USD)
3.  First class express shipping (3-­5 days / 170-­255 USD)
➨ Important:
Please, before placing your order, specify all your questions at the manager.
➨ Warranty:
Warranty ­30 days from the date of delivery. More information about warranty services and exchange you can find in the rules of our shop.
This product is on stock or is created for order. Contact your trade manager to clarify the time of production.
➨ How to place an order:
You can order this iteam here on our website by adding it to your cart and proceeding to checkout.
| | |
| --- | --- |
| Weight | 1 kg |
| Payment options | Bank transfer, Credit card (+3%), PayPal (+4%) |
| Mirror color | Silver |
| Type of activity | Bars/Night-clubs, Circus-performers, Dancers, DJs, Event-agencies, Musicians, Party-people, Singers |
| Size | XS, S, M, L, XL, XXL |
| Product status | |
| Materials | Mirror |
| Gender | Man, Unisex, Woman |
Recently Viewed
You have not viewed any product yet!