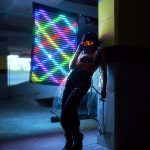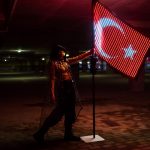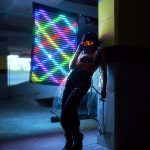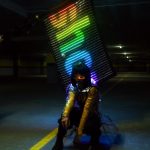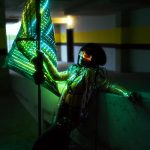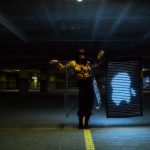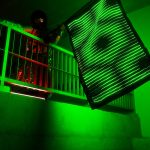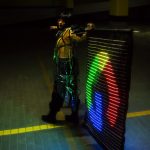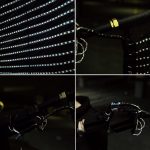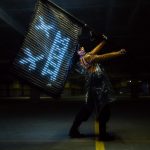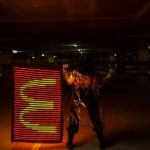 Screen LED Flag 3900 Lights – showcasing texts, logos, and animations with vibrant illumination _H90 – by ETEREshop
$1 966.00
---
Introducing the Screen LED Flag 3900 Lights, a dynamic display solution designed for showcasing vibrant visual content. With the capability to animate text, illustrations, and flags from any country, this LED flag offers a versatile platform for digital expression.
Set on a solid black foundation, the flag measures approximately 1,75 by 1.15 meters. This sizable canvas, populated with 3900 LEDs, enables bright, colorful displays, ensuring your content is noticeable regardless of the lighting conditions.
Whether for sporting events, cultural festivals, or corporate presentations, the Screen LED Flag is a suitable choice. This flag serves as a medium for dynamic visuals, ensuring that your audience experiences your messages in a compelling manner.
Simply connect the flag, upload your chosen content, and watch as the Screen LED Flag  brings your graphics to life, providing a captivating visual experience for all.
➨ How we can help you:
If you need something new and extraordinary for your show, concert or any other upcoming event, so we are always ready to help.
You can come to us with an idea in your head or a rough sketch on a napkin and we will turn your idea into reality, so step-by-step approved by you from the stage of a sketch and up to the finished item. Summing up you'll get a unique custom made costume, technical support and a great tool to make money with.
Have a look at our similar LED light up flag at work:
СHARACTERISTICS OF THE LED LIGHT UP FLAG:
Amount of LEDs: 3900 LEDs
Density of LEDs: 74 LEDs/1 m or per 10 ft
Materials: fabric, aluminum pipes, led strips
Size: almost 1.75*1.15 meters
Weight: approx. 5,2 kg/ 11,6 pounds (flag – 2 kg/ 4,4 pounds, flagpole – 3,3 kg/ 7,2 pounds)
Operating time: approx. 1 hour
Working mode: stand-alone, remote control, radio
Batteries: 9 ps. of Li-ion 18650, 3.7 v, No less than 10 A, 3000 Mah, Flat top *not included in the set
Colors: the base of the flag is black
How to switch effects: with the help of two small buttons (forward/backward) or an external switch with 2/20 buttons (for radio)
Light effects: effects are created with the help of Madrix software and uploaded to an SD card with the help of our program called Screen Recorder or via ArtNet recorder (with our software)
Synchronization with music: available
Sound activation: available for additional fee (20 USD) – contact the manager for details
Production time: approx. 3 weeks
➨What you get:
– Event companies:
You get an easy and mobile solution for many activities. So your employees can easily work with PC control technology and with smart wings. As you get stable technical support, and the ability to expand the number of wings for very large events rapidly.
– Creative people:
The Screen LED Flag 3900 Lights is an excellent gift for individuals who want to stand out at a party or festival. This flag is easy to operate, and it provides the ability to personalize the display to suit your preferences.
➨Why you need exactly this LED light up flag:
Full control of each individual LED
This allows you to create any lighting effect. Choose colors for your costume or corporate colors of the event. Choose a tempo effects and more.
Web interface for create own effects
All settings can be done in a web browser. This may be any operating system and any device. So you do not need to install additional software or drivers – all for maximum usability.
Small buttons on sticks for switching effects
According to one button on each stick. Summing up one button – the next light effect, the second button – the previous light effect
Stand alone work mode
Independent mode does not require a computer or other control devices for work. So you just need to run the program and it will work.
Full compatibility with real time PC control by Madrix
If necessary, the controller can be used in complex solutions. It can be used with computer control. This may be a Madrix software or similar products for managing digital LEDs.
Compatible with control protocols DMX, ArtNet, MIDI
If you already have a computer control system for lighting effects – you do not need to buy a new one for our wings. You can use your software – our controller can be easily integrated into your control system.
Important to know:
Before using the product, we kindly ask you to check the equipment (we remind you that batteries and chargers are not included in it. We do not have the right to send them in accordance with the rules of international transportation).
Please note that the exploitation of LED light up flag sooner or later leads to the breakdown of moving parts (wires, LEDs). Such a risk exists and is based on the fact that currently the production technologies of wires and LEDs are not designed for constant flexion/extension of soft structures. For long-term work with the aim of stable usage, sometimes you will need to do repairs yourself. We, in our turn, can repair your product, but dispatch and repair may take a long time, which may not match your deadlines. For your comfort, we have a technical support service that will help you solve questions on the product online.
➨ Standard delivery set:
1. Led flag 3900 lights
2. Repair Kit
3. Documents (sale agreement, invoice, bill of lading – if you pay by bank)
Timings and shipping:
So, the product has a guarantee and can be shipped to any part of the world within 3 weeks. If we have this costume in stock, normally, the processing of your order takes 3­-5 days, if your order is urgent,­ please, contact your manager. We also have the following shipping options:
1.  Air registered mail (6­-30 days)
2.  Express Mail Service (6­-15 days)
Also if you have an urgent order please contact with us and we will provide you cost with the fastest delivery option
3.  First class express shipping (3-­7 days / 310-­730 USD)
➨ Important:
Please, before placing your order, specify all your questions at the manager.
➨ Warranty:
So, Warranty ­30 days from the date of delivery. Also more information about warranty services and exchange you can find in the rules of our shop.
This product is on stock or is created for order. Contact your trade manager to clarify the time of production.
➨ How to place an order:
So, you can order this iteam here on our website by adding it to your cart and proceeding to checkout.
Payment options:
— Bank Wire Transfer (Visa/ Mastercard)
— by credit card (Visa/ Mastercard)
— PayPal
| | |
| --- | --- |
| Type of activity | Bars/Night-clubs, Circus-performers, Dancers, DJs, Event-agencies, Musicians, Party-people, Singers, Street performers |
| Size | XS, S, M, L, XL, XXL |
| Product status | |
| Materials | LED |
| LED density | |
| Gender | Man, Unisex, Woman |
Recently Viewed
You have not viewed any product yet!