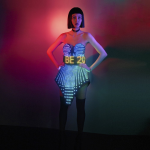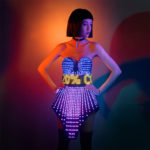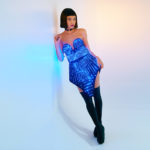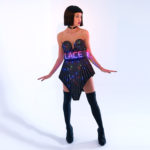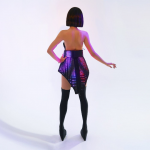 Smart LED light up dress is one of the most impressive and memorable outfits for dancers, musicians, singers and other entertainment artists working on stage, at nightclubs, meeting guests near a photozone or shooting a video.
➨ How we can help you:
If you need something new and extraordinary for your show, concert or any other upcoming event, we are always ready to help.
You can come to us with an idea in your head or a rough sketch on a napkin and will turn your idea into reality, step-by-step approved by you from the stage of a sketch and up to the finished item. You'll get a unique custom made costume, technical support and a great tool to make money with.
➨ Overview:
We are constantly looking for something new and now we have finished a new dress from our new line of EVA foam costumes. We are presenting you the newest development – the unusual shape, flow and fashion design complemented with SMART LEDs. SMART LEDs will give a wide choice of effects, and especially high density of LEDs on the belt will allow to run any text on it. This is an excellent option for nightclubs, meeting guests, different festivals, shooting clips, photo sessions and much more.
➨ Why you need exactly this EVA foam dress:
✔ Full control of each individual LED
This allows you to create any lighting effect. Choose colors for your costume or corporate colors of the event. Choose a tempo effects and more. All this will allow you to easily create a unique dance.
✔ Stand alone work mode
Independent mode does not require a computer or other control devices for work. You just need to run the program and it will work.
✔ Small buttons for switching effects
Only 1 small buttons for changing effects. Pushing the button – the next light effect.
✔ Full compatibility with real time PC control by Madrix
If necessary, the controller can be used in complex solutions. It can be used with computer control. This may be a Madrix software or similar products for managing digital LEDs.
✔ You can manage up to 3000 LEDs
We have different models of corsets and costumes. But if you have a unique project – the one controller is able to control even 3000 digital LEDs.
✔ Compatible with control protocols DMX, ArtNet, MIDI
If you already have a computer control system for lighting effects – you do not need to buy a new one for our corset. You can use your software – our controller can be easily integrated into your control system.
✔ After-sales service
Stable technical support is always ready to help you with any difficulties at any time. And in case of breakage we will help to repair all on the site or you can send LED light up clothing to us for repair.
Important to know:
Before using the product, we kindly ask you to check the equipment (we remind you that batteries and chargers are not included in it. We do not have the right to send them in accordance with the rules of international transportation). Please note that the exploitation of LED suits sooner or later leads to the breakdown of moving parts (wires, LEDs). Such a risk exists and is based on the fact that currently the production technologies of wires and LEDs are not designed for constant flexion/extension of soft structures. For long-term work with the aim of stable usage, sometimes you will need to do repairs yourself. We, in our turn, can repair your product, but dispatch and repair may take a long time, which may not match your deadlines. For your comfort, we have a technical support service that will help you solve questions on the product online.
➨ Standard delivery set:
1. Led dress
2. Instructions for operation and maintenance
3. Repair Kit
4. Documents (sale agreement, invoice, bill of lading) – if you pay by bank
➨ Warranty:
Warranty 30 days from the date of delivery. More information about warranty services and exchange you can find in the rules of our shop.
This product is on stock or is created for order. Contact your trade manager to clarify the time of production.
➨ How to place an order:
You can order this iteam here on our website by adding it to your cart and proceeding to checkout.
| | |
| --- | --- |
| Weight | 5 kg |
| Size | XS, S, M, L, XL |
| Height | 160, 165, 170, 175, 180, 185 |
| Type of activity | Bars/Night-clubs, Circus-performers, Dancers, DJs, Event-agencies, Musicians, Party-people, Singers, Street performers |
| Product status | |
| Materials | LED |
| LED density | |
| Gender | Unisex, Woman |
Recently Viewed
You have not viewed any product yet!