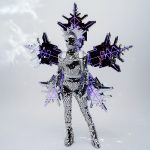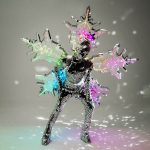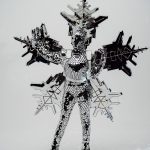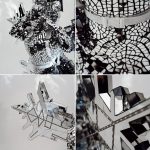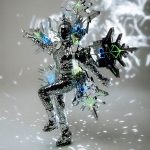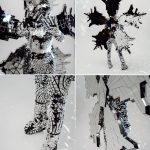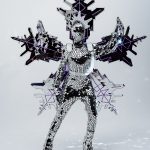 Unusual Silver Mirror Costume with Mirror LED Snowflake Wings _M218- by ETERESHOP
$4 264.00
---
Unusual Mirror Costume with Mirror LED Snowflake Wings is a one-of-a-kind costume that is sure to turn heads. Made from silver mirror material, the costume fits like a glove, enhancing your curves and making you feel like a true goddess. The mirrored balaclava that comes with the costume adds an element of mystery, concealing your face and heightening the allure of the costume.
But the real decoration is a large mirrored snowflake with LED backlight. The snowflake is intricately designed and adds a touch of elegance to the costume. The LED lighting illuminates the snowflake, making it the focal point of the costume and creating a mesmerizing effect.
The Unusual Silver Mirror Costume with Mirror LED Snowflake Wings is perfect for a variety of occasions, including Halloween parties, costume contests, and even stage performances. It's a great choice for those who want to stand out from the crowd and make a statement with their costume.
But the costume is not just a visual masterpiece; it's also made with comfort in mind. The silver mirror material is lightweight and breathable, allowing you to move and dance with ease. The backpack is also designed to be comfortable, with padded straps that distribute the weight evenly across your shoulders.
 ADVANTAGES:
— Use the disco ball effect of a unusual mirror costume to attract glances in any lightning conditions: with lazers and sophites on stage, in the sunlight, open air or in artificial light of restaurants and shopping malls.
— Change your performance every time you need it thanks to additional accessories available (additional LED, led gloves, etc.).
– Plan any performances with this mirror costume: it's light enough and flexible, washable and sexy.
— Mirror costume can be personalized up to your needs: color, size, tiles form and pattern + you can add additional accessories.
СHARACTERISTICS OF THE MIRROR COSTUME :
Materials: acrylic mirror, italian plastic, foam, led strip, biflex, pet 2mm, metal, leatherette, leds, steel frame
Amount of LEDs: 730LEDs
Density of LEDs: diode tape with a step of 2 cm
Operating time: approx. 1 hours and more
Working mode: stand-alone, remote control, DMX switching
Batteries: 4 ps. of Li-ion 18650, 3.7 v, No less than 10 A, 3000 Mah, Flat top *not included to the set
How to switch effects: with the help of two small buttons (forward/backwards)
Light effects: effects are uploaded to an SD card with the help of our program called Screen Recorder or via ArtNet recorder (with ArtNet software)
Costume design: customization available
Synchronization with music and stage: available for additional fee
Sound activation: available for additional fee (20 USD) – contact the manager for details
Sizes: XS, S, M, L, XL
Weight: 14 kg
Accessories: no
Style: mosaic
Washable: no, you can gently wipe the mirrors
Gender: unisex
Working time: unlimited
Production time: 3-4 weeks
➨ Delivery set:
Mirror costume, pads, gloves, paddles, backpack, mask
Timings and shipping:
So, the unusual mirror costume has a guarantee and can be shipped to any part of the world within 2 weeks. If we have this costume in stock, normally, the processing of your order takes 3­-5 days, if your order is urgent,­ please, contact your manager. We also have the following shipping options:
1.  Air registered mail (6­-30 days)
2.  Express Mail Service (6­-15 days)
Also if you have an urgent order please contact with us and we will provide you cost with the fastest delivery option
3.  First class express shipping (3-­7 days / 310-­730 USD)
➨ Important:
Please, before placing your order, specify all your questions at the manager.
➨ Warranty:
So, Warranty ­30 days from the date of delivery. Also more information about warranty services and exchange you can find in the rules of our shop.
This unusual mirror costume is on stock or is created for order. Contact your trade manager to clarify the time of production.
➨ How to place an order:
So, you can order this iteam here on our website by adding it to your cart and proceeding to checkout.
Payment options:
— Bank Wire Transfer (Visa/ Mastercard)
— by credit card (Visa/ Mastercard)
— PayPal
| | |
| --- | --- |
| Size | XS, S, M, L, XL, XXL |
| Height | 155 cm, 160 cm, 165 cm, 170 cm, 175 cm, 180 cm |
| Colors | Silver |
| Materials | LED, Mirror |
| Product status | |
| Mirror color | Silver |
| Type of activity | Bars/Night-clubs, Circus-performers, Dancers, Event-agencies, Musicians, Party-people, Singers, Street performers |
| LED density | |
| Gender | Unisex, Woman |
Recently Viewed
You have not viewed any product yet!