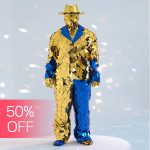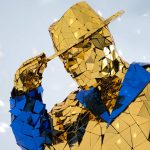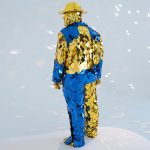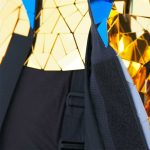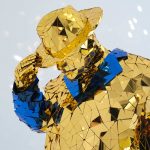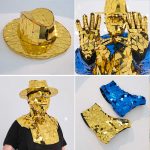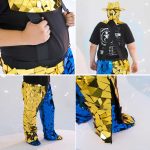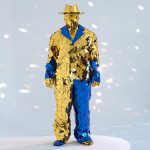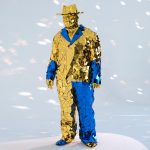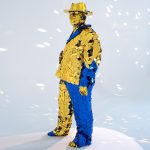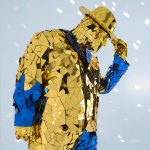 Yellow and blue Mirror Man costume with broken mirror tiles_M34-B – by ETERESHOP
Please note that delivery times may vary as we have to order the yellow and blue colours of mirror beforehand and it takes time to reach us.
---
OVERVIEW:
Yellow and blue Mirror Man costume with broken mirror tiles shimmers perfectly in the sun, leaving pink reflections everywhere! Fully personalized mirror costumes are made of acrylic mirrors. This mirror looks like a real mirror and you can see your reflection in it, at the same time the mirror reflects well the lights of night and the sun's rays, so you can use it at any daytime and any event – a meeting of guests, photo sessions, laser and light shows, dance competitions and etc. Mirror suits are safe, ergonomic, and easy to use and repair.
Please note that delivery times may be extended as it may be necessary to purchase additional quantities of the pink mirror!
⚠️ ADVANTAGES:
– Use the disco ball effect of a mirror man costume to attract glances in any lightning conditions: with lasers and sophies on stage, in the sunlight the open air, or in the artificial light of restaurants and shopping malls.
– Change your performance every time you need it thanks to additional accessories and pair costumes available (costumes of mirror ladies).
– Invest wisely: you can use a mirror man costume for years and on different artists of both sexes thanks to easy maintenance and anonymity. This mirror costumes will pay off very soon.
– Don'trestrict your performance just by posing in a mirror suit. Move and dance freely in it thanks to flexibility of a mirror man outfit.
– Use it as a bright addition of the show or as the main speciality.
– Mirror man costume can be personalized up to your needs: accessories, color, size, tiles form.
 HOW TO GET IT:
1. Choose the design of your future mirror man costume (model, color, size, tiles shape) + additional accessories or modifications for a personalized version if necessary.
2. Send a request and get a sketch for approval.
3. Find out when and how you can get your yellow and blue mirror man costume.
4. Approve all the details and wait for your yellow and blue mirror man suit to arrive.
5. Get your silver man costume and start earning money with it.
6. Use a repair kit for a quick fix or contact us 24/7 if you need any help.
 SEE IT IN ACTION:
Have a look at our yellow and blue mirror man costumes with broken mirror at work:
ℹ️ WHO WE ARE:
ETERESHOP designs and produces LED and mirror costumes, accessories, and decorations for performers from all over the globe since 2013. Among our most notable clients are Daddy Yankee, Take That, dancers team of Muse band in their latest world tour, BMW, Germany's Next Top Model 2020 planners and many others.
We've sold 19 Silver Mirror Man costumes to 8 countries of the world over past 8 months.
Our mirror men costumes were used by South Philly Vikings Fancy Brigade in 2017 (8 mirror men costumes) and 2018 (33 mirror men costumes) at the Mummers Parade where they took the first place.
You can read more about us HERE.
✅ СHARACTERISTICS OF THE PRODUCT:
Materials: acrylic mirror, fabric for base and lining (canvas, biflex, calico, doublerine), snap buttons.
Size: customizable (XS, S, M, L, XL)
Weight: approx. 12 kg or 26 pounds (depending on the size of the costume)
Color: yellow and blue (can be customized: gold/silver/mixed)
Accessories to add: cane, bow tie, smoking pipe, tie or your own ideas
Mirror tiles style: broken glass, can be customized
Washable: yes (remove the lining and wash it)
Gender: unisex
Collapsible: yes
Time of work: unlimited (subject to correct and careful usage)
Production time: 2-3 weeks
GET READY FOR THE NEXT EVENTS AND FESTIVAL SEASON.
Contact our managers to find out if anyone from your country/city has already ordered this costume to keep your shows unique!
Timings and shipping:
The product has a guarantee and can be shipped to any part of the world within 2 weeks. If we have this costume in stock, normally, the processing of your order takes 3­-5 days, if your order is urgent,­ please, contact your manager. We also have the following shipping options:
➊ Air registered mail (6­-30 days)
➋ Express Mail Service (6­-15 days)
If you have an urgent order please contact us and we will provide you cost with the fastest delivery option
➌ First-class express shipping (3-­7 days / 310-­730 USD)
Standard delivery set:
1. Mirror head piece (hat, mask, balaclava)
2. Mirror jacket
3. Mirror pants
4. Mirror shoes
5. Mirror gloves
6. Repair Kit
7. Documents (sale agreement, invoice, bill of lading – if you pay by bank)
Payment options:
— Bank Wire Transfer (Visa/ Mastercard)
— by credit card (Visa/ Mastercard)
| | |
| --- | --- |
| Weight | 12 kg |
| Size | XS, S, M, L, XL |
| Height | 160 cm, 165 cm, 170 cm, 175 cm, 180 cm, 190 cm |
| Hat sizing (cm) | 55, 56, 57, 58, 59, 60, 61 |
| Type of activity | Circus-performers, Dancers, Event-agencies, Street performers |
| Product status | |
| Materials | Mirror |
| Mirror color | Blue, Yellow, Gold |
| Gender | Man, Unisex |
Recently Viewed
You have not viewed any product yet!