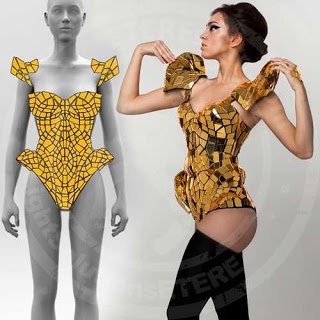 Our client wanted to get a stylistically expressive image that could emphasize her figure. It was important for her that the dress was universal and did not hamper the movements. The dress must call in her a sense of self-confidence and looked sexy. She wanted to dance in this dress, go to parties, to appear on stage and save the image created by him.
For us, it was a unique order, which we did with great pleasure. We were given a lot of time, thanks to which, we were able to give maximum attention to detail. Using the information received from the client, we developed a sketch of the dress corresponding to all of her requirements.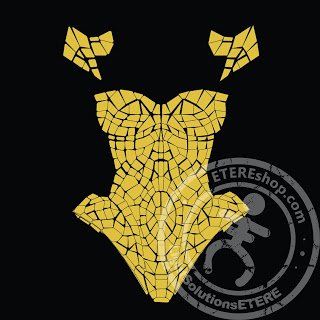 We started production. We made a paper 3d model of the product, and then prepared a template. Next, we sent a pattern for cutting on the glass. When everything was ready, they began to glue the product to a mirror.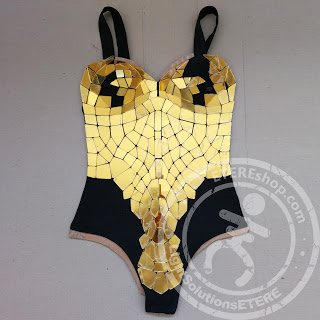 We designed the shape of the suit, in accordance with the wishes of our client. The outlines of the golden mirror dress remind us of the armor of the Amazons. The pattern gives it a fabulous and softens image. And this combination refers us to the modernist style.The balance of all the components turned the dress into an incredibly charming image, emphasizing the beauty of the female body. Just look at the model!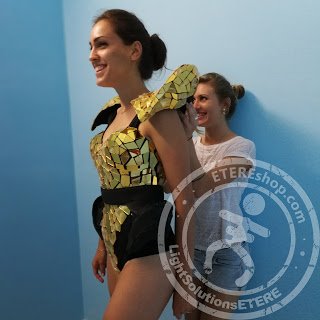 The image has acquired integrity, and become self-sufficient.The combination of the rigidity of form and softness made the dress more versatile. It looks amazing in any environment and it's easy to pick up the necessary accessories. Special attention should be paid to the belt and the way it plays in the light.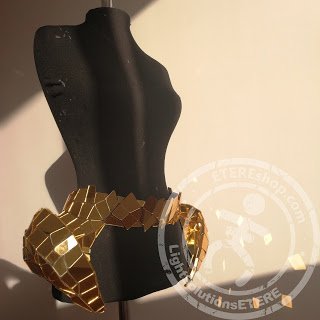 We have exceeded all expectations, our own and our client. She came in indescribable delight when she received photos of the finished product. After all, the image created by the golden mirror dress fully met all of her requirements. The order came quickly. Gently wrapped dress in the process of transportation is not damaged. Having received the order, our customer immediately contacted us and thanked for the work done.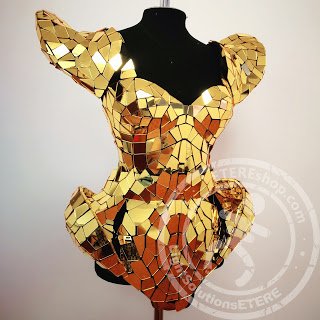 In December, she plans a special performance, which she wants to wear her costume. And while we are waiting for photos and videos from this event, you can enjoy the video that we have prepared especially for you!