In today's blog post we'd like to share our experience in creating the giant human-sized LED infinity mirror dodecahedron with 3200 LEDs from the first concept to the final product. Let's step by step dive into the process of design and its implementation into reality. You'll learn how we upgraded our initial product, as well as the challenges we've encountered during manufacturing and assembly.
1. From the first concept to upgraded LED infinity mirror dodecahedron
For over 10 years in the entertainment industry it came off quite often that our clients brought ideas and inspiration for ETEREshop's team to create completely new products from scratch. This was particularly the case, when we've got our first ever order for a human-sized LED infinity mirror dodecahedron. You can read the whole story HERE.
After a while, we've got a second order from another client, which spurred us to upgrade and modify our initial version of the giant infinity dodecahedron installation. The major objectives were to make its design much more sophisticated, but at the same time the whole installation should be easier to assemble and disassemble, as well as much more stable and convenient to use and transport. 
Using a large infinite mirror dodecahedron installation
Our giant dodecahedron combines a 6.5-feet high giant infinity mirror dodecahedron festival art installation and a LED lighting system with 3200+ LEDs. It has a versatile choice of effects and can serve as a separate art installation, an eye-popping decoration, as well as a perfect backdrop for pictures and video shooting.
In addition, the light effects can be synced with other EtereShop's interactive LED products for an absolutely fantastic and unforgettable show.
2. Getting ready with the sketches and drawings
2.1. Creating 3D model of the infinity mirror dodecahedron
The process of creation starts in Fusion 360.  Here we design a future dodecahedron's 3D model, using 30×30 steel sections as the frame material.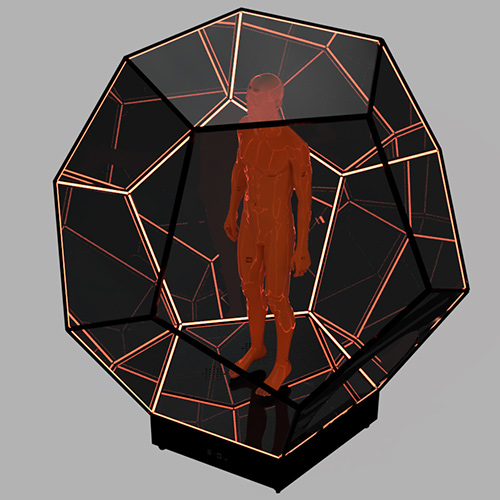 Then we transfer to Autodesk Inventor to make the joints. For this purpose, we need to create a library of sections to be used for the dodecahedron's frame. After that, using the property page "Design", we substitute the created 3D model with the sections from the library.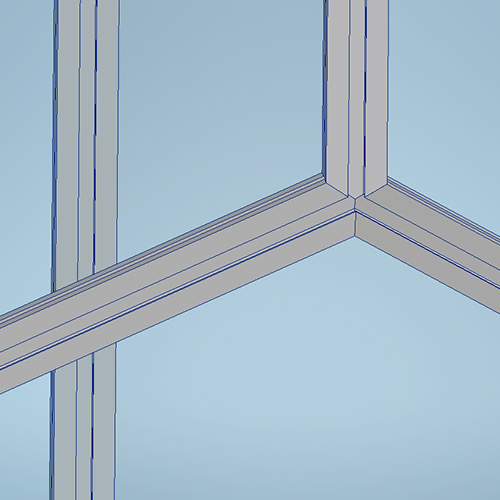 The "Joints" function helps to make them nice and even.
The next step is to send the Inventor file to Fusion 360 and prototype a dodecahedron model out of 2mm-thick PET sheets.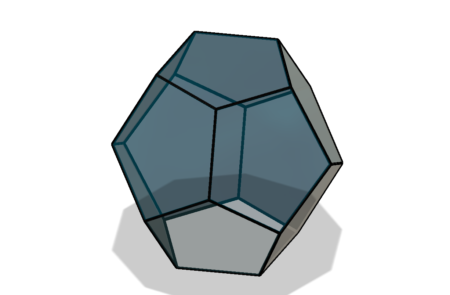 It's necessary to make a Ø80sm hole on one of the pentagon facets to get inside the dodecahedron. For preserving the infinity effect, we covered it with an additional PET sheet.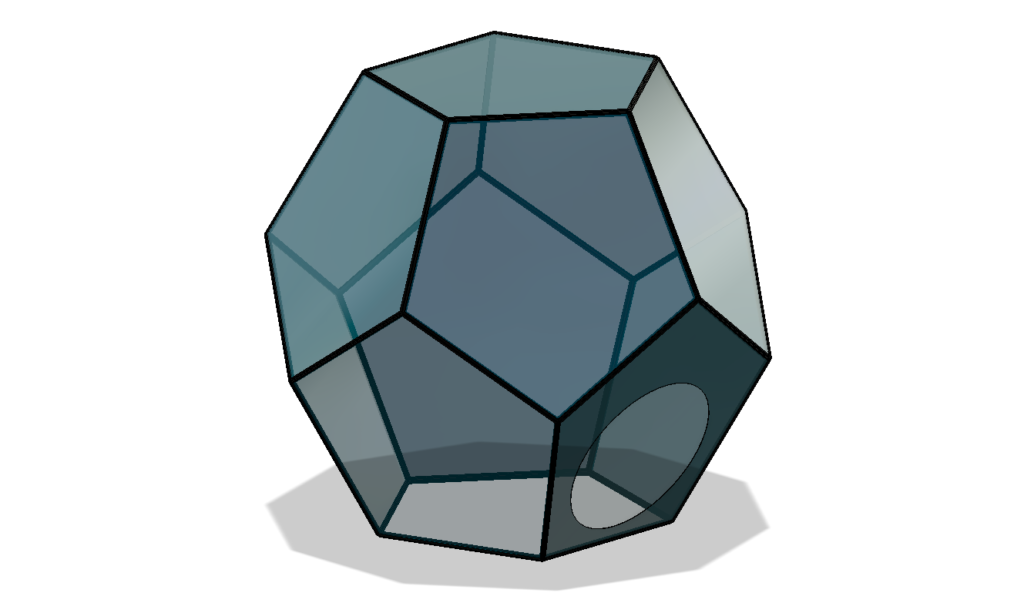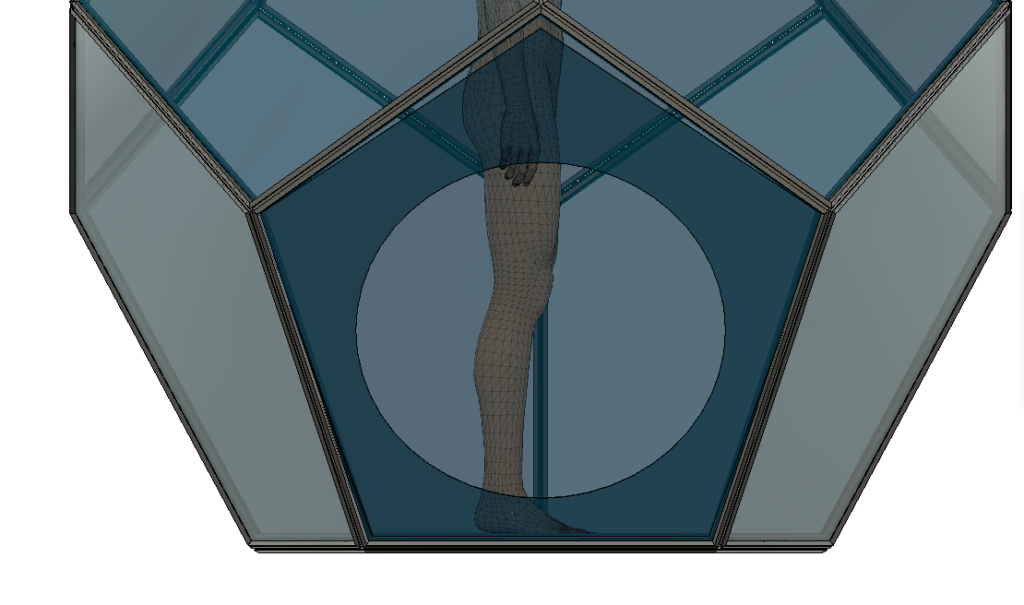 To make sure that the frame is robust and not to allow the dodecahedron fall into pieces, we've designed special sections' mountings ("spiders") from 3mm stainless steel.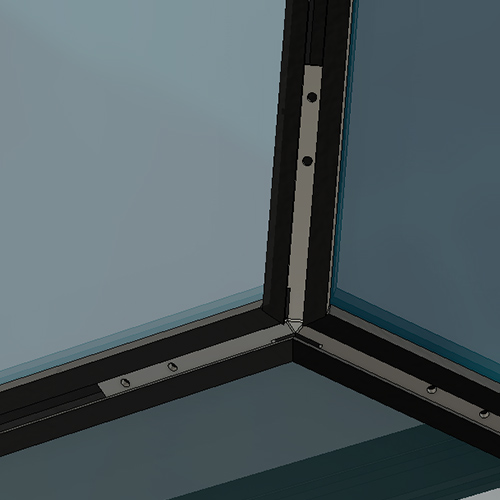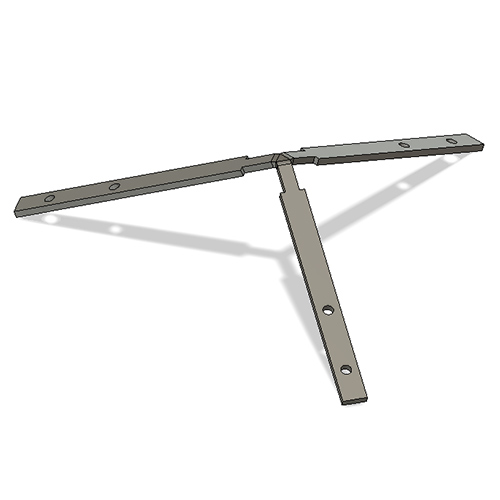 LED strip will be placed in the section's groove.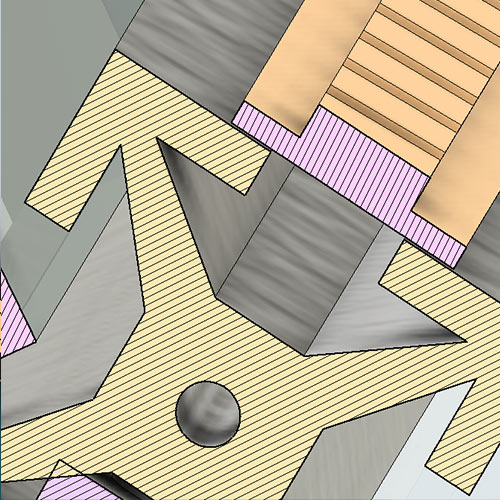 The base is not just technically necessary to hide all the "stuffing", such as power supply modules, wires, controllers, etc. But it also serves as a mini-stage for an artist, who will be performing inside the giant dodecahedron. 
For this very reason we've made ventilation slots and installed two fans – one for air inlet and the second one for air outlet, so that a performer or a dancer can easily breathe inside.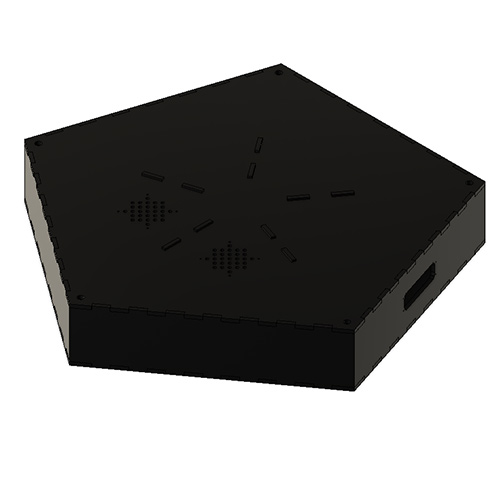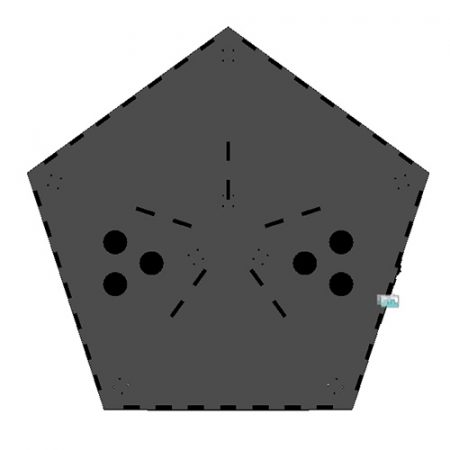 Besides, we've increased the base rigidity by positioning additional supports and added a 6mm-thick extra plywood layer on top of it. The extra layer also serves as a stopper for the frame and eliminates clearances between the installation and the base.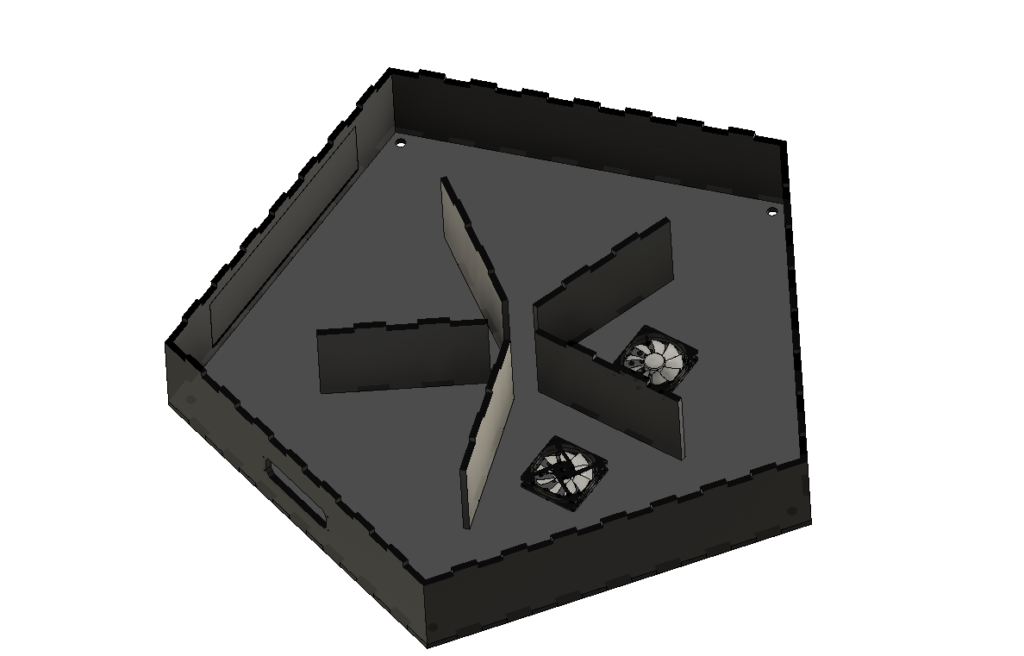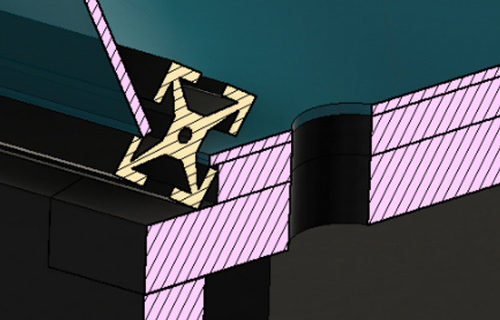 Let's move ahead, and place power supply modules, fixing them with a help of pre-designed mountings, so that they don't move inside the base.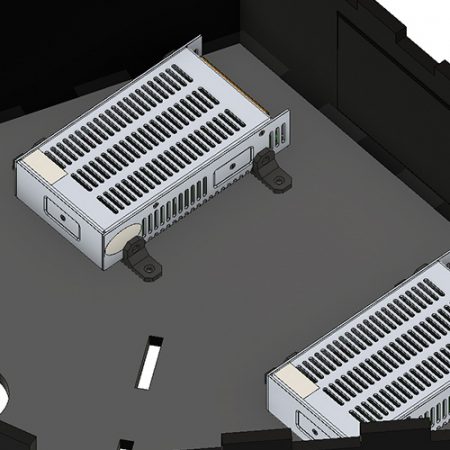 For our customers' convenience we have put our giant dodecahedron on eight brake casters (Ø50) to move it easily on a stage or any flat surface. The casters have been transferred closer to the corners of the base to make the installation more stable.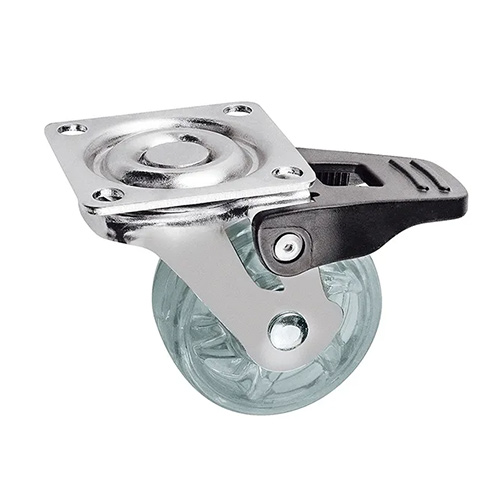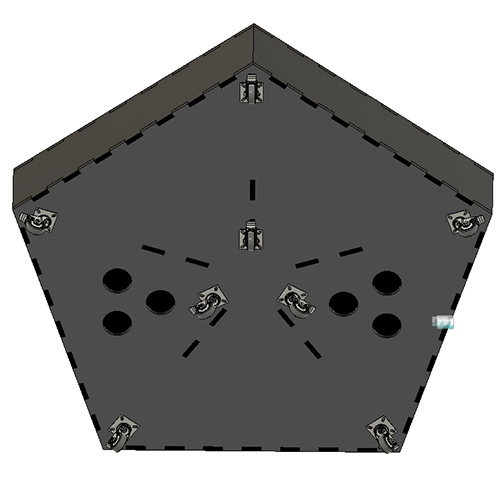 2.3. Control panel design
One of the final steps is designing the control panel with major sockets.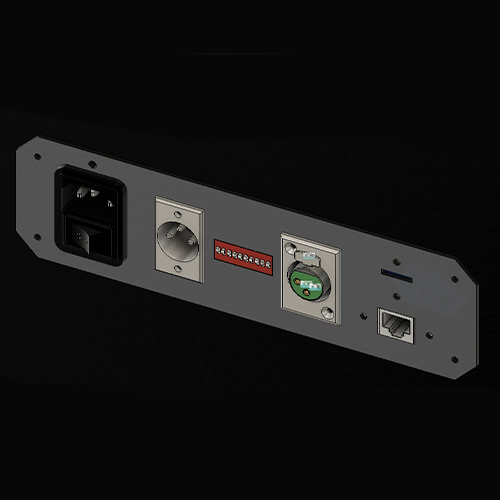 The panel is equipped with two buttons for manual switch of the effects and two LEDs to indicate power supply and controller's performance. Additionally, we design holders for LAN and SD-card modules.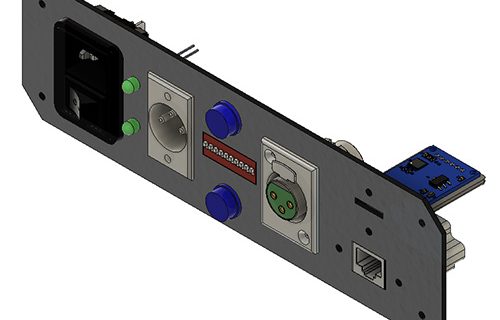 As soon as all the designs are finalized we can make precise drawings for a 12x1525x1525mm plywood base.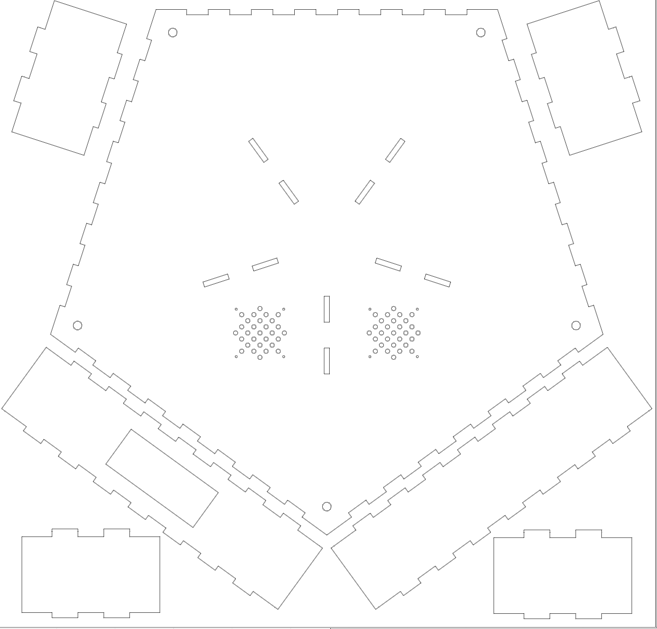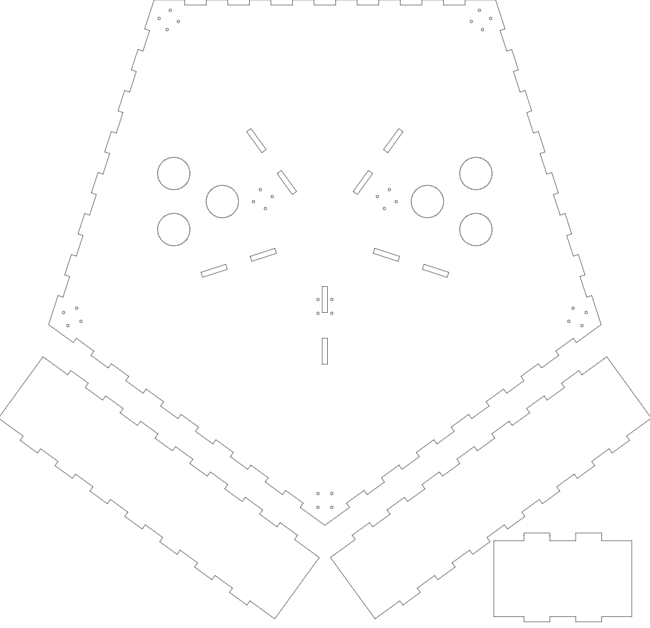 3. Turning dozens of parts and pieces into giant LED infinity mirror dodecahedron
One of the most exciting processes is assembling the whole dodecahedron installation. But first we need to order and manufacture the materials and components, and make them ready for the assembly.
3.1. Plywood base assembly
As soon as the plywood is laser-cut, we clean it from ash and polish all the sides. The parts are connected with corner braces.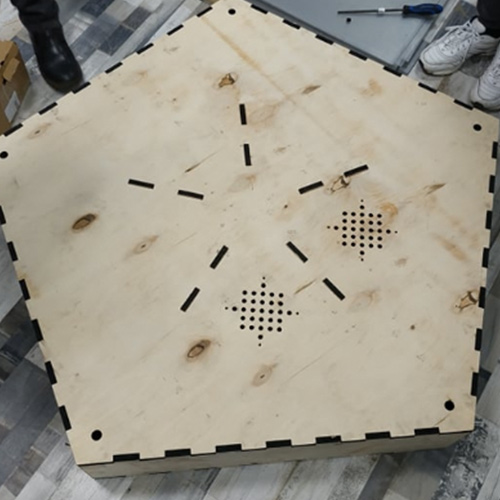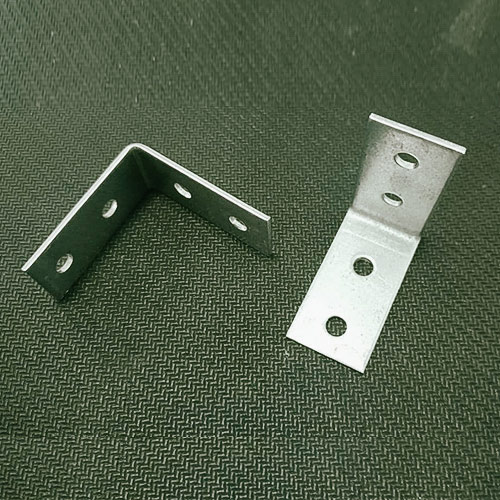 Then we apply black acrylic paint all over the assembled base. It looks better and is easier to apply in comparison to the one used for our previous dodecahedrons. Moreover, there is no need to make prime coating, which accelerates the painting process.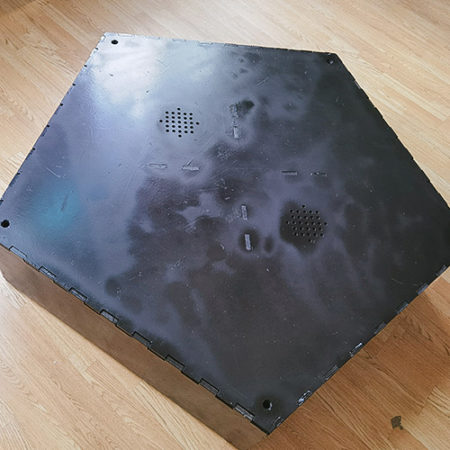 Now the base is almost ready, we just need to attach brake casters with a help of M5x30 screws.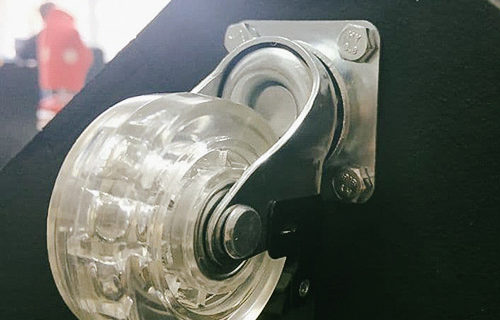 3.2. The assembly of infinity mirror dodecahedron installation
First, we need to cut steel sections with a help of angular saw, following the dimensions and angles on the drawings. After the sections are cut, we rub down the edges and dull sharp corners, so that the they do not abut on one another during assembly and to avoid clearances. Additionally, we make the bores for mountings. In order to drill the bores precisely, we have specially designed miter box in Fusion 360. We put it on a section and then drill the bores.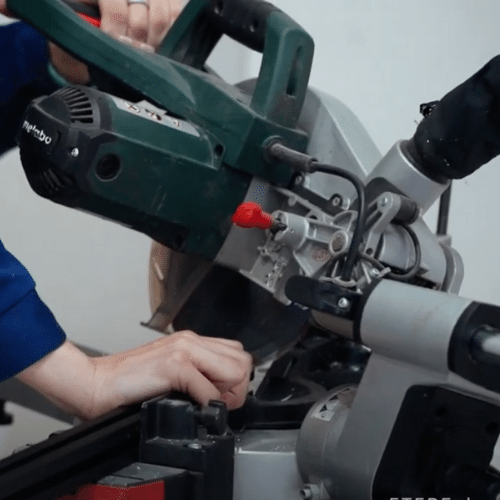 One of the most important steps is manufacturing 3mm-thick stainless-steel mountings (the so-called "spiders") for fastening the sections. This work is done by our contractor according to the drawings we've made.

As soon as the spiders arrive to our workshop, we still need to perform a couple of procedures – make threads in 4.2mm bores and bend the spiders, so they fit perfectly to the sections. All of these is done manually and mated on site.
PET sheets are laser-cut according to the drawings. Further, the pentagon-shaped pieces need to be bent along the cut lines to make "locks" of different shapes. The "locks" are necessary to insert a PET sheet into the section's groove. The workbench for bending PET sheets has been also designed and assembled by our team.
The most important thing about bending PET sheet is not to overheat it. Otherwise, it becomes very fragile and cracks.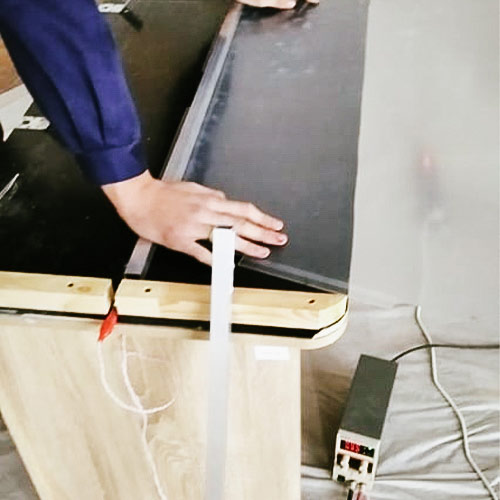 To provide for the infinity effect, we apply a self-adhesive mirror foil onto PET pieces. 
The critical point here is that the workspace for this procedure should be sterile. Moreover, it is not allowed to touch the sheets within 24 hours, so that the foil doesn't peel off.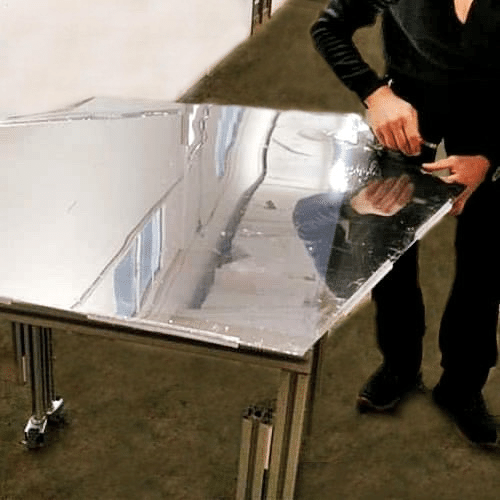 As soon as all the parts are ready, we start assembling two separate halves of the dodecahedron according to an animated video. 
Starting from the lower pentagon facet, we pull a section on its edge, and then insert the side facet into it. We do the same for the rest four sides having s-type lock. 
Each new facet requires installing a vertical rib, so that the whole installation doesn't fall down.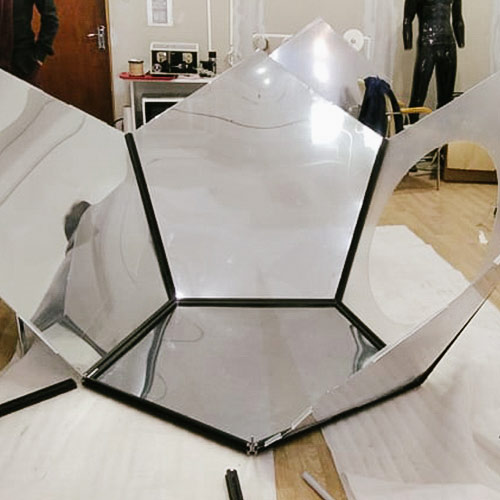 We put a spider into each corner to fasten the parts firmly. 
After the two halves are assembled, we pull sections on the upper sides that have s-type locks, following all the angles' directions and marks. Then we take the top half, turn it and put onto the bottom half. We snap on all the facets and fasten everything with the help of spiders.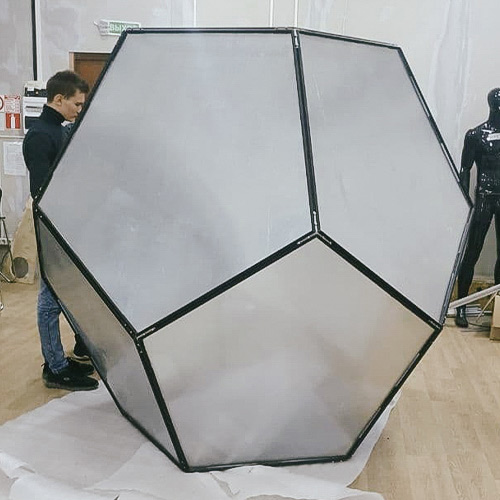 The next stage is to prepare LED strip. First, we glue it onto a 1mm-thick PET strip. Then the PET strip is glued onto 5mm-thick EVA strip. As soon as the "sandwich" is ready, we insert it into the section's groove.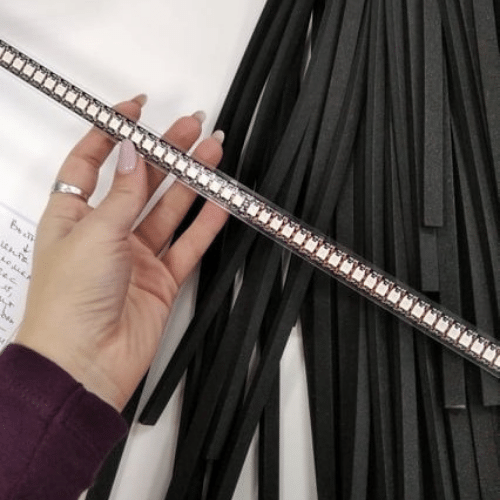 3.3. Control panel assembly
The next stage is to prepare LED strip. First, we glue it onto a 1mm-thick PET strip. Then the PET strip is glued onto 5mm-thick EVA strip. As soon as the "sandwich" is ready, we insert it into the section's groove.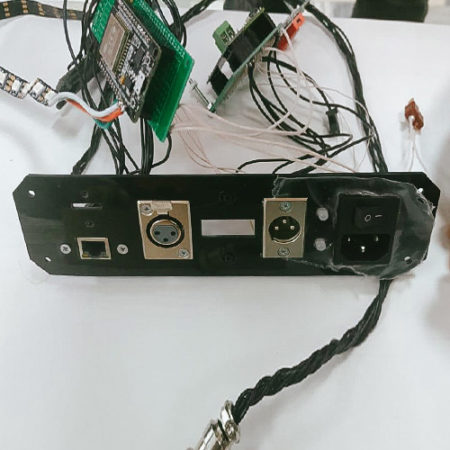 4. Setting the effects for LED infinity mirror dodecahedron installation
For our standard scope of supply, we set up to 20 lighting effects. The effects can be standard or customized. They can be programmed individually to suit a particular event or color scheme. One of the options we offer – synchronization of the effects to music in real time.  
The control can be carried out using buttons on the panel, or in a stand-alone mode via DMX switch, remote RF controller, or even through your mobile phone. All the effects can be manipulated on computer or a sampler in real time through LAN connection and ArtNet, using such software as Madrix, Resolume Arena, Madmapper, etc. For a fully automated performance, you can always use a cycle mode.
5. Add a bit of sparkle to your next event with a giant LED Infinity Mirror dodecahedron
Here we are! Our human-sized LED infinity mirror dodecahedron is ready to illuminate and spice up any party, and make it amazing and unique. 
Event planners, stage managers, and club owners can use it at all the variety of indoor and outdoor venues and events. DJs and go-go dancers can create exciting stage effects with our dodecahedron reflecting music in real time! They can literally visualize the rhythm, keeping the lights synchronized to the beat, and make their performances and shows impactful and unforgettable.
Share this article with your friends, who'd like to create an incredible atmosphere at their next party or event, and let them find out the new ways to entertain their guests and audience.
If you are also looking for extraordinary LED infinity mirror installations to impress your guests, we welcome your request or inquiry!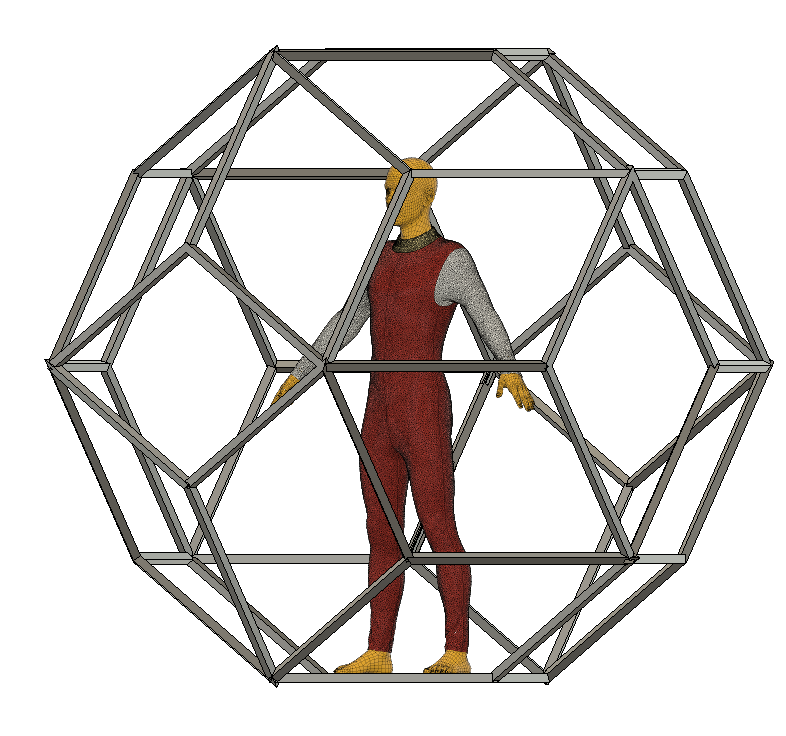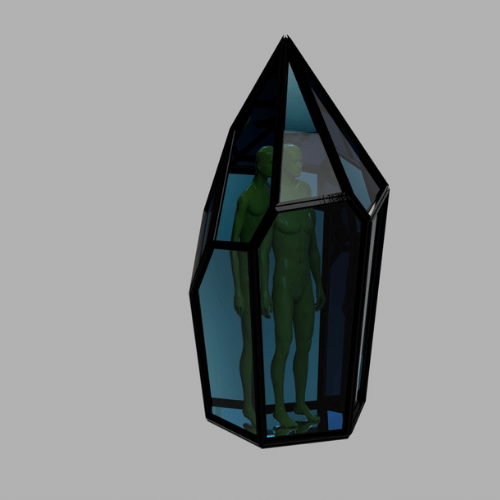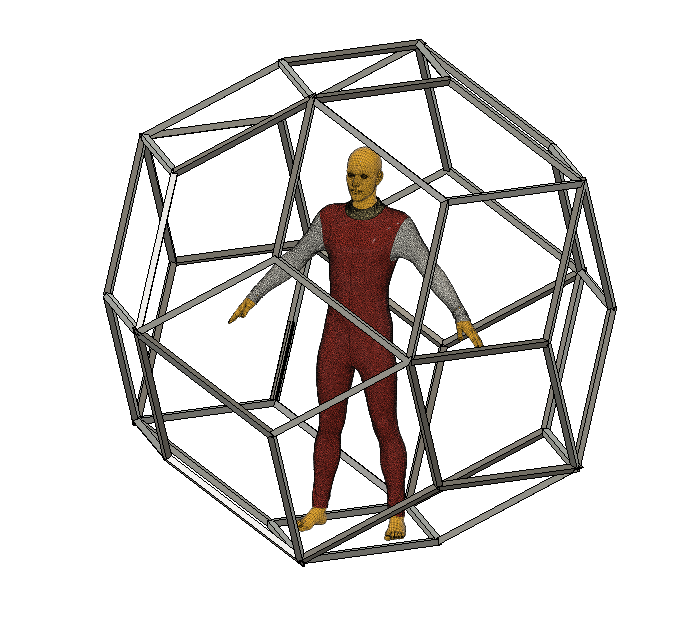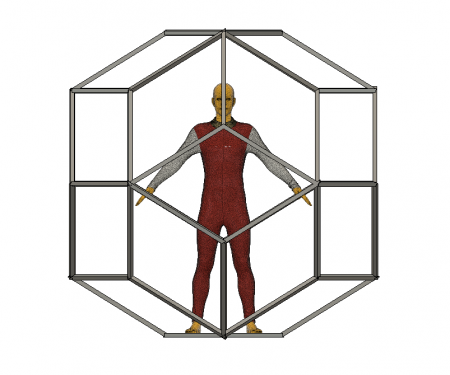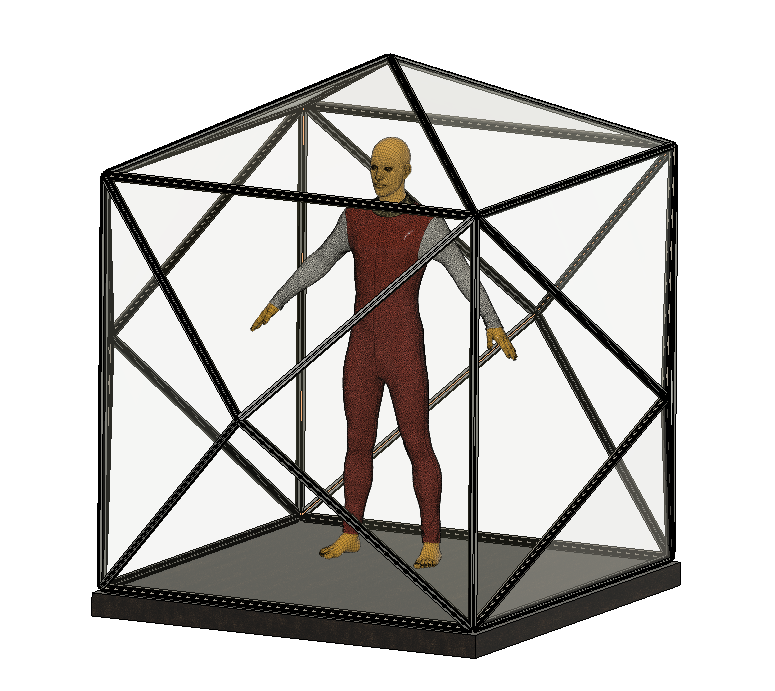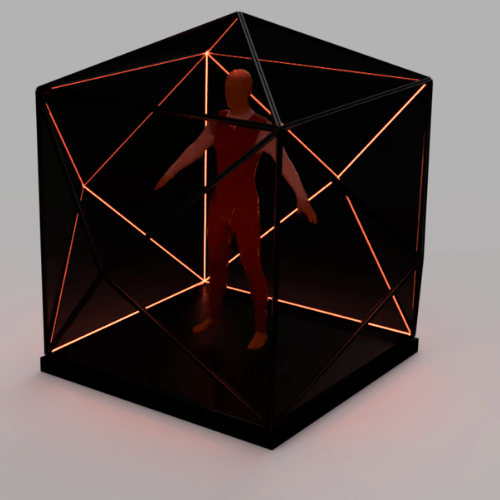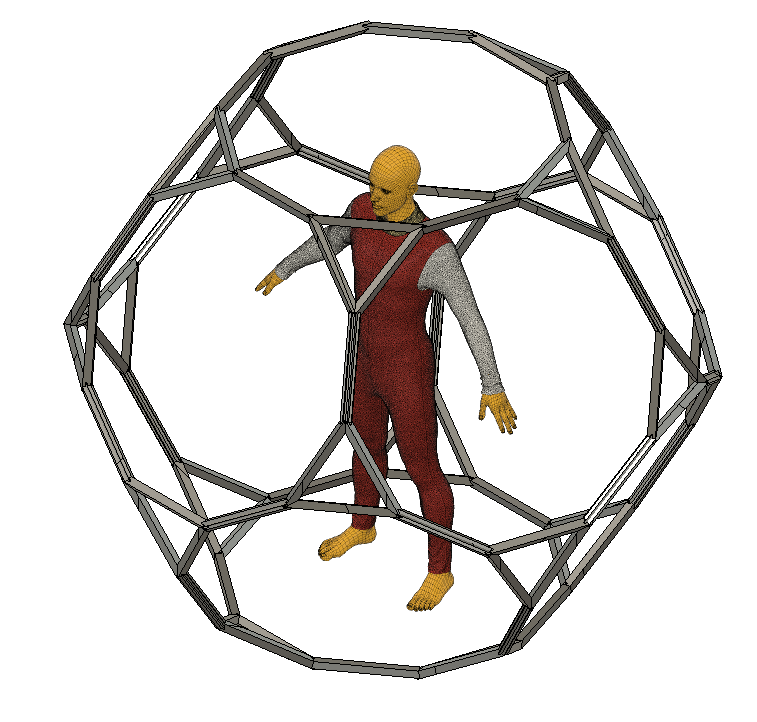 We'd be honored to put our experience to bring your ideas to life.
Create your perfect giant LED infinity mirror dodecahedron with EtereShop!