Hi my friends!
When we started selling the wings – we began to receive a lot of questions from our customers. Our customers want solutions to their problems, and we started thinking how we can help them. In a few months we were able to create several groups of our customers. Also described the problems of our clients – we could not solve with the help of our products:
Belly dance solo performers

Solo artists have a lot of different stage characters and dance numbers. For them, very important to be able to use the wings precisely in their dances, and so they want to. Wings should be unique and should help to reveal the author's idea of dance. Wings should be easy to use and do not hamper movement.

Nightclub performers

For nightlife is very important operation time of the wings and the diversity of possible effects. Wings should be bright, transparent and sexy. The effects should be diverse – but it should not distract attention from the dancers.

Dance teams

Dance groups want to get very bright performance and do not spend a lot of time for that. It is important to be able to easily manage multiple wings from a computer to sync with the music. Very important is the ability to easily create a new dance – for a particular client and events.

Event companies

Event companies want to get a bright solution to any events and scenes. Easy to work with their employees and easy to customize for a particular event. For these companies, it is important to have a stable technical support, and the ability to rapidly expand the number of wings for very large events.

Сreative people

Some of our customers want to make a great gift to close people. Or want to be the center of attention at a party or festival. For them, it is important to ease of operation and the ability to personalize the wings for themselves.
As you can see one of the very important requirements – personalization and flexibility. All this is not possible if you use the normal wings. But all this can be easily done – if it is possible to manage each individual LED. When we realized that we need, we have to look how to do it…
We tried to find something similar from what has already been created, we found individually controllable LEDs and controls for their management. But all ready has been designed to create a light outdoor advertising – and is not suitable for solving the problems of our customers. Indeed solutions mainly created new problems.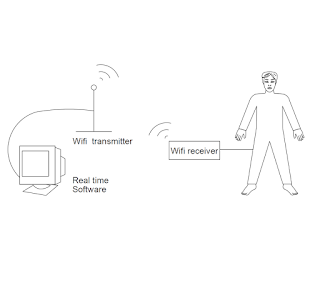 Real time computer control solution
We tried different options more than six months. In the end we found a really good solution for driving LEDs from a computer in real-time synchronization with the music. We use this solution – it has a lot of opportunities:
✔ Full control of each individual LED in real time.
✔ WiFi data transmission system(2.4 Ghz or 5 Ghz)
✔ Madrix software – to create and play a show program.
✔ The ability to synchronize with any stage and equipment (lasers, light devices, video projectors, etc.)
✔ It can be very easy to make a brand new show in a few hours.
✔ The possibilities for personalization are unlimited!
✔ The ability to manage a variety of actors – hundreds or even thousands at a time.
But with all these advantages, there are enough drawbacks:
✖ To control the wings – we need more than one device (controller, WiFi router and power bank for a router) – and all of this size and weight.
✖ To work with the system you need a computer.
✖ You need to buy a license for the program Madrix.
✖ You need an extra person to run the show and setting the control system on the new stage.
All these difficulties are not a problem for companies and dance groups, but very serious difficulties for solo artists. We decided to continue the search for a solution, and after a while we found a solution.
We started to develop its own controller for our products. In the beginning it was very difficult and wanted to find an easier way. But as a result we now have ample opportunity at the lowest price. Furthermore, we can extend the functionality of the controller depending on the problem. For us it's a great way – because now we can solve a lot of tasks and problems of customers: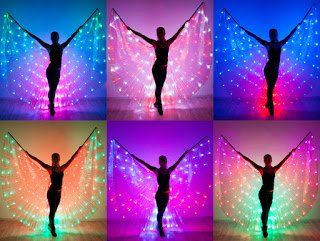 Same wings – lot different effects
✔ Full control of each individual LED
This allows you to create any lighting effect. Choose colors for your costume or corporate colors of the event. Choose a tempo effects and more. All this will allow you to easily create a unique dance.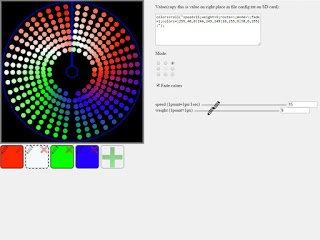 Web page for create effects
✔ Web interface for create own effects
All settings can be done in a web browser. This may be any operating system and any device. You do not need to install additional software or drivers – all for maximum usability.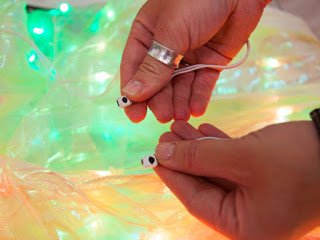 Buttons
✔ Small buttons on sticks for switching effects
According to one button on each stick. One button – the next light effect, the second button – the previous light effect.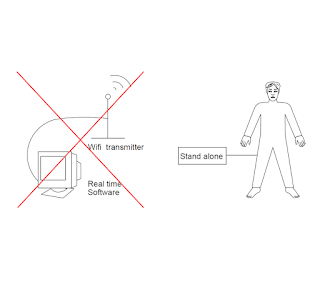 Plug and play
✔ Stand alone work mode
Independent mode does not require a computer or other control devices for work. You just need to run the program and it will work.

✔ Full compatibility with real time PC control by Madrix
If necessary, the controller can be used in complex solutions. It can be used with computer control. This may be a Madrix software or similar products for managing digital LEDs.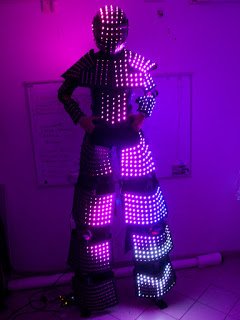 Digital Stilt Man contain around 2000 leds
✔ You can manage up to 3000 LEDs
We have different models of wings and costumes. Currently we have wings 165, 330, 510, and 1000 digital LEDs. But if you have a unique project – the one controller is able to control even 3000 digital LEDs.
✔ Compatible with control protocols DMX, ArtNet, MIDI
If you already have a computer control system for lighting effects – you do not need to buy a new one for our wings. You can use your software – our controller can be easily integrated into your control system.
After we have developed a control system, we have launched a series of products for our customers. We called this series – "Smart". In it, we will integrate our products with DIGITAL ice and without the need controls with your computer. Here is a list that is already on sale in our store:
Even more projects are now in operation – but more on that in my future articles…
And a little information on how it began.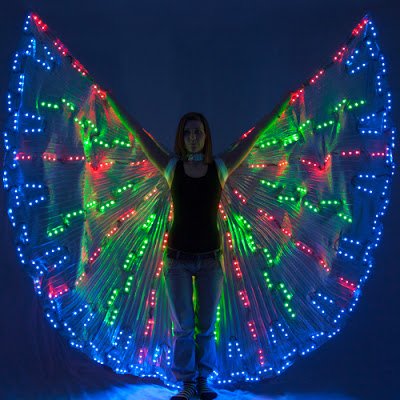 Led wings model RGB-600
First our wins – RGB 600 – this is most powerful wings from all our models. To create these wings we used 600 RGB LEDs. We create it for own use with remote PC control. We use wings in one dance number with lasers. You can look on result.
These wings use PC control system based on WiFi DMX. We divided the wing into three parts and made for each of them the opportunity to control. As result we receive wings with 9 chanels and WiFi DMX controll.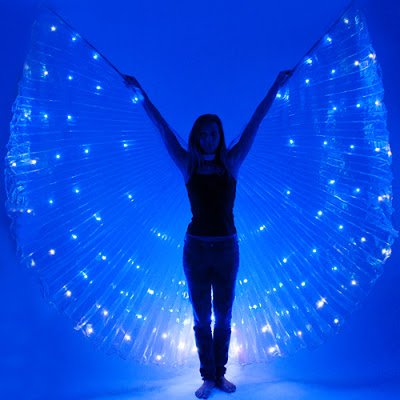 Blue color wings
Single color wings we firstly created for our client – for sell. It are most easy to use and really cheap solution. One color does not give more opportunities and there is no point in adding computer control system. It's very simple – plug and play.
Thank you for reading from all our team – ETEREshop!!!