Interactive 3D Projection Dance Cube: The Ultimate Entertainment Experience
Are you looking to add a touch of magic to your next event or show? Do you want to create an unforgettable experience for your audience? Look no further than our interactive 3D projection dance cube. Whether you're an event manager, performance-maker, or professional show dancer, our cube can take your performance to the next level.
Show must go on, or how to survive in the world of entertainment industry with a help of interactive 360-degree projection dance cube
Entertainment is becoming increasingly demanding, requiring producers and performers to exceed traditional expectations. COVID restrictions have forced businesses to diversify and attract new audiences. ETEREshop has launched a new high-tech product that makes performances captivating and emotional. So, introducing the interactive 3D projection dance cube – a solution that eliminates the need for constant brainstorming, thrilling solutions, and multiple settings, decorations, and costumes.
Interactive 3d projection cube's major features, usage options and technical characteristics
So, our interactive 3D projection dance cube is a powerful device for top-notch performances and interactive projection shows, offering 360°-view motion capture graphics, custom-made 3D effects, and seamless transitions to music. It's suitable for events of any size, indoor or outdoor, and is perfect for music festivals, dance shows, exhibitions, corporate and art events, and nightclubs. So, the cube is made from a robust framework with a transparent 3D screen and features four projectors and a powerful computer for high-quality projection mapping. It also allows real-time manipulation of all effects using advanced projection and motion-capture techniques with VR controllers.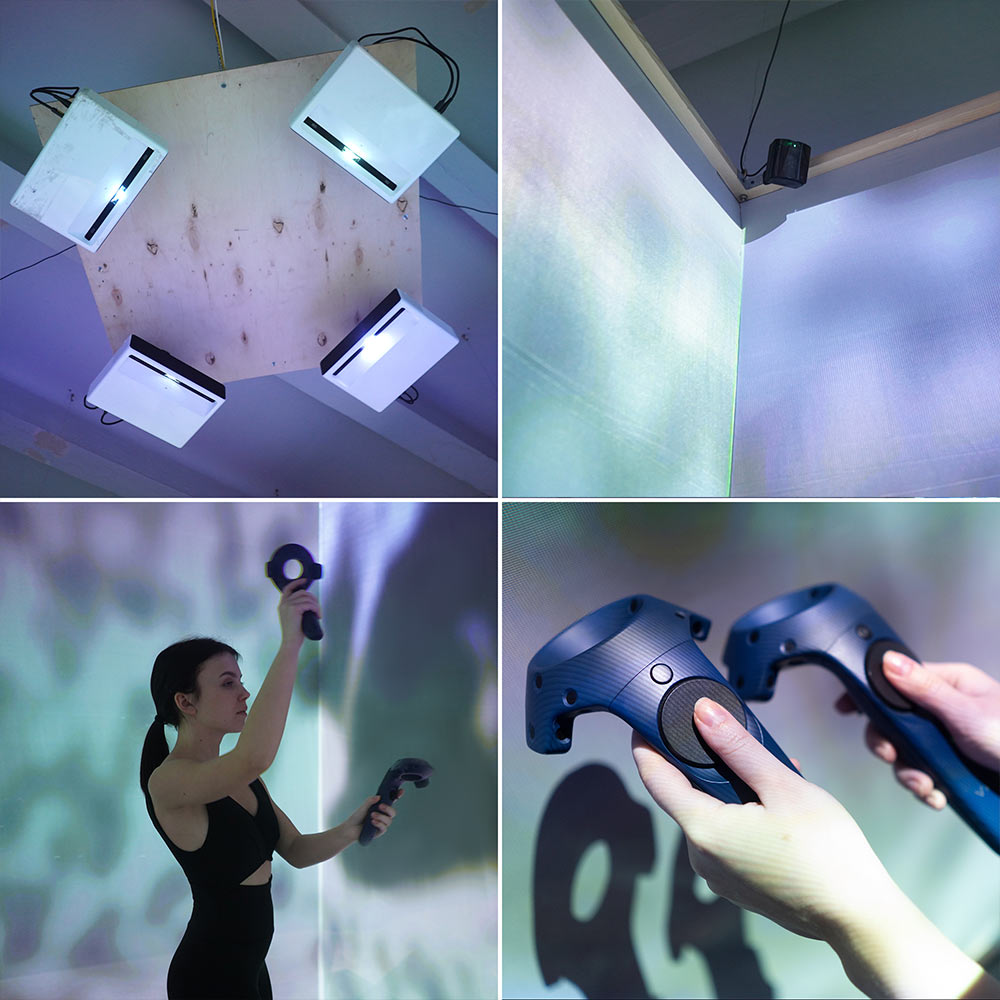 So, whether you're a dancer, a singer, or a circus performer, you can literally have your show in hand! Two motion controllers will track your movements and trigger immediate and precise response of the footage and 3D effects reflected on the screen. It means, that there is no more need to adjust your movements and take care that they are synchronized with the visual effects.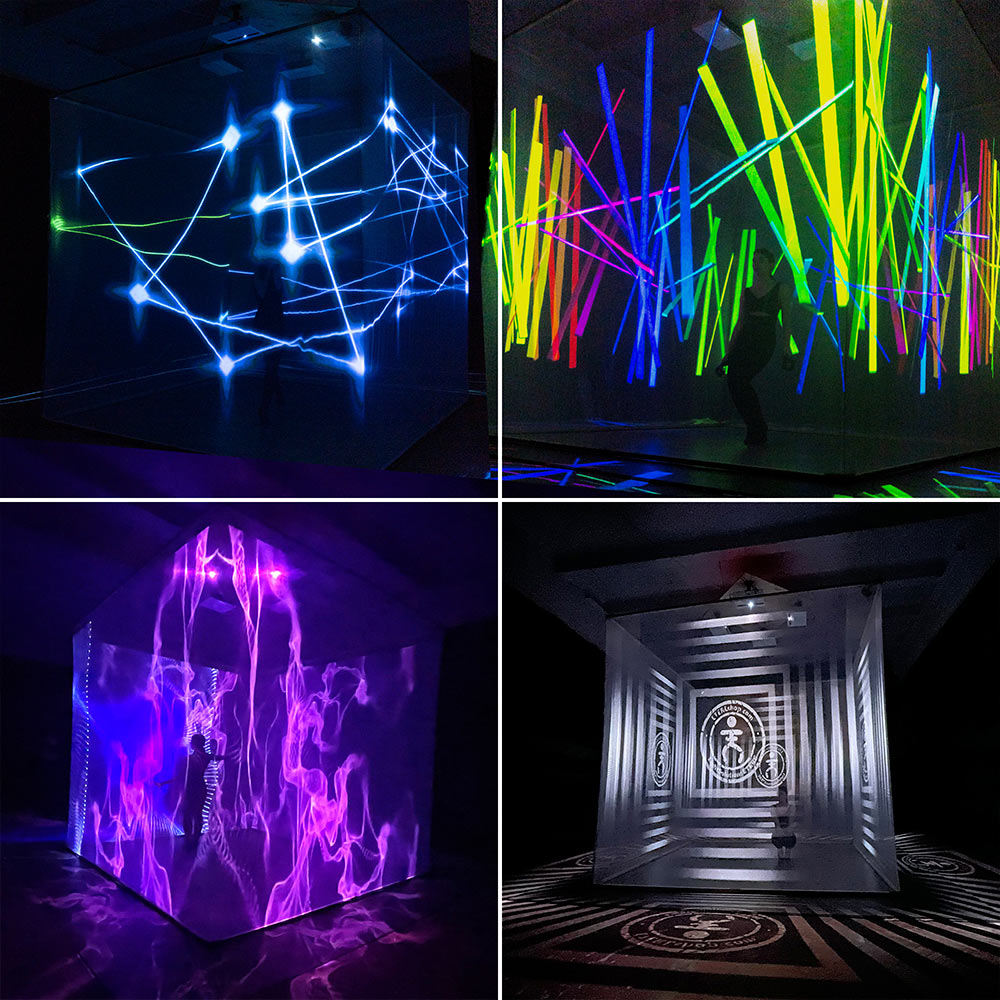 Also ETEREshop's interactive projection cube is a ready-to-use product with a preconfigured library of content. The effects and designs can be standard or customized according to your wish and requests. So, you do not have to create them in a 3D modelling software on your own. All you need is just to press the "Play" button and perform your role!
The main characteristics of the 3D Interactive Projection dance Cube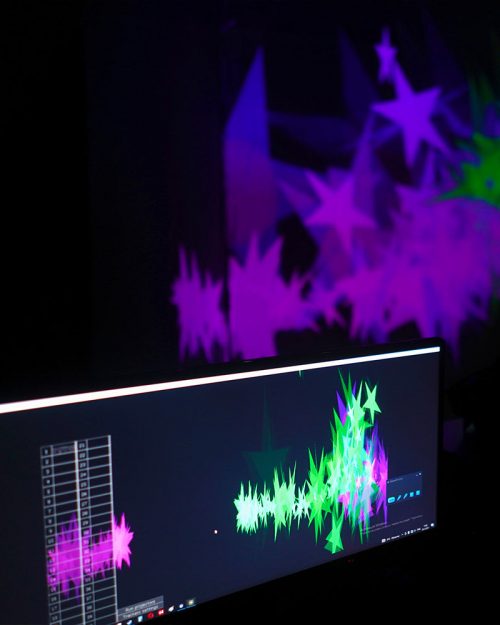 Technical characteristics:
Cube – 3m

3

(other sizes and shapes are possible upon request)

Four high-resolution projectors

Two VR controllers

Powerful computer + control panel
Advantages:
Real-time control

Multiple usage options

Library of content

(up to 20 effects and designs)

Customization possibilities
Our company's expertise in developing and manufacturing interactive 3d projection cubes
So, the company ETEREshop has been developing a variety of creative and unique products – https://www.etereshop.com/about-company/, delivering them worldwide for already more than 10 years. 
We always stay in the loop with modern technologies and follow the dominant trends of the entertainment industry market to offer sophisticated and high-impact solutions for our customers. 
Starting with our first animated laser show back in 2011, we've been constantly looking for cutting-edge technologies, testing a number of ideas, and creating prototypes, until we've finally come up with an advanced version of our interactive 3D projection cube. For more details about how we created and upgraded our product, visit our https://www.etereshop.com/touch-designer-vr-real-time-video-mapping/ page.
We were inspired by the work of Adidas with the Running Cube holographic projection and 4D performances of MagicInnovations. While we were learning about the problem of artists who perform with a holographic cube, we decided to improve it so that they no longer have to adjust to pre-drawn effects and waste time on rehearsals.
Adidas Running Cube Holographic Projection
4D Cube Holographic dance 360 | Magic Innovations
Why choose Etereshop for an interactive 3d projection dance cube
At ETEREshop we have a talented team of product developers, software engineers and designers, who are ready to translate even the craziest ideas into innovative and high-quality products.
Being performing artists in the past, we know how to help our customers attract and captivate large audiences, and generate an incredible wow-effect.
We put above all long-term value for our clients, leveraging all our knowledge and experience to provide the best solutions for your projects, that's why artists have been choosing us for 10 years.
See what products we have already created:
How you can benefit using our interactive 360-degree projection cube in your next project
Take the opportunity to organize stunning events and performances with an attention-grabbing interactive 360-degree projection cube. You'll get a fully-featured installation with all the necessary attributes for an engaging show – a combination of fancy settings, interactive 3D visuals tuned with the music, and "magic" tools bringing it into action in real time. In addition, the cube can be well seen even from a large distance, which makes sense during the time of gathering restrictions. 
Give it a try and benefit from gaining success and popularity, like it was already done by a number of famous brands and pop stars (Nike, Adidas, Calvin Harris and Rihanna, Jammie Lidell, etc.). Transmit your audience into a mesmerizing world of virtual reality to deliver unconventional and cutting-edge experience. 
Feel free to contact us for more information at sales@etereshop.com and get inspired on how you can implement our cube in your next project. 
The show must go on!