A beautiful time is coming – the season for graduations, weddings and various special occasions. It's time to think about a new fashionable and bright outfit for your holiday. And there is our selection of dresses from the latest Oscar 2022 to help you. New fashion trends will help you to choose the best outfit and keep up with fashion. We have collected a number of evening long dresses for petite and small woman as well as brave and fashionable dresses for plus size guests.
Silver and Gold evening dresses at the Oscars 2022
Silver and gold were considered traditional fashion colors for Oscar outfits.
 Whether it's a prom, a wedding, or an Oscars walk down the red carpet. We are sure that you will have the idea for your future dress for graduation date.
Lupita Nyong'o surpassed everyone by dressing in gold from head to toe. A gilded dress with pink sequins flowers on the bodice that fades into red fridge on the skirt. This is something unbelievable, and an absolutely stunning look.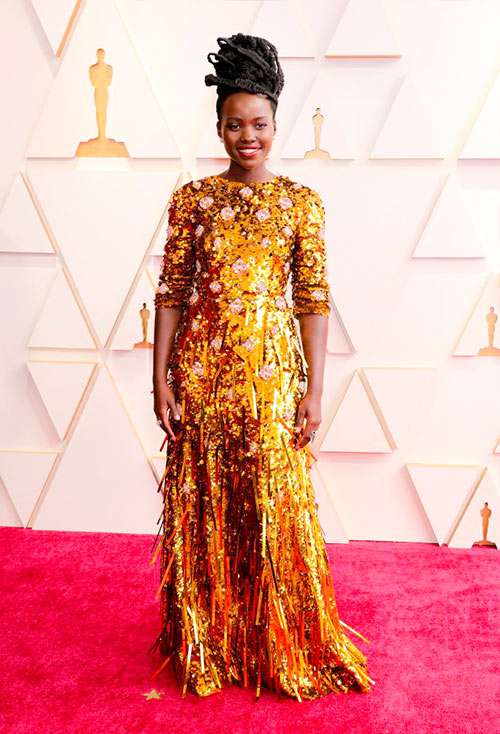 Olivia Coleman wore a stunning metallic silver pleated gown with a high neckline, exaggerated sleeves, a belted midsection, and a flowing A-line skirt.
Becky G poses in a starlight gown with feathered detail at the hip.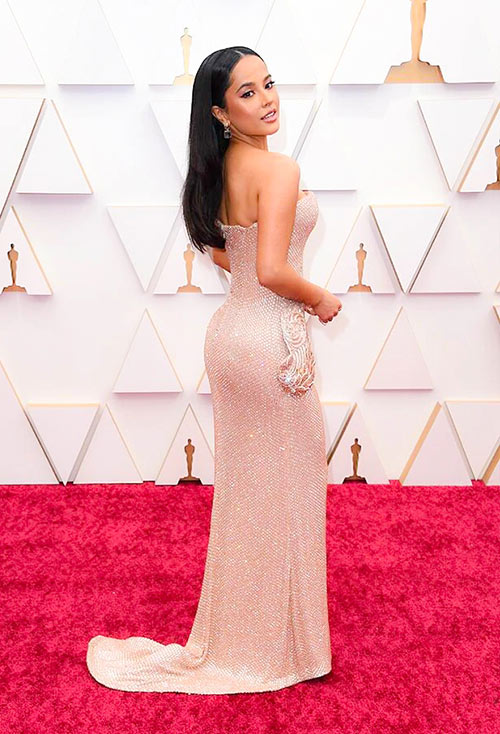 Zendaya is an absolute favorite of the public and the star of every red carpet. This time, she not only did not disappoint fans with her evening outfit, but also exceeded all expectations – a real style icon. Zendaya donned a satin micro blouse, complementing it with a long skirt with a train, embroidered with silver sequins.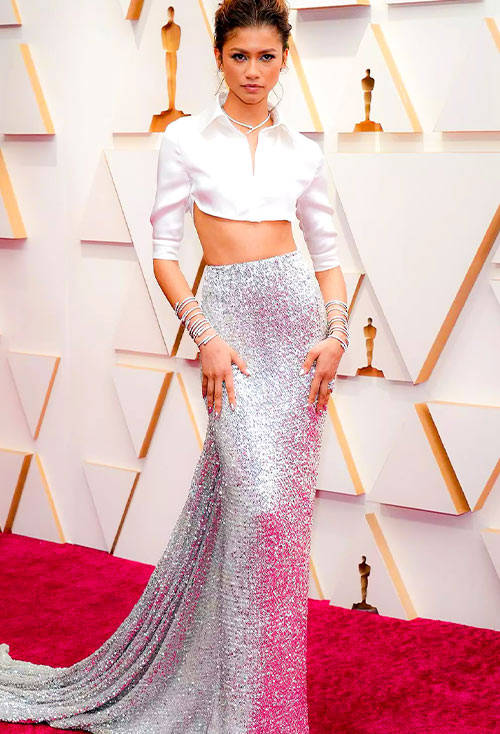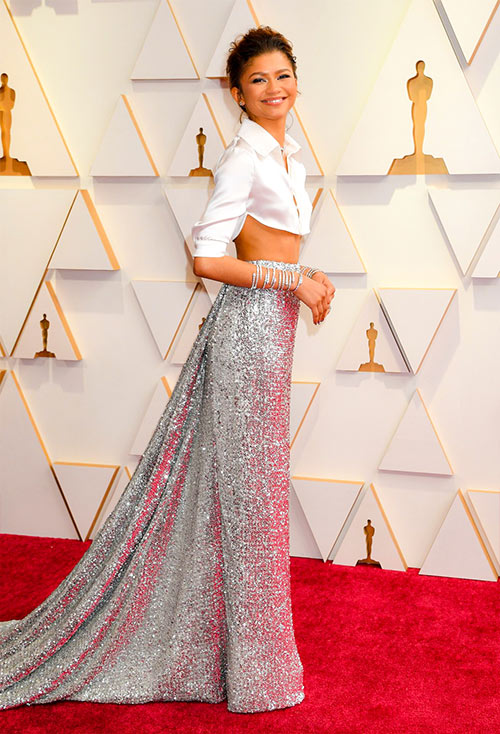 Jamie Dornan and his wife Amelia Warner in the dazzling gold sequinned gown on the red carpet. Amelia's red carpet dress was covered in gold sequins and white rose embroidery, boasting elegant long sleeves and a high neck.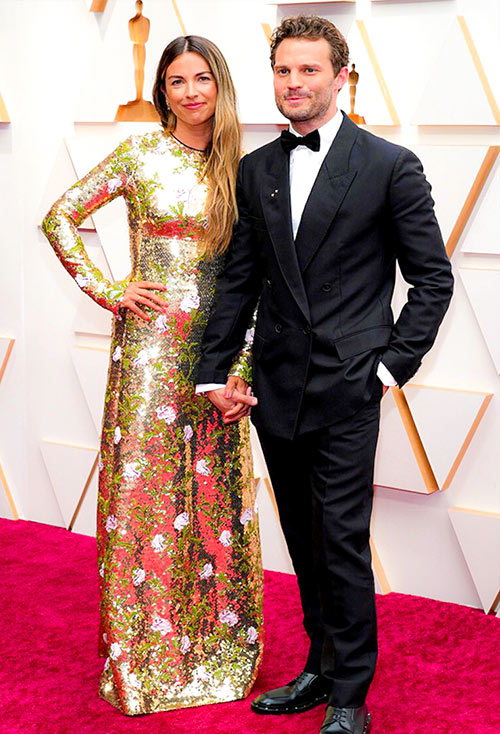 Shiny dresses from the Oscars 2022
At the most brilliant ceremony, there cannot be too much stars. That's why they are shining, sparkling and shimmering. Be inspired by the colors of gold, silver and iridescent glittery fabrics. Tight- or loose-fitting – these evening outfits will always make you be the center of attention. And have a look at the details – fish scales, decorative pockets or pink sequins – details matter. Everything works together for a flawless, bright and sexy look.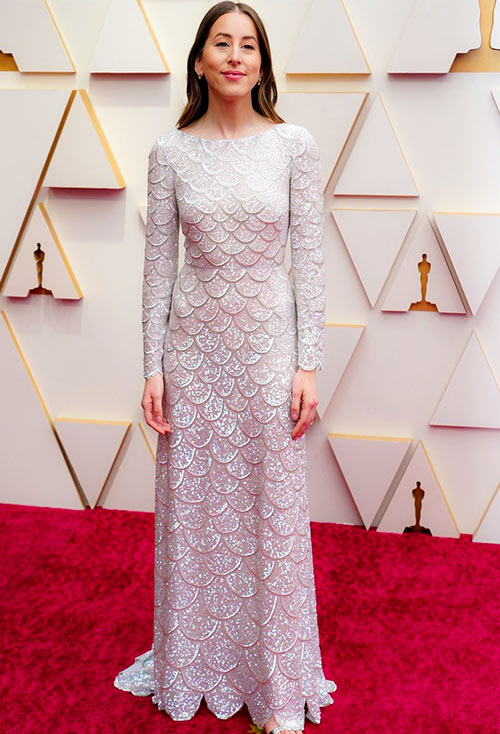 Jessica Chastain clearly wanted to shine like the star she is. "The Eyes of Tammy Faye" in an ombré gown that transitioned from copper to a glimmering lilac. Copper upper part of her gown is similar in hue to her fiery locks. The lavender-almond gradient goes well with red hair, and the style of the outfit perfectly emphasizes the figure.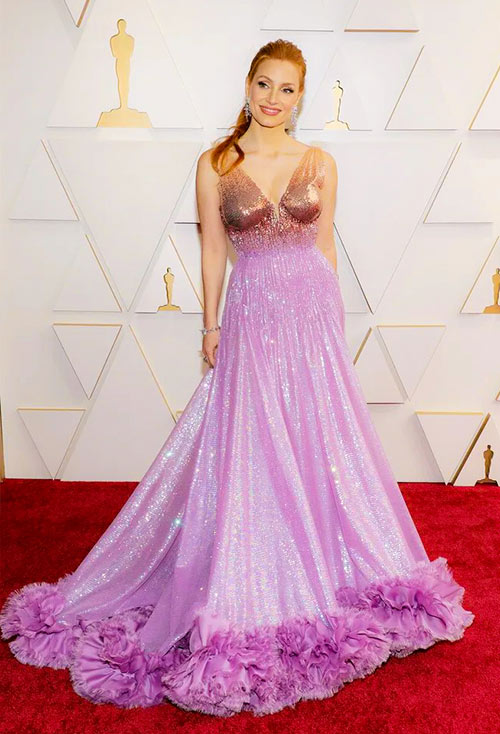 Vanessa Hudgens with an unusual shape of the bodice and flowing long bottom.
Demi Singleton – "King Richard" star Singleton surely caused quite the commotion on the red carpet in this gorgeous Miu Miu gown. The actress looked like absolute royalty thanks to a sleek up-do and bedazzled, strapless lavender dress.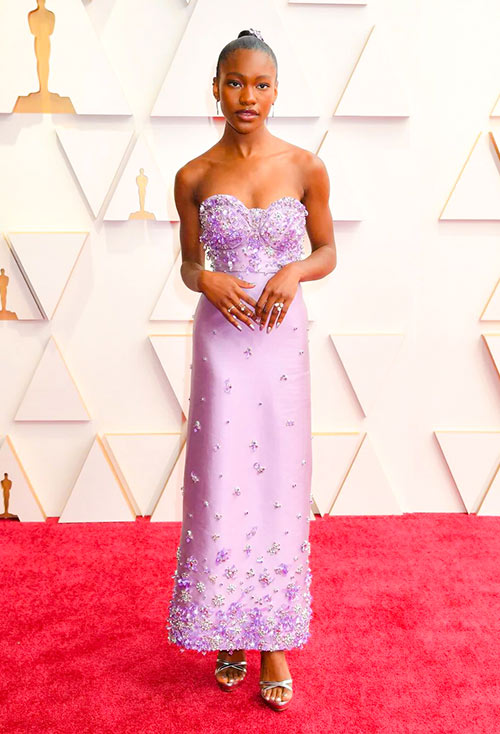 Emilia Jones – several shades of gold in one dress. From delicate silver at the top to pure gold at the bottom. That's very beautiful.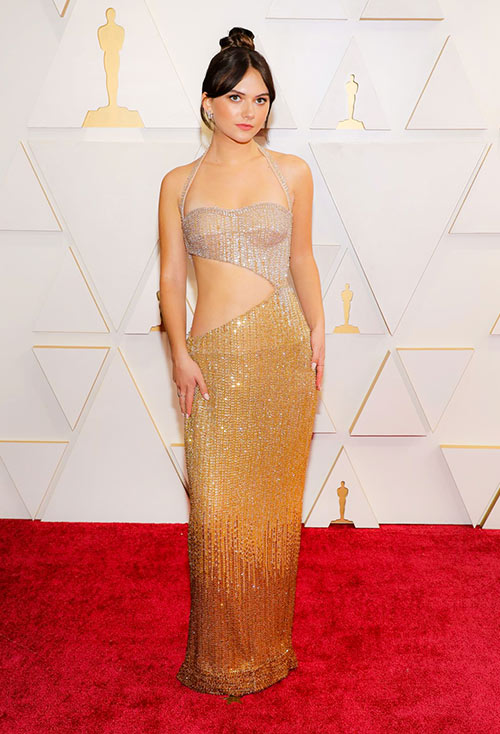 Memorable plus size outfits from the red carpet
Curvaceous women can and should be charming. Look, how fashion houses came up with evening dresses for plus-size actresses.
The dresses of actresses are sparkling as brightly as those of plus-sizes evening outfits with interesting styles and gleaming fabrics.
Megan Thee Stallion was wearing a stunning purple dress with a major leg split. The one-shoulder dress also featured an off-the-shoulder sleeve on the same arm, adding a dramatic twist to the asymmetric look.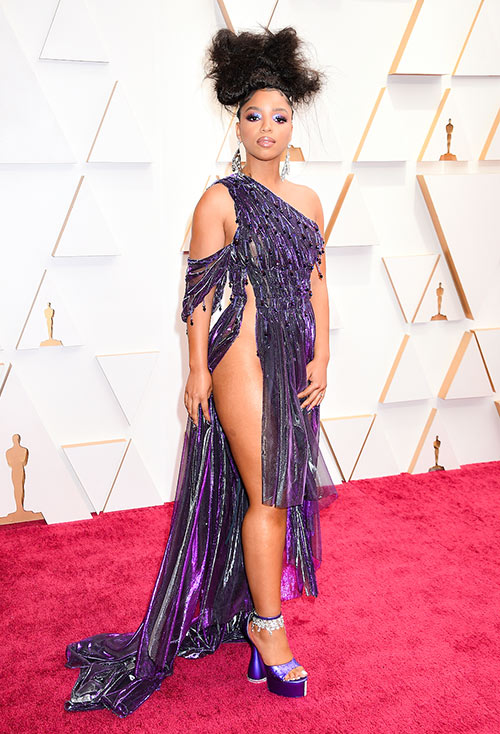 Jamie Lee Curtis wears long-sleeved dark blue glittering dress and honored the people of Ukraine with her red carpet look, showing off a blue ribbon on her finger in support of refugees.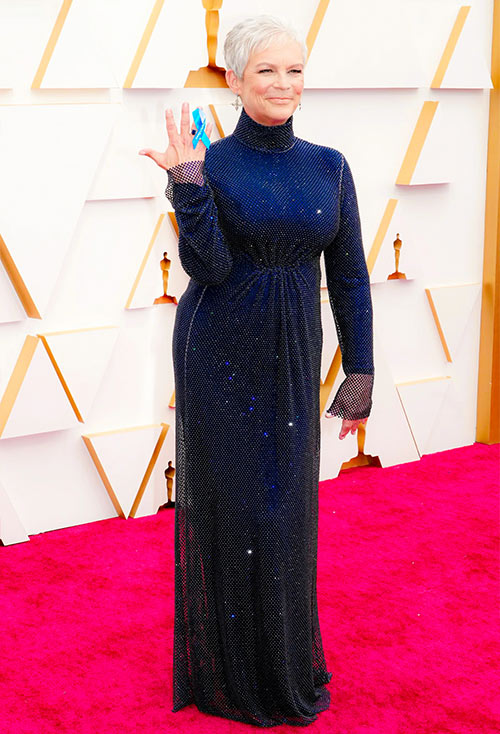 Ruth E. Carter – an interesting solution – the jacket is made in the shape of a circle, and the skirt expands to the bottom. As a result, the actress in black and white looks very harmonious and impressive.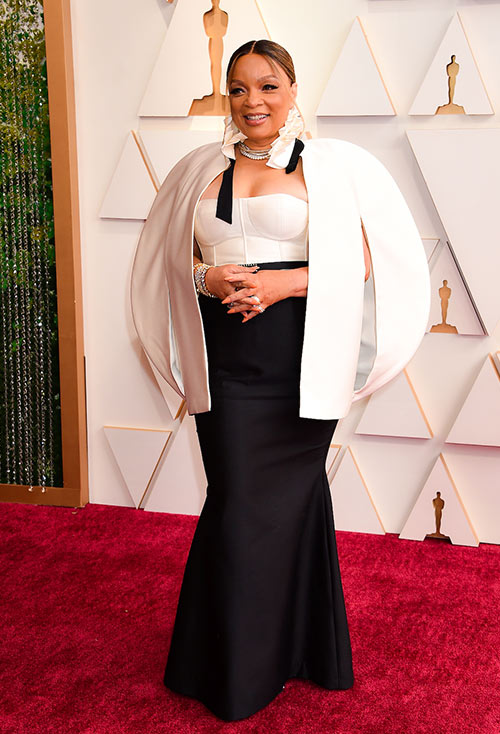 Aunjanue Ellis graced the red carpet wearing a custom orange Versace gown.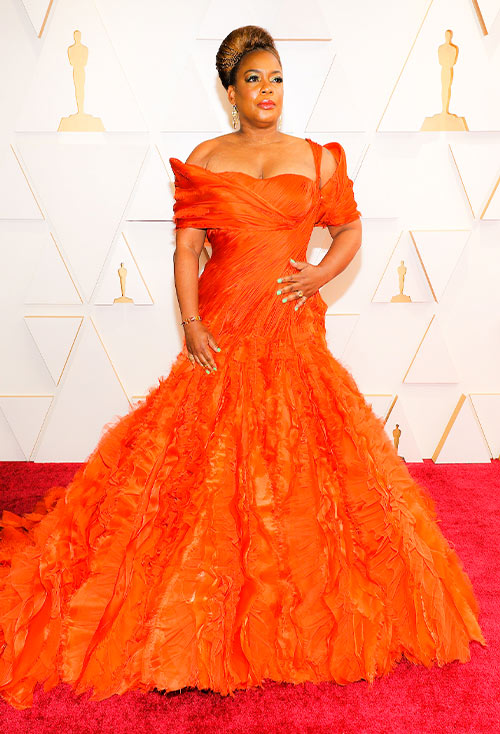 Evening dress that you want to look and look at. Incredible blue color, structured shape, unlike any other dress. Mermaid blue thigh-high slit gown with fitted bodice by Indian designer Gaurav Gupta. For make up she went for winged eyeliner, glossy lips and tied her hair in a sleek bun.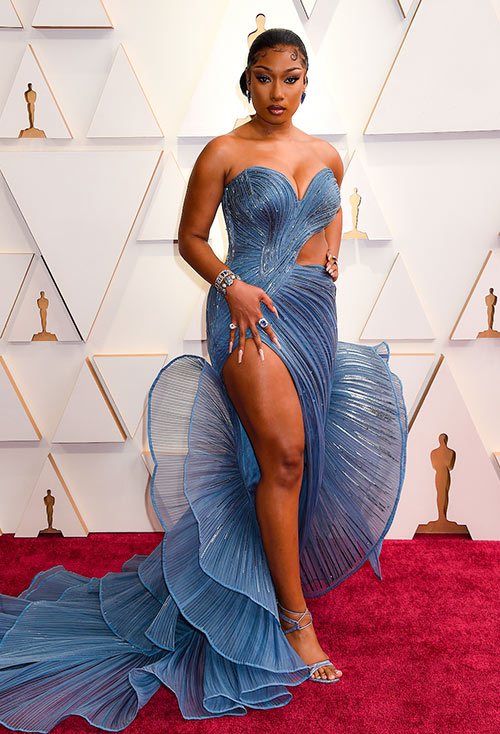 The ETEREshop ideas and outfits
We hope that you not only pleased the eye with the beauty of fashionable and stylish outfits, but also adopted a couple of ideas for your future outfits.
We would like to show you and remind you of the costume that we have already made. Our task was to produce a mirror outfit for the performance. And look what happened! Not just bright, but blindingly bright. Not beautiful, but tight-fittingly beautiful, not just a mirror, but a bewitching mirror. A dress that is ready to represent everything and leaves behind your brilliance and your beauty.
We can produce a mirror-outfit for you in gold or silver colors. The whole suit or parts of it can be in any size. We can implement any changes into the costume or change it completely with your ideas and desire.