Fancy creating a showstopping broken mirror dance cosplay costume or an elaborate and comfortable mirror suit for your performance? Read through and get to know, how we designed seven Beetlejuice cosplay custom mirror dance costumes with feathers specially for the Mummers Parade 2022, and the steps we took to translate our customer's idea into reality.
Fancy order for Fancy Brigade
At the beginning of September 2021, we've received an interesting order for custom-made broken mirror dance costumes for the Philadelphia Mummers Parade 2022. The customer would like to create seven identical Beetlejuice costumes consisting of several garments, which can be randomly combined to create different looks. The costumes should be strikingly sparkling and flamboyant, but comfortable to wear and dance in.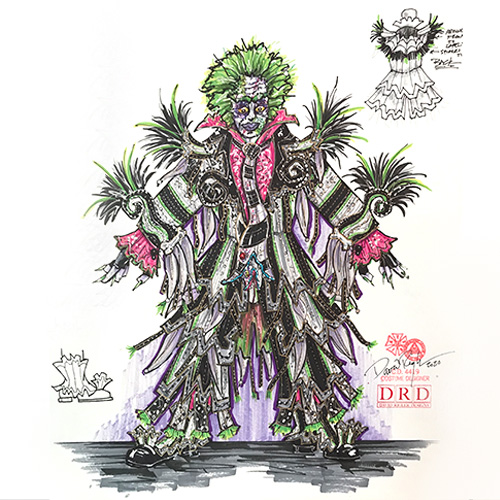 After clarifying all the requirements with the client, we started to make custom mirror dance costume's sketches.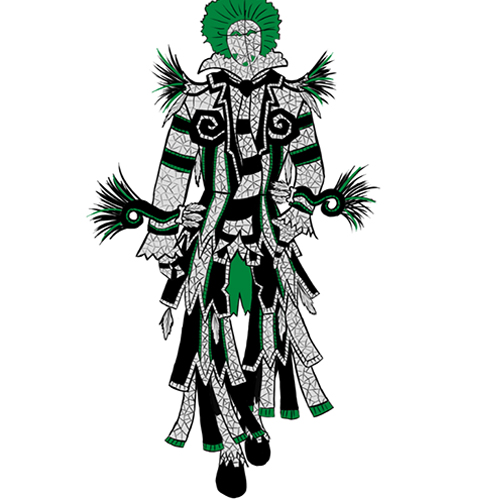 Our Beetlejuice costume consists of a broken mirror ski mask, a broken mirror jacket and waistcoat, broken mirror suspender pants and a tie, and broken mirror gloves and boots.
Generating 3D design in CLO
Each Beetlejuice costume's item is individually designed in CLO, and then assembled into a multilayered outfit. The 3D design allows to visualize all the elements of the costume and have its 360-degree view before starting production. One of the options is to create a 3D animation of the outfit, which gives our clients a clear understanding of how their costume is going to look in reality. 
The cutout is very sophisticated – ETEREshop team's put maximum effort to make it as posh as possible. There are lots of complex elements of design: special decorative elements made of EVA material on the breast and forearms, ornamental patterns made of combination of mirrors and pieces of acrylic glass in different colors with addition of shining braid trim.
As soon as the designs are finalized and approved by the client, we get down to selecting all the necessary materials for the costume's production and coordinating them with the customer. For our customer's approval we've chosen several variants of green wigs and feathers to match the color.
Apart from it, we've used the following materials: silver mirror, black and green acrylic glass, black and green feathers and sequin braid trim, EVA material for the tie and sleeves' decoration, canvas, biflex, and lining fabric.
Custom-made Beetlejuice mirror dance costume production
First and foremost, we draw the sewing patterns in CLO and made them ready for production.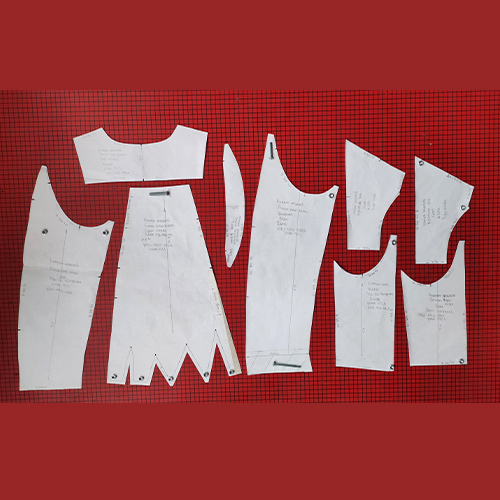 The patterns are transferred onto the canvas in the sewing shop, where the pieces of fabric are carefully sewn together to become a costume. One of our costumes' advantages is that they have a removable lining that can be easily washed in a washing machine, and therefore making the process of cleaning as simple as possible.
The ready sewn costume still needs to be decorated with mirrors and feathers. But prior to this we need to make a precise layout of the mirrors and acrylic glass for laser-cut. After that the pieces of silver mirror and black and green acrylic glass are manually glued onto the fabric, strictly following the predesigned pattern.
As a part of decor, we sew on green and black sequin braid, and add a lot of black and green feathers to finish Beetlejuice's outfit.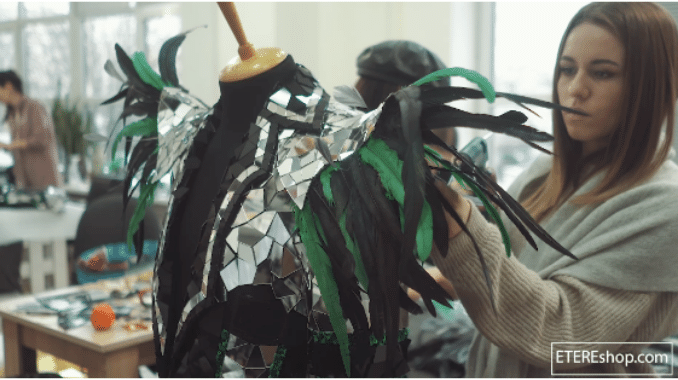 In order to create more volume for the costume, we've used regilin tape for the ragged edges in the jacket and trousers.
The boots were designed with addition of EVA material to create the necessary form and height, and manually decorated with silver mirrors and pieces of black and green acrylic glass.
Delight your audience with elaborate broken mirror outfits by ETEREshop
If you are looking for a sparkling outfit that is going to be a real showstopper – just have a look at the mirrored costumes we make! Without any shade of doubt, it's hardly possible to be unnoticed wearing such an outfit by ETEREshop!
The totally mirrored costume creates a disco ball effect and is illuminating with hundreds of tiny mirrors, thus being a superb attention catcher at any place and time of the day.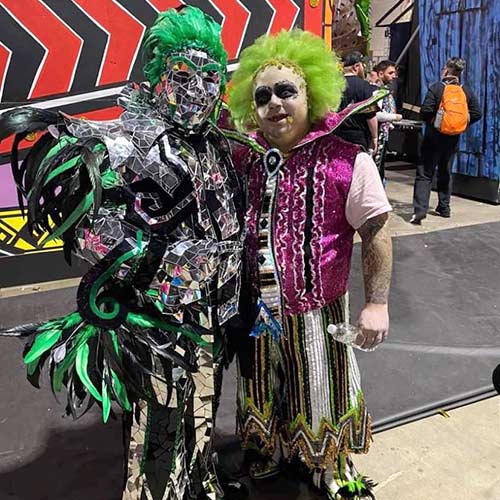 Our clients from the Fancy Brigade – the South Philly Vikings, have already implemented their idea customer made of a mirrored cosplay Beetlejuice dance costume and put on a spectacular performance for the Mummers Parade 2022 in Philadelphia. They have successfully recreated a famous fantasy comedy film character – Beetlejuice, in their mini Broadway-style show for the New Year's Day celebration and eventually took the 2nd place at the Fancy Brigades judged performance.
If you'd also like to make an impact and impress your audience with elaborate customized mirror costumes – our team is ready to help you and take on orders of any difficulty!