In today's article, we will tell you about man's and woman's circus costume ideas for dance shows and other performances. And if you're in this business, we really hope you get some new looks.
Professional circus costumes ideas and embodiments by ETERESHOP
Professional circus outfits is a separate category of clothes, because there are a lot of light in the circus or no light at all and the suits there are not only the part of the performance, but also must be clearly visible under the spotlights or without them at all.
Shine and reflect – mirror costumes
Gold and silver mirror ballerina circus suits with disco ball effects will definetily make your perfomances bright and beaming. Made from acrylic mirror of golden or silver color and different sizes.
Look at mirrored costume by ETERESHOP at the circus performance of Gia Eradze:
Stilt man costumes are the must-have of a circus
LED screen stilt walker robot performance outfits are perfect circus costumes for adult still many animation artists and big stage entertainers. Our stilt men are programmable and have densely placed LEDs effects on them. Light up effects can also be synchronized on several outfits for a dancers team. Up to 10 thousand LEDs will make your show unforgettable and very effective! The men's outfits are very flexible and convenient to use. Unique design allows moving easily, full color solution and central computer control for each individual light diode, allows realizing any creative ideas.
Disco ball glitter sparkly mirror bodysuits
Shiny and sexy girl's outfits are perfect for performances and circus shows. Your guests won't be able to take their eyes off the radiant actresses working both in daylight and at night with flashing lights, laser beams, stroboscopes and fire…
Women's suits are made from fabric for base and acrylic mirror, can be of any size. Can be of gold, silver or mixed colors. Can be additionally fitted with mask, gloves, overshoes etc.
LED acrobats costumes, dancers and gymnasts
Convenient LED gymnast costumes are unisex, suitable for different body sizes and ergonomic.
In the air dance suits each light diode is controlled separately, that allows to create different effects. The programmable outfit has more than 300 LEDs, but it is flexible and easy to use; stand-alone control system creates your own performance without any assistance.
Sequin Women's Bodysuit on transparent fabric
You can move beautifully, dance comfortably and not worry about the suit breaking. Thanks to ultimate flexibility it's a perfect women's bodysuit for circus dancers, aerialists or other performers. The disco ball effect will help to attract glances in any lightning conditions: with lasers and sophiteson stage, in the sunlight in the open air or in the artificial light.
Circus costumes with led screen animation output for performances
Great advantage is a large amount of LEDs. And this, in turn, allows you to make display text and pictures on a luminous costumes, which creates a spectacular and unforgettable show. In addition, it is possible to synchronize the effects. At the same time, the number and variations can be different – logos, inscriptions, images, different color schemes. More than 5000 LEDS make all your fantasies come true.
Big Angel Wings Costume for Performance
White wings or black wings, with LEDs or without them, from small wings to huge ones – our company has been doing all this perfectly for almost ten years.
We can add any necessary LEDs to make wings beam. Wings can be made of different materials – fabric, polyethylene foam, fabric strips, spunbond or eva foam. Size of the wings is approx. 4 meters or 13 feet. LED wings will work about 2 hours.
See how white wings look at the performance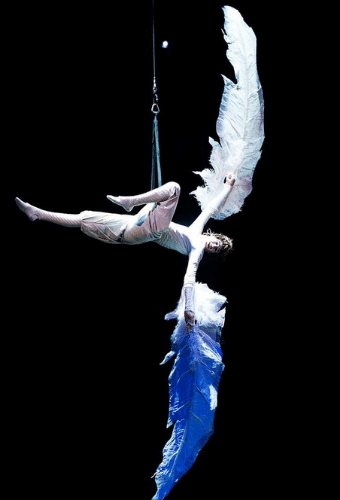 LED light up cage dress with switchable effects – Do-maru
A cage suit is an impressive and memorable outfits for dancers, musicians, singers and other entertainment artists working on stage.
The main feature of the smart costumes is the ability to control each individual LED, which will allow you to be unique. Base of the dress is made of flexible material, rigilene –it doesn't restrict movements and allows you to do any tricks. Corset is very bright, so it will be a great choice for the big stage. You can easily disconnect any part of the dress. Arms, legs, head piece and bodysuit can be used separately! Independent mode does not require a computer or other control devices for work. If necessary, the controller can be used in complex solutions. We have different models of corsets. But if you have a unique project – the one controller is able to control even 3000 digital diodes.
LED rider vests with animation screen
Studded LED rider vest with two animation screens for the show where you need to stand out from a crowd and also need to be able to move freely. Such vests are just for those who performs on motorcycles or ride animals, bikes or any other circus tool. Large HD screen with 1812 LEDs allows showing any logos, texts and images connected to the theme of your show. Operating time is ca.1 hour. Effects are switched over with the help of two small buttons (forward/backward). Lights effects are uploaded to an SD card with the help of our program called Screen Recorder or via ArtNet recorder.
Huge scenes require unusual and large circus outfits. And we are not afraid of taking on such projects, realizing that a suit is often worn by an ordinary person or even a girl. That's why we carefully choose the materials and make the suits strong, reliable and flexible, so that you can not only wear the suit, but also perform in it.
Large Led Light up Butterfly Wings for circus performances
Large butterfly wings suit with 4300 LEDs is a product designed for large-scale stage and outdoor events. It best fits large animation shows, parades, and festivals on stage or open-air (dry, not windy weather required). Huge amount of light diodes allows creating any images on the wings. The size of the unfolded wings is 6*6.5 meters (19.6*21.3 feet). Operating time is approx. 1 hour and more, working mode: stand-alone, remote control via a PC, ArtNet.
Huge led Peacock Fantail with 1000 LEDs . With fewer LEDs and other dimensions it has the same light possibilities. Thanks to its scale of 3.8 meters and the number of LEDs it can be seen from a distance and from all angles.
Look at photos of our client: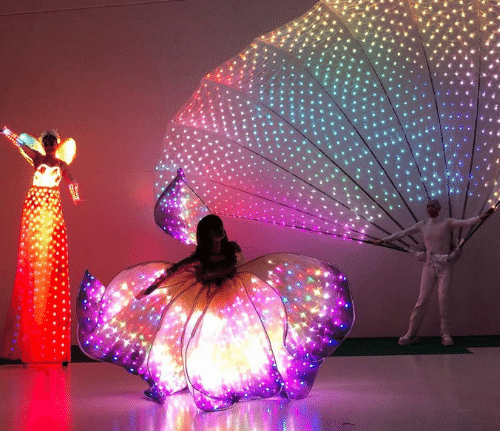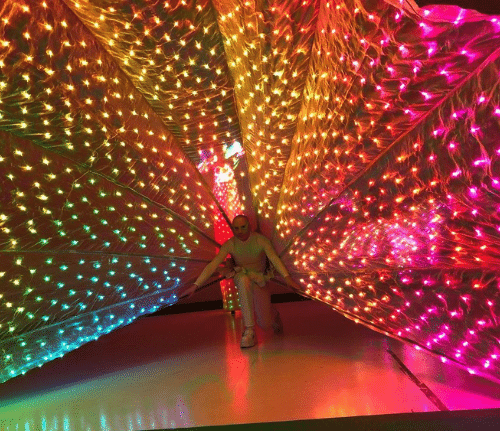 4 ideas for circus outfits by Contraband events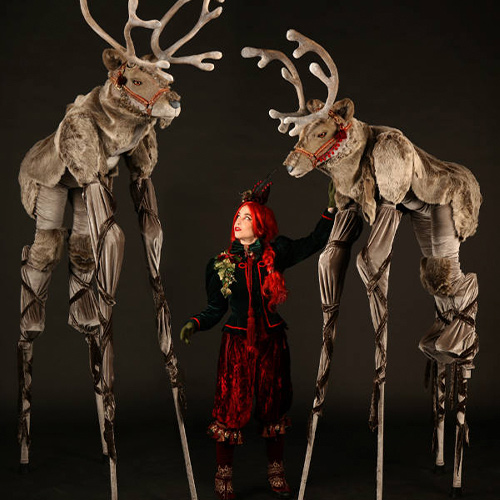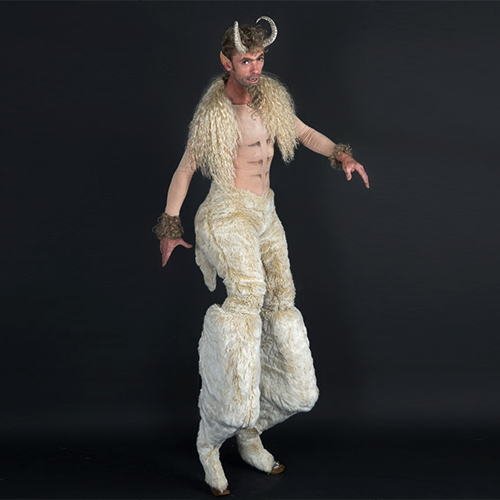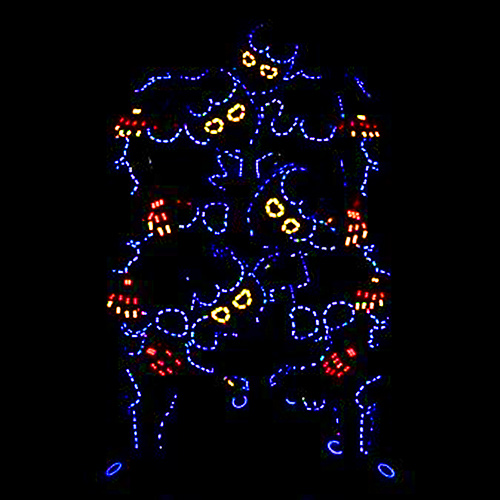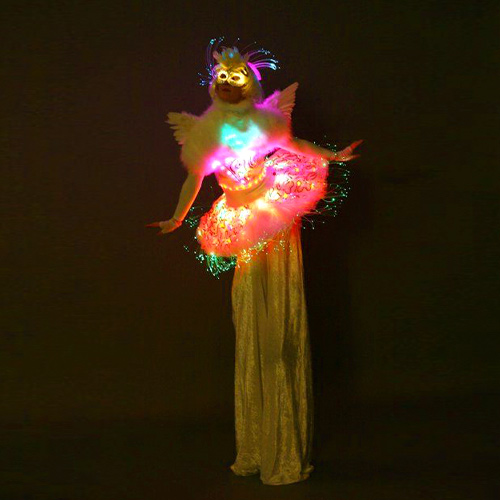 Why circus artists choose ETERESHOP
✔ The costumes are very flexible and easy to use.
✔ You can take it on and off easily 
✔ Synchronization the effects if there are several suits. 
✔ LED variations can be different – logo, inscriptions, images, different color schemes.
✔ Wide opportunities to use – on stage, outside, at photozones etc.
✔ Unisex and suitable for different body sizes
✔ Easy to use and repair
The ETERESHOP company has not only vast experience in creating costumes for different shows and performances, but also the ability to fulfill grandiose orders quickly and on time. Follow this link to see how we completed an order of 17 suits in a two-week period.