Looking for unusual solutions for your show? Or an accessory that will diversify your photo zone? LED umbrellas will help you with this issue – a thing that can liven up any party. We reviewed the 5 most interesting offers on the market.
Content
Who are these umbrellas suitable for?
They are almost for everyone. Their uniqueness lies in their versatility. Umbrellas are suitable for ordinary people who want to stand out from the crowd, as well as for artists, dancers, DJs and even cafe owners. LED umbrellas not only glow in different colors, but they can also display logos, text and pictures.
LED umbrellas are a great addition to photo zones. Due to their mobility, they can be used in any premises. A variety of effects allows you to build a full-fledged show with umbrellas. For example, this:
What are the offers on the market
There are not very many companies producing LED umbrellas on the market. Most of the products are simple umbrellas with built-in LEDs that glow in one color in one mode. There are umbrellas decorated with reflective tape. Many have a built-in flashlight on the handle.
Also on sale there are huge umbrellas for summer terraces. They have LEDs attached to the frame. The most advanced options are custom designs with a large number of LEDs. In such umbrellas, you can change not only the color and brightness, but also display text, logos and pictures.
LED umbrella from LightUpYourLife show
The LED Umbrella by LightUpYourLife is a regular nylon umbrella decorated with LED strips at the tips and a flashlight at the bottom of the handle. The umbrella is powered by three AAA batteries, and the colors are switched with a button.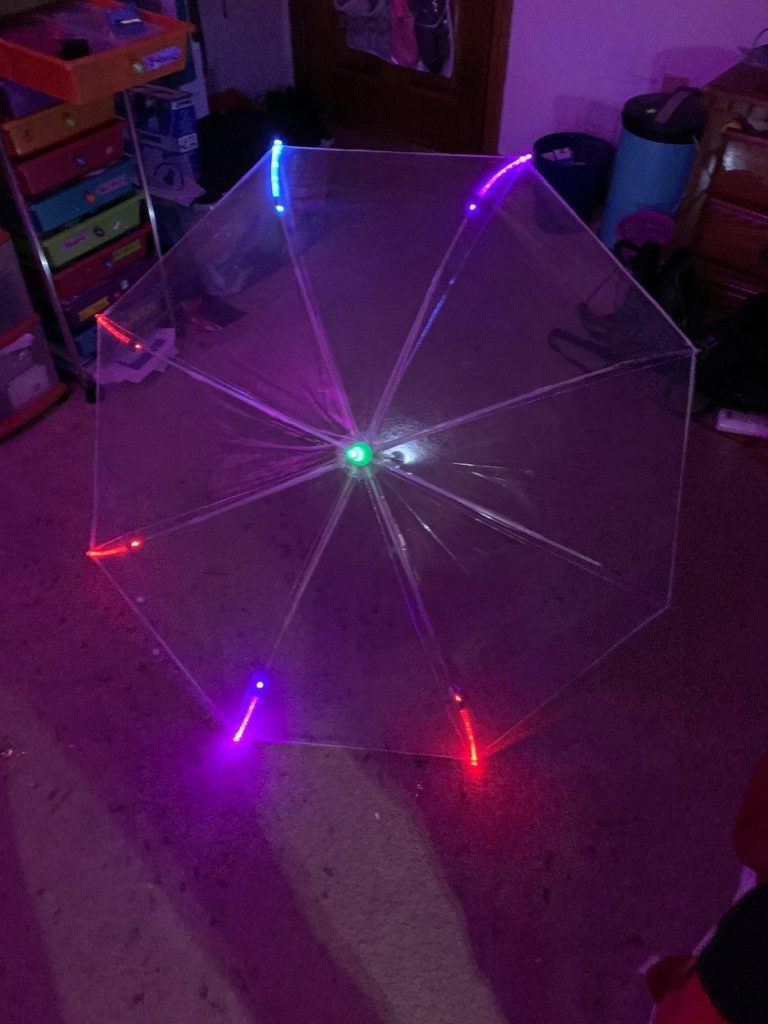 The umbrella costs $ 135, the shipment is promised to be made in 3-5 days after the order.
EUROLITE LED Umbrella 140
These are not just umbrellas, but a whole stage equipment for the show. The diameter of these umbrellas is 140 centimeters. In order to fill large scenes, a few pieces may be enough. Despite their size, umbrellas practically do not take up space during transportation. 6 umbrellas fit in the trunk of a station wagon without any problems.
The lighting effect of the product is created using hexagonal RGB-LED blocks. It is mounted in the middle of the plafond and illuminates it from the inside. There is a small plate at the end of the block and this allows light to enter the stage.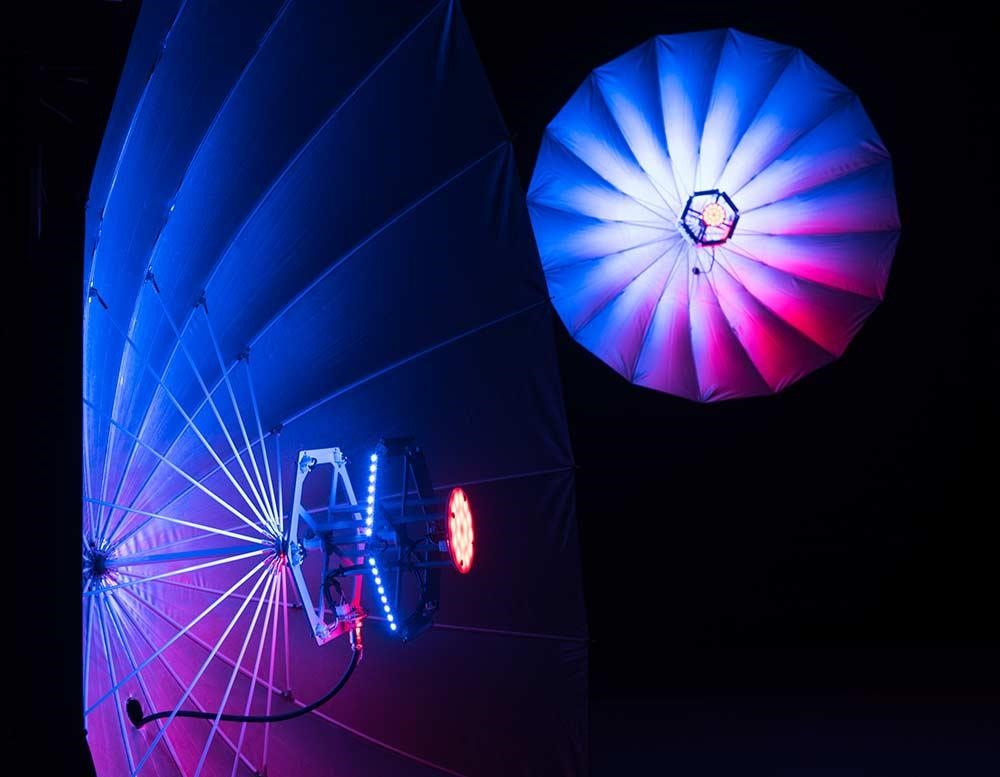 The umbrella is controlled via a DMX console. In 24-channel mode, the interior lighting is divided into 6 segments that can be individually controlled. Together with the central light field, the 7 areas produce any desired color independently of each other. The three-dimensionality of the screen leads to endless variations in color and shape.
A similar umbrella with a diameter of 95 centimeters is now available for sale. It costs 299 euros.
An umbrella with LED illumination from ETEREshop is an excellent solution to the dancers, musicians, singers and other representatives of show business. It can be used as a full-fledged accessory in your presentation, and as an element of a photo zone.
The LED umbrella from ETEREshop is the author's development of the company, completely made by hand. Controlling each LED allows you to create any lighting effect. You can display any logo, picture or text on the LED umbrella.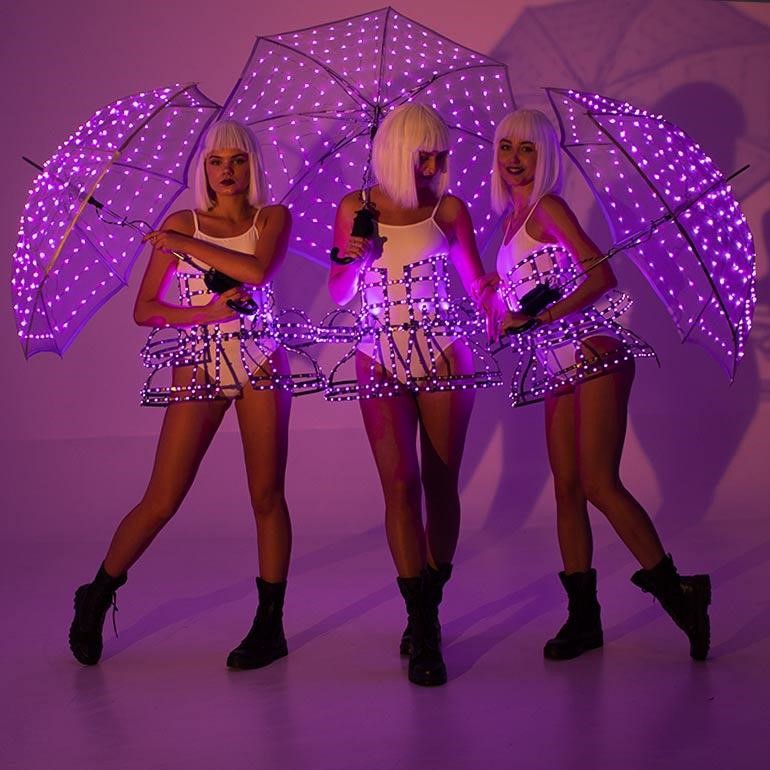 In order to control the effects on the umbrella, no additional equipment is needed: they are switched with just two buttons back and forth. In addition, real-time effects control modes are available (via special software), as well as synchronization with several umbrellas at the same time. This means that the effects will be displayed simultaneously on all umbrellas. Read more about these modes here (link to pages about modes).
One umbrella contains about 300 LEDs, 3000 LEDs can be controlled simultaneously. This means you can create a show with 10 umbrellas! The zones are powered by 2700 mAh rechargeable batteries.
When you buy a LED umbrella from ETEREshop, you get a repair kit as a gift, as well as lifetime maintenance. Delivery, by the way. included in the price of the item.
LED umbrella from LED-Clothing Studio
This LED umbrella is made of super bright fiber optic wires and breathable cotton fabric. It is powered by a 6000 mAh rechargeable battery, which lasts about 5 hours of continuous use.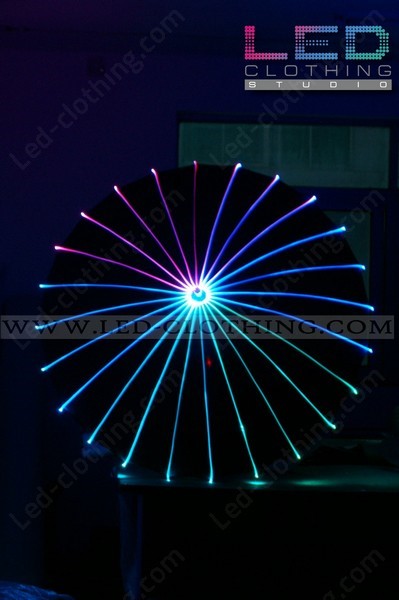 Effects can be controlled in several ways:
● Radio remote control. Wireless control. The maximum distance is 15 meters.
● Using a DMX512 console. 2.4G and PC software.
The umbrella costs $ 790, shipping is included. The maximum delivery time is 10 days.
Umbrella with built-in LEDs
It is the most budgetary umbrella option in our selection. It is an ordinary umbrella decorated with LEDs. A flashlight is mounted in the handle of the product, which adds futurism to the umbrella. The umbrella is powered by conventional AAA batteries.