If you are an entertainer, dancer, DJ, or any other creative person, you must have faced the challenge of finding an extraordinary lifestyle that would completely work on your body and be a body.
Accordingly, you want to find the availability of the luminous dresses that we have selected for you that improve the sections depending on the purpose for which you use them, as well as the characteristics of the outfits.

You receive an email subscription form at the end of this article to receive more submissions
This is a long article with high speed photos, gifs and videos that illustrate this material and inspire you. So if your internet connection is too slow, please be patient.
Top 17 LED dresses for summer 2021
Top-3 LED Evening Dresses for DJs and Musicians
If you want the costume to synchronize with the music you play, or you wanna be noticeable in a nightclub and your suit should not hinder the movement of your hands, then this collection is for you.
Do you spend most of the time at the DJ's console? So the public will only see the top of your costume, which is why you should tale a closer look at the outfits with a bright top or choose bright accessories, such as LED masks. This also means that the skirt should be either short or irrelevant, depending on the type of music you are playing and whether you move a lot according to opinion or not.
1. LED dress "Eva" from ETEREShop
Smart LED dresses "Eva" from ETEREshop are presented in various design options, and you can offer your own version and we will embody your idea. The size and location of the LEDs allow you to add another "walking screen" to the DJ set. This will take the show to a new level: you will be able to synchronize the effects to the tracks being played using texts, logos, images and other effects. The strap on the luminous dress is designed to display running text. It can be words from a song, your stage name and much more.
2. Dress Rave LED Light Cage от ETEREShop
The LED corset has the qualities that a DJ girl needs. The luminous corset is noticeable in the dark and attracts the attention of guests, does not restrict the movement of hands, does not scratch musical plates, and its main advantage is its low price.
3. Infinity mirror dress with LED lighting
If you play any other instruments, such as the violin or guitar, you may need even more flexibility of dress. This is followed by dresses in less rigid forms.
Top-5 outfits with LED lighting for meetings of guests, parties and photo shoots
LED outfits are the ideal option if you want to create a unique show. Etereshop can create a customized outfit that no one else will have specifically for your event.
1. Suit with LED cage "Do-Maru" by ETEREShop
LED light up cage dress "Do-Maru" is a completely different kind of evening dress. The LEDs on it are very bright and thanks to this, they attract everyone's attention.
2. LED light up Cage dress "Black Queen"
The premiere of the luminous Black Queen dress took place at the Avantgardists 2018 exhibition in Munich, which presents collections of alternative design. The outfit from ETEREShop was warmly welcomed by fans of this style.
3. Infinity Mirror Illuminated Dress by ETEREShop
Outfits from the mirror with infinite effect are quite rare. Light effects can be displayed on LED dresses with the effect of an infinite mirror and synchronized with other luminous products.
4. LED Dress Rave Costume by Etereshop
On the luminous belt, you can display text or logo and combine it with the illumination of the dress.
5. Dress with Super HD Screen logo by ETEREShop
HD Screen Logo Dress from ETEREShop – a logo outfit for meeting guests. Girls can walk in an LED outfit among the guests at the party, meet guests and take pictures with them, and at the same time they will be a "walking advertisement".
Top-4 led dresses for dancing
Go-go shows are hot, energetic and attractive. We know how it is important to choose a LED dress so that it does not constrain movement and that it is easy to maintain. We have prepared a collection of LED dresses that are suitable for groups of dancers because they can be synchronized between themselves and with music.
1. SMART Led dress "Eva" by ETEREShop
The LED "Eva" dress from ETEREShop is bright and attractive. The opportunity to demonstrate the effects is a big plus if you work at a brand party. No need to limit yourself to branded colors. Tell us the brand logo, slogans or anything else that you like and we will create an effect especially for you.
2. LED festive dress "Unicorn" with holographic vinyl by ETEREShop
The holographic fashion is not weakening, so why not combine it with a plaid dress with LED lighting? Thanks to the playful pointed bra, the holographic plaid dress from ETEREShop was named "Unicorn" and was first presented at the Avantgardista 2018 exhibition in Munich.
3. LED cage Dresses by ETEREShop
The online store has a large selection of cage dresses. Shape, length, color of the LEDs – almost everything can be changed at your request. LED plaid dresses are made of lightweight but durable and flexible material, so don't be afraid to break the dress. Transportation is also not a problem due to the same characteristics – flexibility and light weight of the product.
4. Dresses with LED lighting for dancers by Vsledclothes
If you want to add a "girly" look, you should pay attention to the luminous dresses with wide skirts resembling tutus. Add glowing accessories and you will get a ready-made image.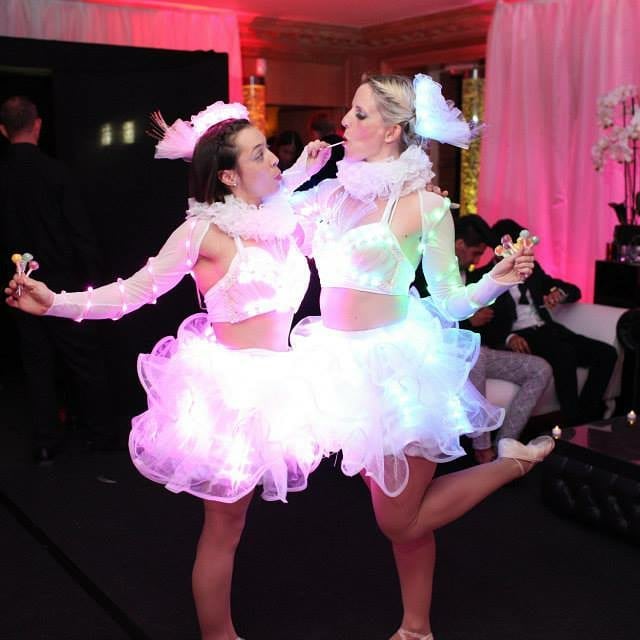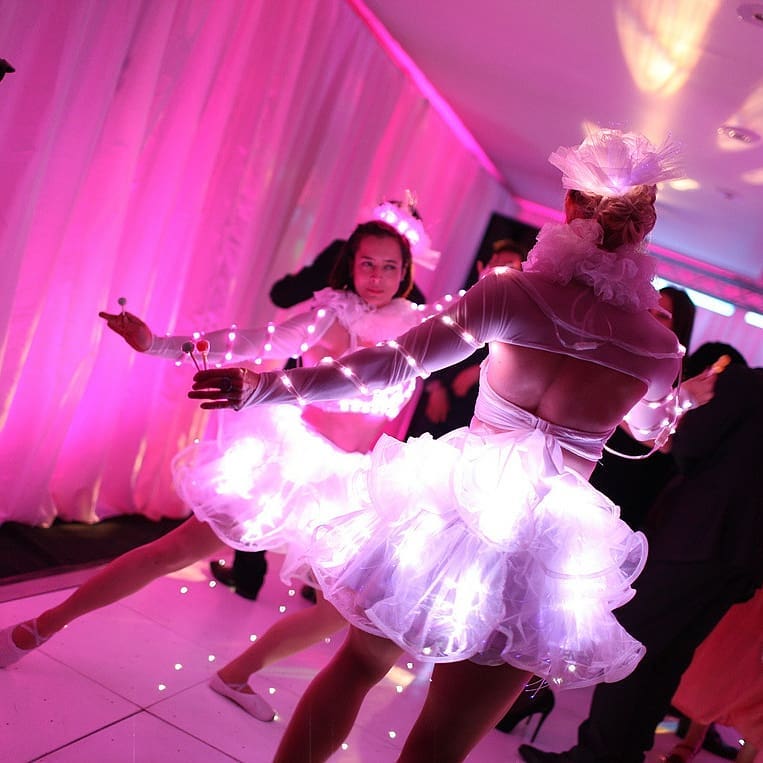 Top-5 LED dresses for princesses: prom and wedding dresses
Every girl wants to look like a fairy princess, whether it's a wedding, prom or a Sweet 16 party. Long luminous dresses look elegant.
1. Dresses Cinderella Light Up by Zac Posen
Claire Danes literally shone in a stunning dress by Zac Posen at the Met Gala in 2016. Why not repeat this success with other glowing dresses? Below you will find some suggestions.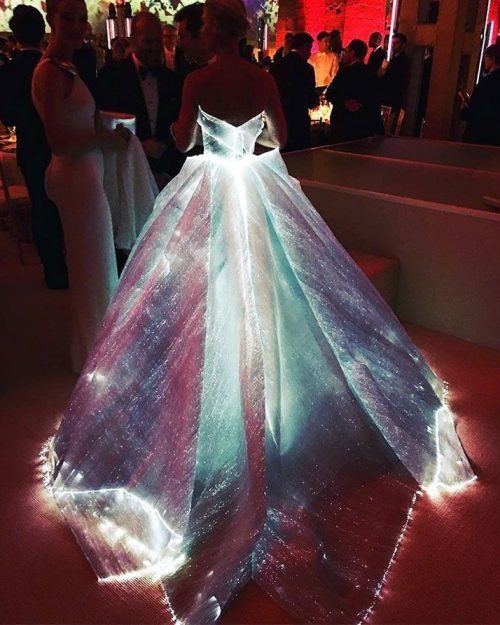 2. Prom dress with LED lighting from Make Fashion, Star Code and Lumen Couture.
LEDs can be located all over the dress or only on the corset or skirt. The luminous dress from Lumen Couture is a perfect example of how you can use fewer bright LEDs, but at the same time it looks spectacular thanks to the pattern on the fabric, which is illuminated by LEDs.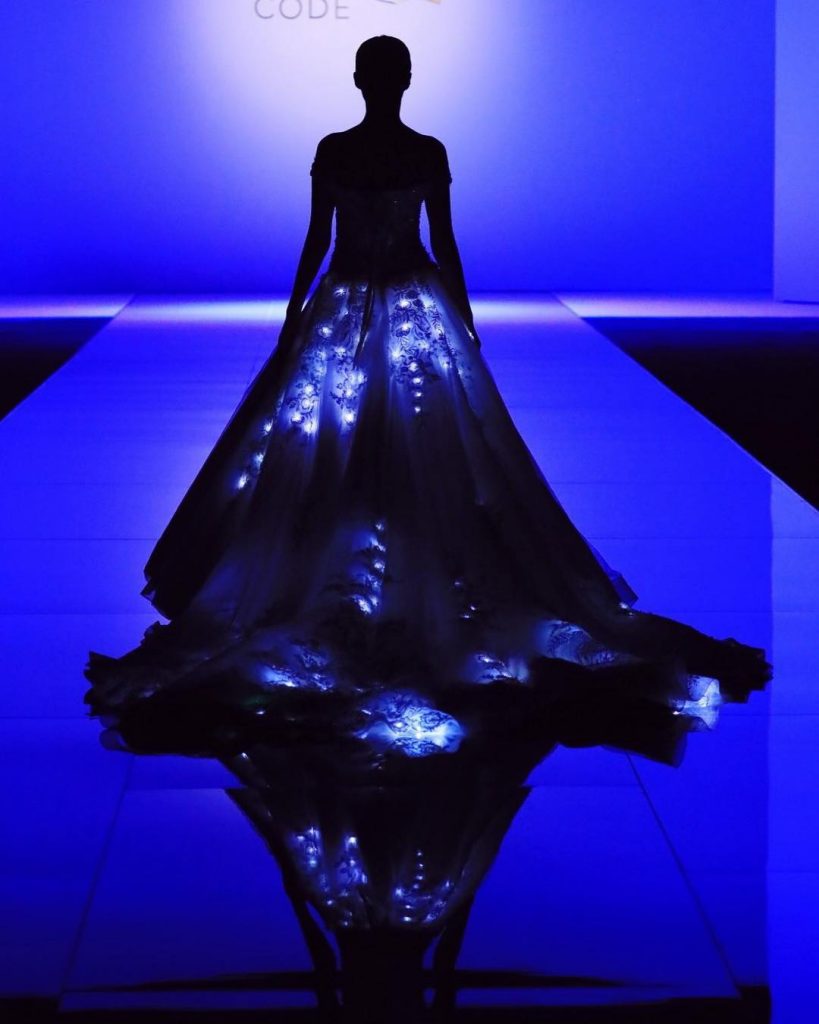 4. Long princess dress with LEDs by ETEREShop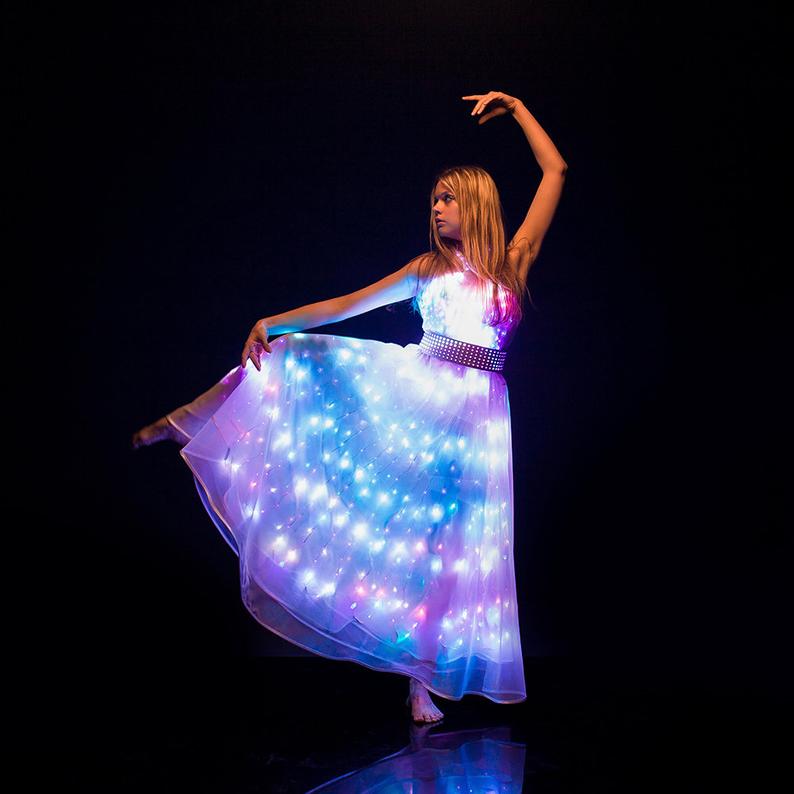 Long dress with LEDs  by ETEREShop equipped with Smart technology and has more than 1000 bright LEDs, each of which can be controlled separately.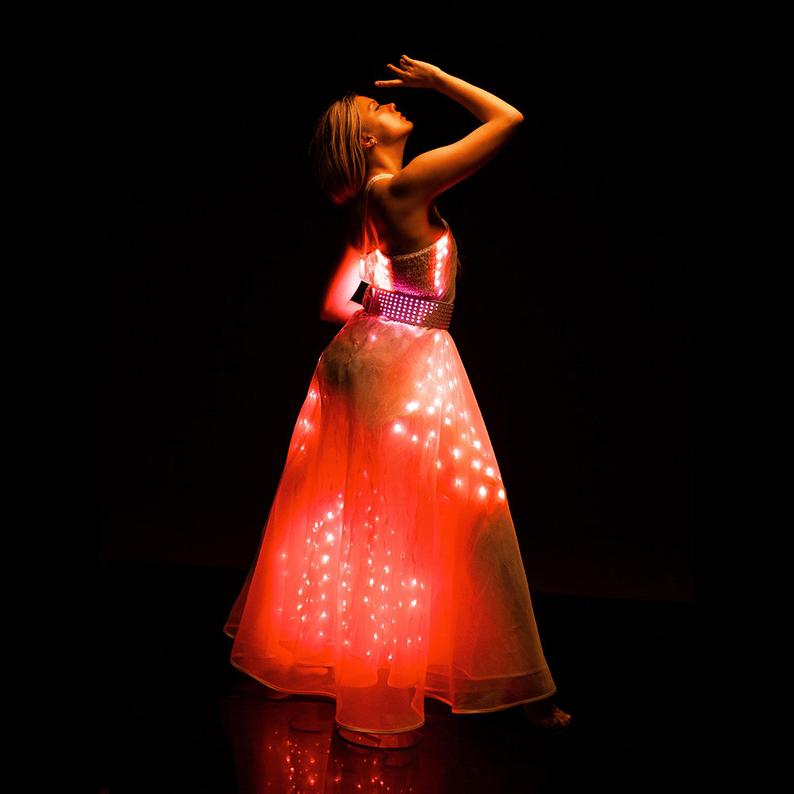 3. LED wedding dress "White Queen" from ETEREShop
Brides who don't like the wedding style have the opportunity to literally light up their party with glowing dresses. It can be a combination of LEDs and the lack of a curvy shape, it can be the same extravagant dress as the White Queen dress by ETEREShop.
5. Illuminated Dress
You can even experiment and add custom glowing details to the dress.
No matter what style you prefer: princess, gothic, sexy, playful or any other, you can find glowing dresses of any type. If there is no ready-made in the store, then we will make to order according to your preferences. You can also choose various technologies for making luminous dresses: HD screen logo, LED cage, optical fiber, infinity mirror and much more.
Thank you for reading this article to the end. It was written by the ETEREShop team . We create mirror and LED costumes, accessories, masks and much more.

We are currently working on reviving this blog, so you will see more similar articles in the future.