Large Smart luminous installations for party photo zones or interior decorations are always a great investment if they can be rearranged into a new form, transported to a new venue and they have an interactive option in this or that way. They are usually not cheap but you can exploit them for years and modify them to fit each new environment and occasion. 3D LED Cubes, luminous walls, large neon installations, Infinity Mirror rooms, examples are numerous.
All this can be said about our Smart 3D Light-up Cubes with 2300 and 4100 LEDs, old and new versions. But we never cease experimenting with the form and looking for new ideas of how to transform the well-known product and make it even better. And that's how we came to the new project of a larger Smart 3D LED Cube with much higher density and improved control options.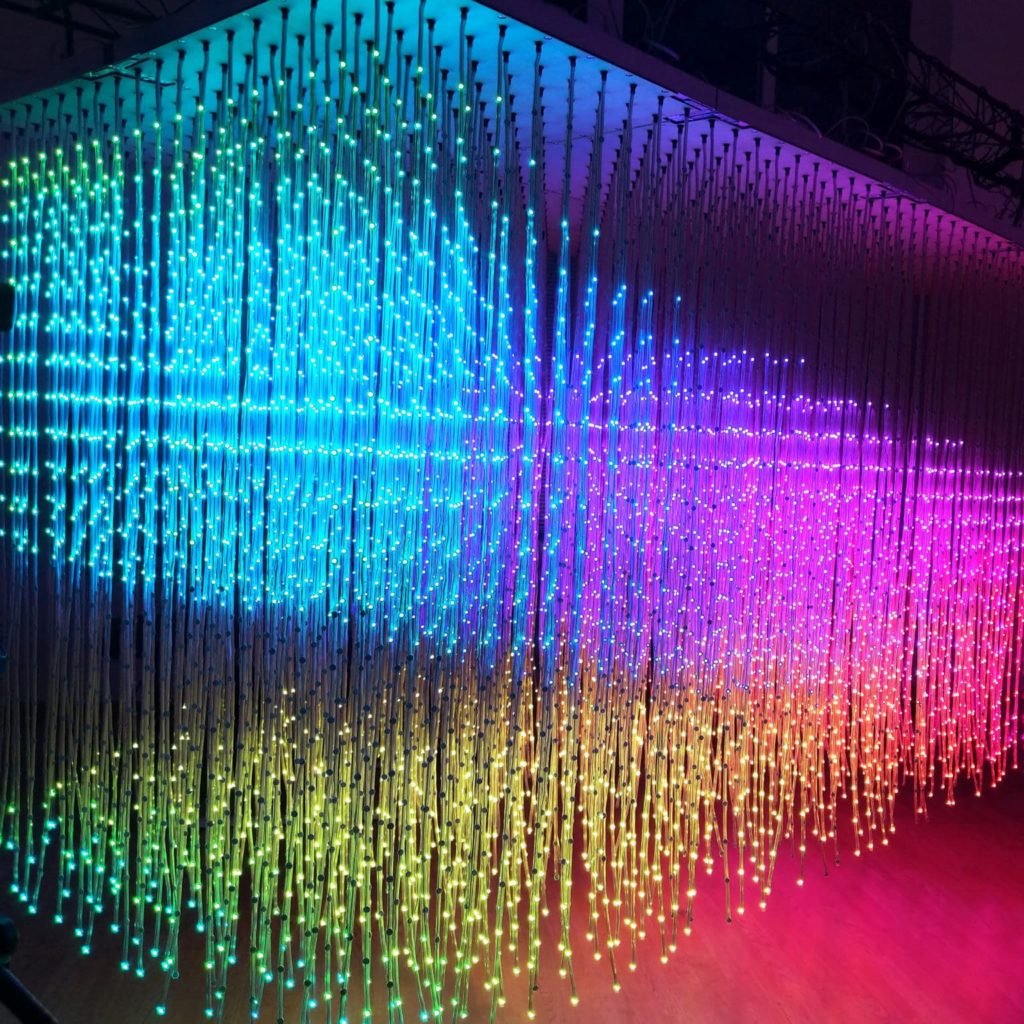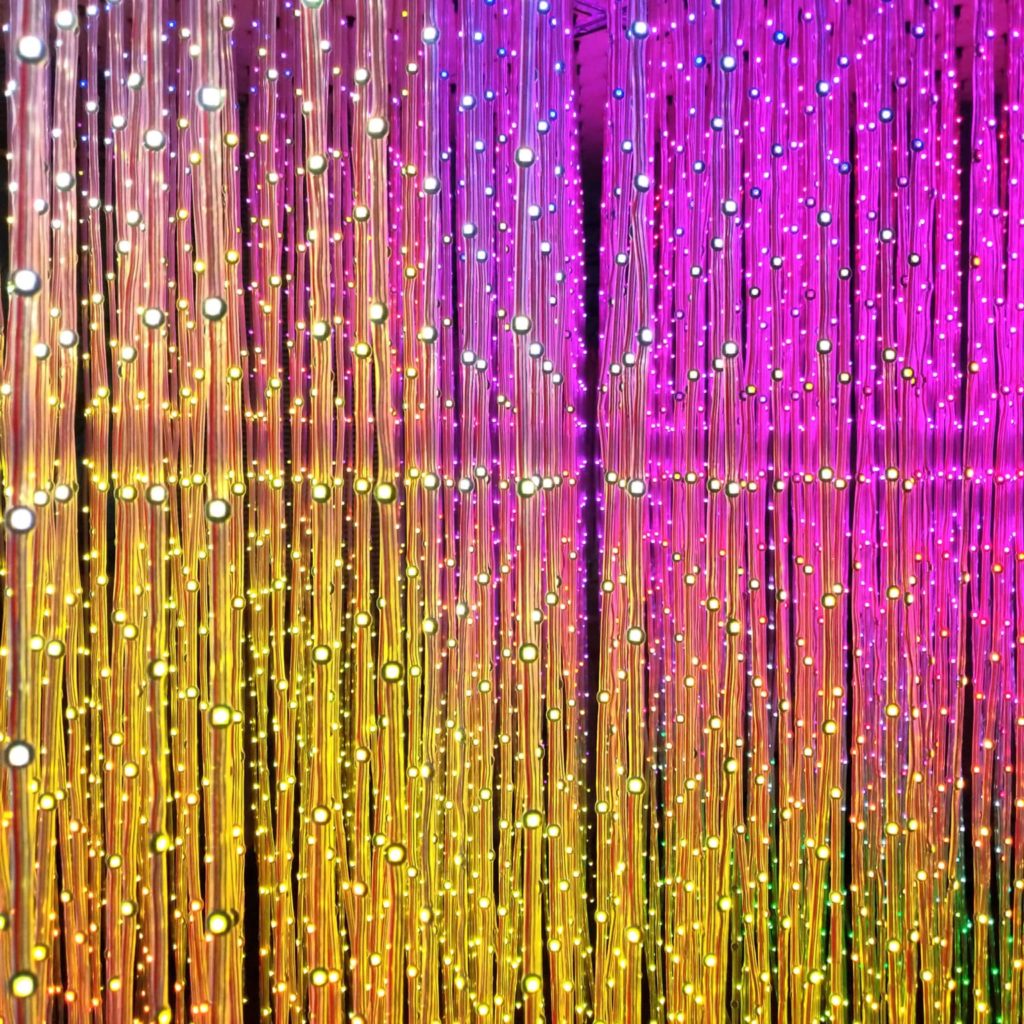 The new large glowing 3D Cube is a complete hand-made work of ETERESHOP team. It takes hours of hard work and thousands of details to create it from scratch. While the assembling process will require around 4 hours of your time and detailed instructions from us. It's powered by the mains and can then work for as long as you need it.
The new Smart 3D Glowing Cube installation has 16k LEDs now with 16 power supplies instead of 4 on the Smart Light-Up Cube with 4100 LEDs and 80 LED controllers (PCB). Each LED strip is covered with a protective layer. So party guests can touch them without being afraid of any damage. Since the large Smart Glowing Cube is being positioned as a 'selfie trap', it's important to assure the full safety of party guests and stability of the LED light installation as an interactive setting.
Densely placed 16k LEDs of a Smart light-up party installation make it possible to show complicated light effects, like moving objects and logos, while your guests are dancing inside a huge 3 meters high Smart 3D LED Cube. The brightness is incredible too – almost 5k Watts.
Just compare the new cube with our previous modified version of a Luminous 16x16x16 Cube with 4100 LEDs. It's huge, bright and you can show complicated light effects, like a changing countdown, simple logos, and waves. Not to mention numerous rainbow or monocolored light effects. What looked great on the 4100 LEDs version looks stunning on a new 3D LED Cube now.
The new large 3D LED Cube has almost 4 times as many LEDs which changes a lot in terms of light effects available and the general perception of this LED installation. The flying bird effect or a human figure walking inside the installation will look different in a new high-density 3D Glowing Cube: more realistic and sharp. The size of the new Cube contributes to this as well as it has a more elongated shape – 3*1,5*1,5 meters so there's more space for dynamic light effects.
Technical Characteristics:
Amount of LEDs: 16k LEDs – 20*20*40

Size: 3*1,5*1,5 meters or 9,8*4,9*4,9 feet

Operating time: as long as you need it as it's powered by the mains

Working mode: stand-alone, remote control, DMX switching

Batteries: 16 ps. of power supplies 5 v *included to the set

Light angle: 180°

Power: 4800 Wt

Easy to assemble & repair: yes, each light-up strip is plugged in separately, assembling process takes approx. 1 hour. Unplug 1 light-up strip you need to repair, you don't need to reassemble the whole construction

Top of the cube: mirrored top 'ceiling' part visually 'expands' installation and reflects light-up effects

Colors: red, blue, purple, white, green, yellow, orange

How to switch effects: with the help of two small buttons (forward/backward)

Light effects: effects are uploaded to an SD card with the help of our program called Screen Recorder or via ArtNet recorder (with ArtNet software)

Design: customization available

Collapsible: yes, you can turn the LED cube into a LED column or a LED curtain

Synchronization with music and stage: available

Sound activation: possible
Difficulties and logistic problems we've encountered working on this order
Since it was a non-standard order, challenges on the way of making it were inevitable. 
Due to the urgency and non-standard character of the order we were not ready for such a volume in the number of components. We've also faced several problems with suppliers because of different reasons, including the pandemic and bad weather conditions. To solve all these challenges, we were looking for alternatives in terms of suppliers and delivery services. Acting independently helped us when we could influence the situation.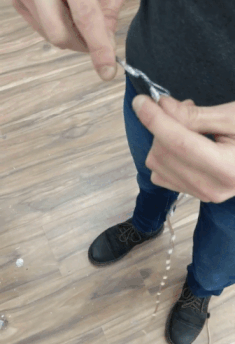 Protective coverage on a strip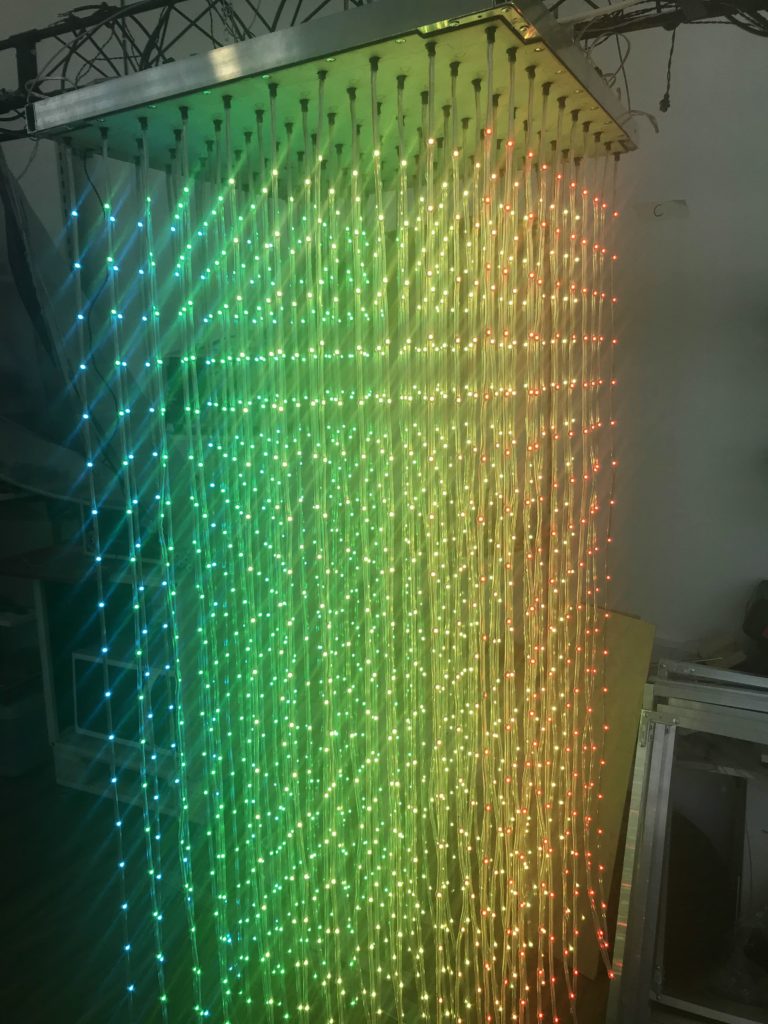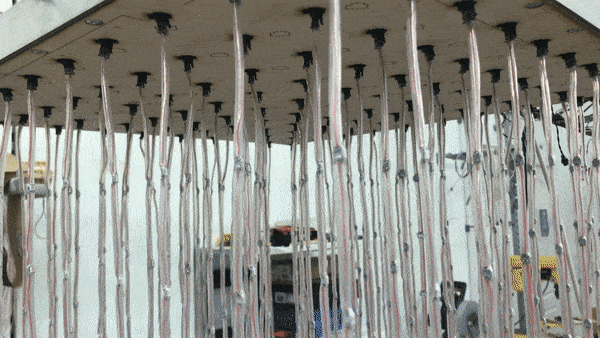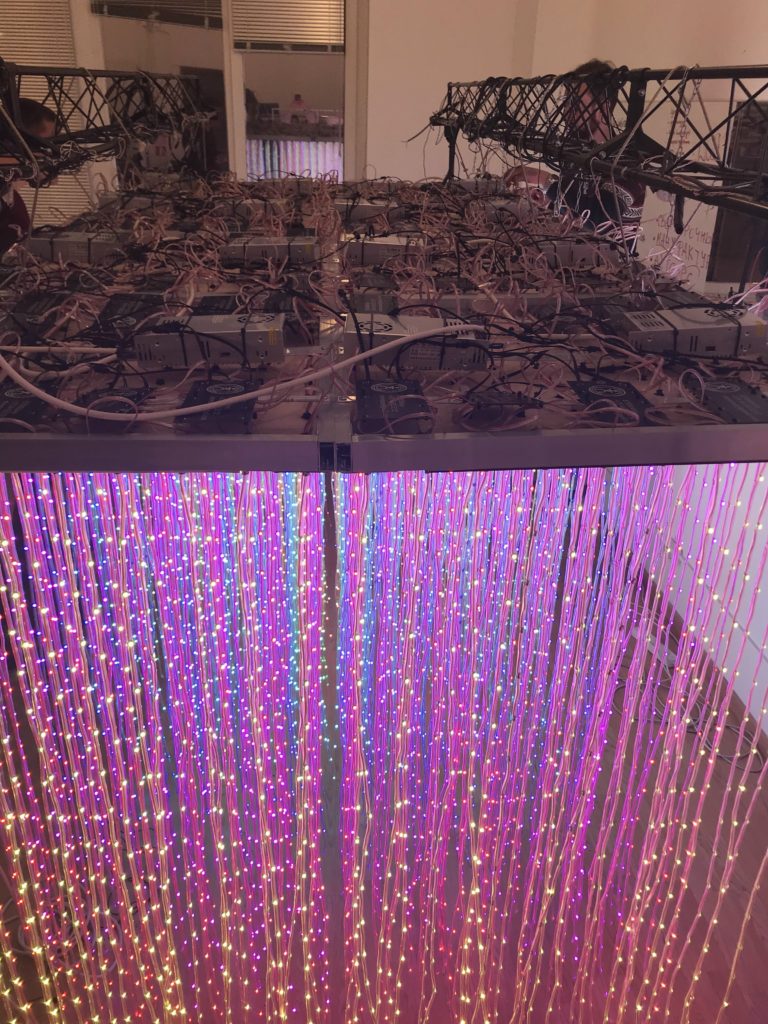 Problem#1: lack of all components in stock
First of all, we needed much more elements for the new 3D LED Cube than we had in store, since our previous largest cube model required 4 times fewer LEDs, for example. The same concerned other details. All in all, we needed 80 pieces of LED controller PCB, 18k microchips for soldering on boards, strips with 16k LEDs.
Solution: the prompt ordering of the missing parts, searching for the best options in terms of time.
Problem#2: problem with board suppliers
We expected to receive promptly already soldered boards to save some time on that. But it turned out that the supplier did not have the required quantity in store and he slowed down with an answer for 2 days. All this cost us time and money.
Solution: to speed up, we ordered only the boards, then we soldered them ourselves, working overtime.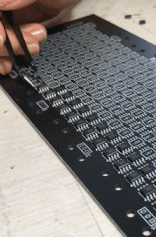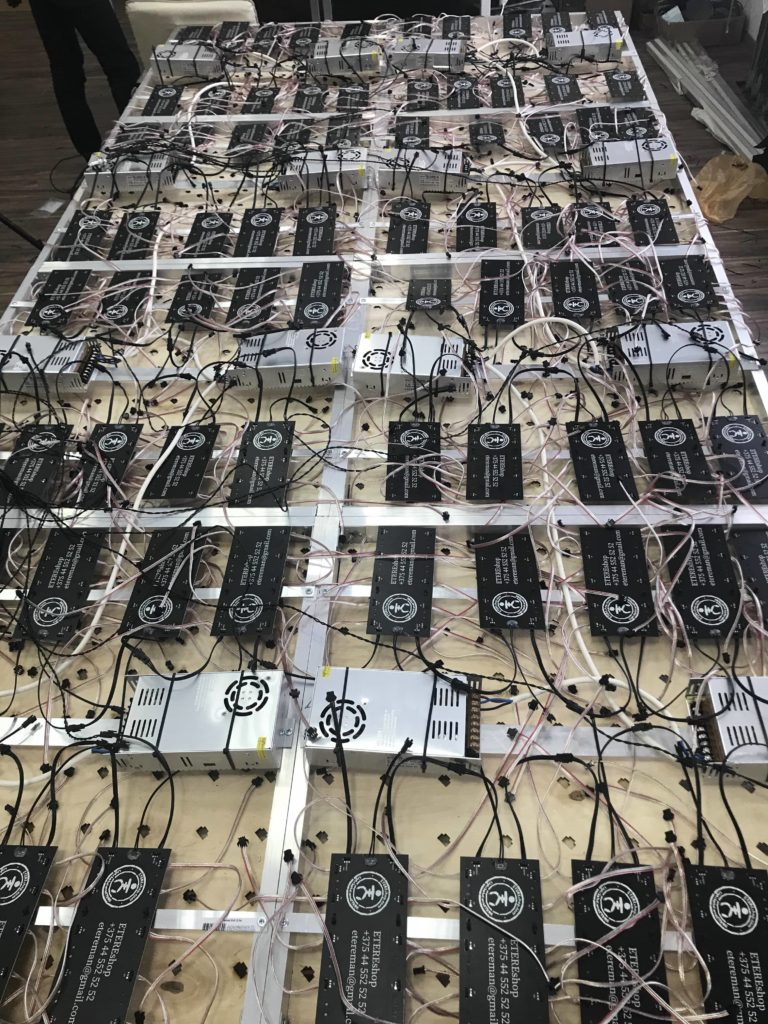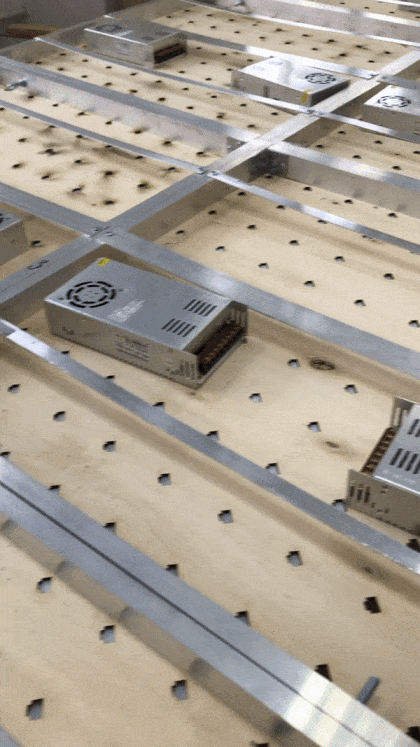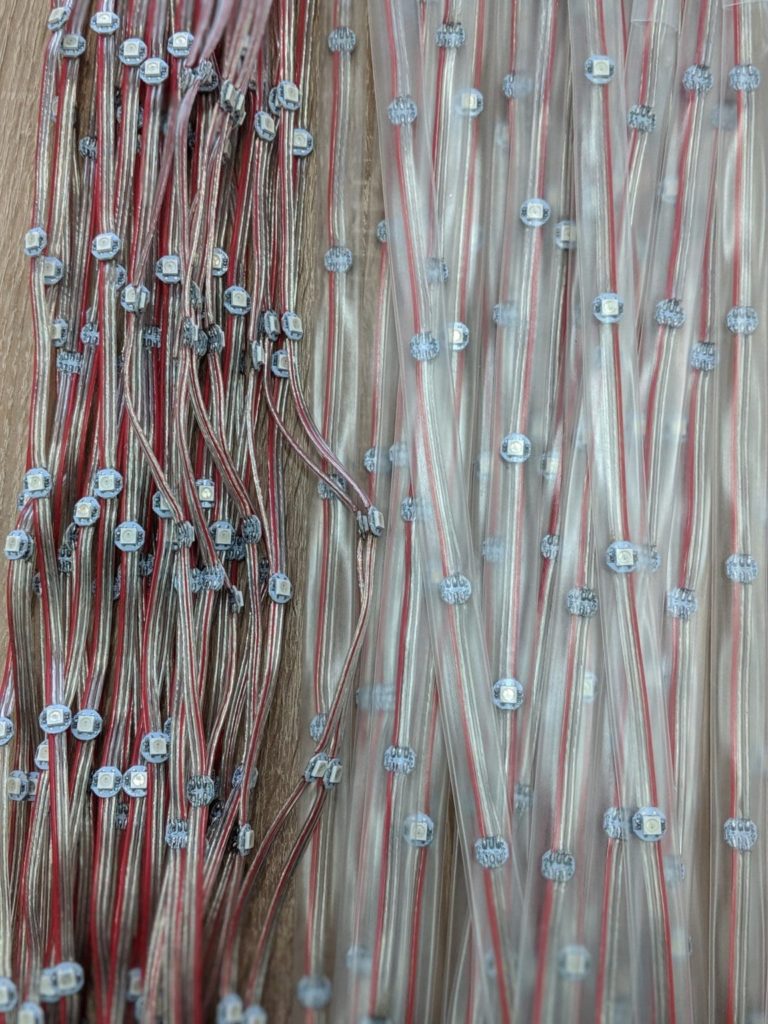 Problem#3: problems with the chip supplier
We've ordered 18000 microcircuits with urgent delivery via UPS on time, on the same day that we started making PCB production files. But then new delays due to various reasons began…
1) at first the supplier postponed the shipment citing problems on the UPS side
Solution: we contacted UPS representatives, found out that there were no such problems, and had to threaten the supplier with a dispute
2) after shipment, the order has stuck at Hong Kong airports due to multiple flights cancellations because of the pandemic
Solution: we started looking for another chip supplier to meet the deadline; then we ordered 17,000 pieces from another seller with a DHL delivery that didn't fail us before.
Problem#4: delay in delivery of goods on the territory of the Republic of Belarus
Due to bad weather conditions, the order with microcircuits stuck at the airport in Minsk and it was not clear when it could depart from the office of the delivery company to us. Moreover, there was a delay with responses from the delivery company. The reply, finally, was that the delivery will take no less than 2 days.
Solution: we sent our employee to pick up the goods from the office in person; as a result, the details were delivered the next day before the end of working hours; so we managed to start working with these items earlier than predicted.