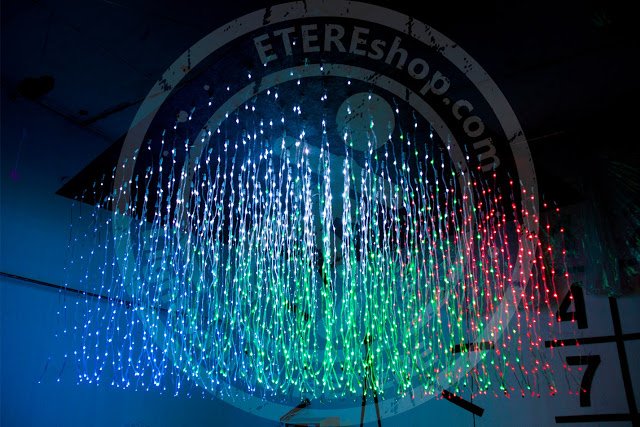 We have already been contacted by a well-known customer from California, Scott. He works in an event company, organizes various shows and rent out stage equipment. Before Scott already ordered from us LED wings and LED suits and pleased with the previous experience, he decided this time to order something unusual!
Scott wanted to emphasize the scene. We used LEDs to highlight it. Having surrounded the stage, we had a stock of tape and we decided to distribute it in a zig. And as a result, we have a huge LED cube.
For its creation, we used neo pixels and controllers based on APM 3 with firmware, which we developed ourselves. As a control system, Madex was used.
We quickly made a cube, but with management there were difficulties. A large number of LEDs were controlled by one controller. The power supply was distributed unevenly. There were noises and to fix them we needed a new firmware.
The client was left with mixed feelings. With one all is well, and with another, there were difficulties with electricity. In the United States, there were difficulties with finding power, because they have 110 volts of voltage. But later Scott found the necessary equipment and everything began to work as it should.
We got a lot of experience in creating 3D cubes. We solved a lot of technical problems and are now ready to offer our customers an LED cube of any size!