Our recent pixel costumes production technology update made it possible to continue working on further modifications of the most popular of our glowing costumes. Large Smart Pixel peacock fantails have always been one of our bestsellers, so why not bring them to the next level? Our research and development department made use of the advantages of the new technology of production and we are ready to present a new version of a popular LED outfit – the Smart Pixel Peacock Fantail with 2700 LEDs.
The new Smart Pixel peacock fantail has more than twice as many LEDs compared to our bestseller peacock fantail with 1000 LEDs. It's also a bit wider – 3,6*7,5 meters (11,8*24,6 feet) instead of 3,8*6,5 meters (12,5*21,3 feet).
The density of LEDs on our Smart pixel fantail with 1000 LEDs – 66 LEDs/1 m² or per 10 ft², while the new Smart Pixel Fantail 2700 LEDs has an impressive density of 166 LEDs/1 m². This means that LED bulbs form a real moving light-up screen for your show.
To feel the difference, compare the images of two models of Smart glowing peacock fantails below.
And here is how it looks in action: although scrolling texts and geometrical effects on both 1000 and 2700 fantails are readable, the text on the second one looks way brighter and clearer. And if we'll take a more complicated font, the fantail with 1000 LEDs may have not enough density to read it.
As the density of LEDs has risen significantly, the choice of light effects you can show on your large LED peacock fantail that can be clearly readable is much wider now. With 2700 closely set LEDs you can demonstrate not only scrolling texts, but also logos and even simple videos.
Control options and construction
The new Smart LED peacock fantail is relatively large, so you may want to have your hands free. As there are several control options available you can choose the best option for your situation. You can switch effects with the help of a small button in your hands or ask for assistance from a tech specialist from your team.
Large peacock fantails are all foldable to fit a compact bag for easy transportation and storage. The fantail costume is fixed with the help of straps on your shoulders and waist. Waist strap is adjustable as it's a unisex LED costume that can fix different body sizes.
Thanks to our recent production technology update it became possible to drop prices on some of our products, including Smart glowing peacock fantails. They are made now with the new ready-made LED strip which saves time on soldering, thus reducing expenses.
As a result, you get a large Smart pixel peacock fantail with almost three times as many LEDs but a lower price.
Let's get it calculated: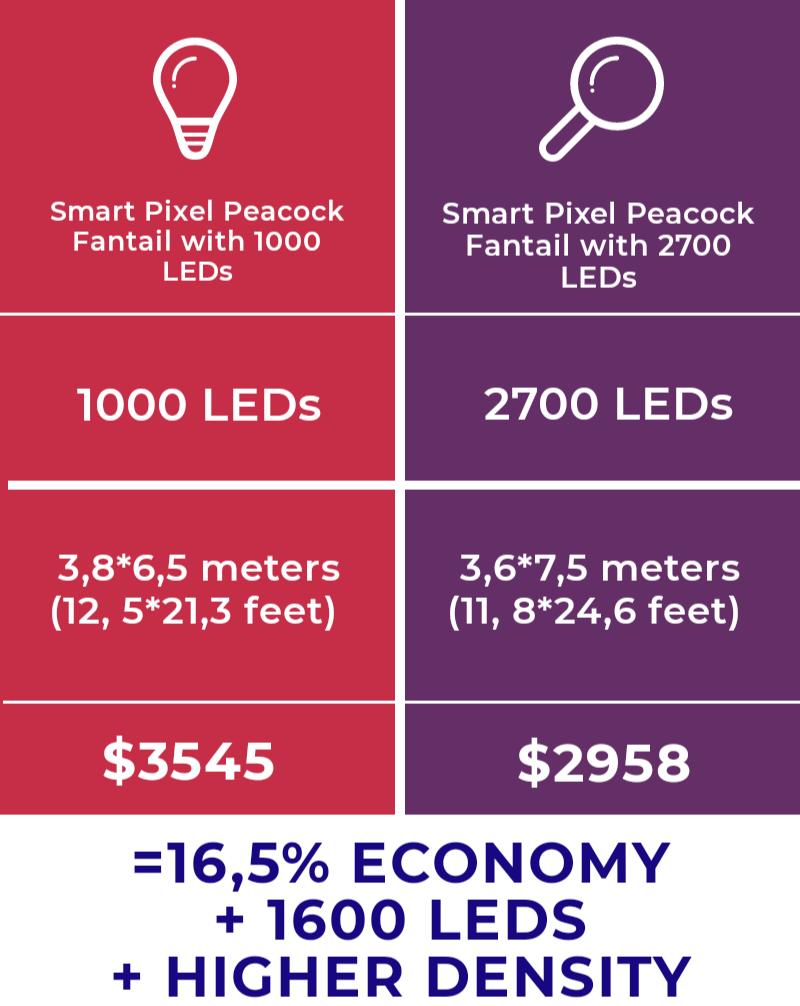 ·         Amount of LEDs: 2700
·         Density of LEDs on a LED strip: 1 LED per each 10 cm (4 inches)
·         Size (unfolded): 3,6*7,5 meters (11,8*24,6 feet)
·         Weight: approx. 6,5 kg or 14,3 pounds
·         Operating time: approx. 1 hour and more
·         Working mode: stand-alone, remote control via a PC, ArtNet?
·         Batteries: 12 pieces of Li-ion 18650, 3.7 v, No less than 10 A, 3000 Mah, Flat top *not included in the set
·         Colors: multicolor
·         How to switch effects: with the help of two small buttons (forward/backward)
·         Light effects: effects are uploaded to an SD card with the help of our program called Screen Recorder or via ArtNet recorder (with ArtNet software)
·         Synchronization with music: available
·         Sound activation: available
·         Synchronization with other controllers: available
·         Production time: 1,5-2 weeks
Delivery set: Smart Pixel Peacock with 2700 LEDs, rods, controllers, battery holders, bag, repair kit
Other Smart peacock fantails you can find in our online store