We want to tell you how to though a party with a photo zone that will attract 600 out of 800 guests and keep them busy taking selfies and videos for hours
As a result, their Instagram and TikTok accounts were flooded with pics, stories, and videos that day.
A while ago we threw a party on a riverbank and lit it with LED installations of unconventional forms: 3D LED Cube and LED balls. We were partying for 5+ hours and all LEDs shone brightly till the end. Read more about it below and see how you can light up your party with unusual LED decorations
An easy way to make your guests feel attractive is to light them like movie stars. LED light of party decorations will make your guests feel prettier and it's perfect for selfies and shooting videos, be it a short TikTok video or a full-length music clip. People like to feel pretty, take pics and share them with the world so give them what they want – unusual backdrop, interesting lighting, and fun. You'll keep them busy for hours and engage to share their experience with the world.
The large 3D LED cube with 4000+ LEDs was in the spotlight throughout the whole party. Powered by the mains, it can work as long as you need it and have electricity. 16x16x16 light сube was shining for about 5 hours that night and approximately 850+ people passed through it or were dancing inside it.
Most people partying inside or near the LED cube are there to take photos and videos to post them on the Internet. And the LED light cube is something new among loads of selfie zone ideas. LEDs of the 3D cube light up not just the face but the whole body and changing light effects allow recording dazzling TikTok videos, Instagram stories, and even full-fledged music or add videos.
You can
synchronize light effects with music or a stage
, customize luminous effects for a specific show or a party and this whole thing is controlled with the help of two small buttons to switch effects forward and backward, so you don't need a special crew to maintain it once it has been installed and ready for a show.
3D LED Cube: the construction
The 3D LED cube installation is so bright thanks to 4000+ LEDs (16x16x16) and a larger light angle. The construct is large enough (2,45×2,45×2,45 meters or 7,4×7,4×7,4 feet) to accommodate up to 5 freely dancing people at once or a larger group posing for photos. If you need a larger 3D LED Cube, you can make a custom order with measurements and the number of LEDs you need.
This cube is a renewed version of our previous Smart LED cube installation. We made it cheaper and even more shiny thanks to the 'ceiling' or the cube covered with mirror plastic and a wider light angle.
Our party took place outdoors, on a riverbank and there were just two things that could spoil that night: rain and no electricity supply. But you can protect the construction of a 3D LED Cube from a light drizzle with plastic film.
The construction of the Smart LED cube installation is fully collapsible and the assembling process takes approx. 1+ hour. Light cube is also easy to repair: just unplug the LED strip you need from the 'ceiling' and repair it. You don't need to reassemble the whole construction. The 3D LED cube will keep on working even if you unplug several strips, which is naturally when dozens of people dance and pose in it for several hours.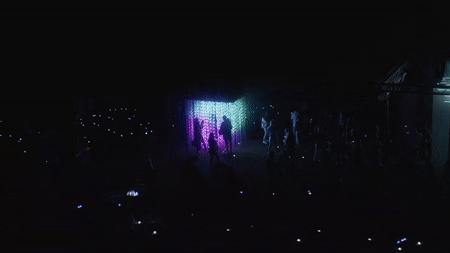 Another luminous element we used for the decoration of this party was even more fun and interactive. LED fairy balls were scattered across the riverbank and along the path to mark direction towards key locations of the party, including the bar stand.
Light Balls serve not just like luminous guides in the darkness but presuppose interaction. They are also called playground or throwing balls as they are safe and fun to play with.
LED balls we used had strips with 10 tiny LEDs each with 500+ of light balls all in all. LED colors we used that day were white and blue, but you can choose your own colors for any thematic event. You can customize the number of LEDs inside each ball as well.
By the way, each third guest took a LED ball with him as a souvenir from a party. So that's an idea for branding if it's a corporate event or you want to promote sponsors of a gathering.
Unlike most other LED balls on the market, our LED light balls have a stand-alone working mode. All wires and batteries are hidden inside the ball. So you can interact with them freely: play with them, roll them, drop, make a pile or luminous images. Our LED fairy balls are made of lightweight materials and weigh no more than 20 grams (0,7 ounces). It's a safe choice for a kid's party as well.
Feeling interested in any of our LED decorations?
Have any other ideas about LED decorations for parties and other events?
Share them with us and we'll realize them!