2020 pandemic crisis in the event entertainment, as well as costume design industries, spurred the development of new updated technologies. Some of our projects and new mirror and LED technologies aimed first of all on how to lower the final price of a product for a customer who can't afford huge investments in event props and costumes due to uncertainty during pandemic times.
At the same time, we could not completely refuse to work on ambitious and complicated projects for clients who are seeking more even in 2020. The market and event industry has transformed, temporary or not, but there were still big projects and private events that required unconventional mirror and LED design decisions.
It's the second article from the cycle of 2020 summary articles, so keep checking for more.
LED Costumes: new production technology
A couple of months ago we've tested and applied on an ongoing basis the new technology of production of part of our LED costumes and accessories. This also let us introduce a discount alert for those costumes.
The introduction of the new technology became possible due to the robotization of the production process for LED wire strings we use for the manufacture of part of our glowing pixel costumes. First of all, it concerns our belly dance costume line and Smart LED peacock fantails of different sizes.
This technology update changed the process of production: there's no need to solder each LED bulb one by one all by hand. LED wire strings are being produced by robots on the conveyor which allows reducing production time considerably.
Less labor involved means fewer expenses. As a result, the average price of one LED bulb on a new LED string dropped down to $0,50.
Prices dropped down up to 20-70% for pixel costumes and accessories thet allow usage of a new technology
Mirror Costumes: production technology update
One more major change in production technology concerned our mirror costumes line. The aim was the same as for Smart LED belly dance costumes – to speed up the process which must result in a lower final price of a mirror outfit or an accessory. And we succeeded in it at the beginning of this fall. One more huge price drop on our top mirror costumes was announced by the end of September.
---
The new production technology does not apply to mirror costumes and accessories with too small mirror tiles and to costume parts like armpits and knees which are hard to stretch.
Blanks and stencils we use are of standard sizes like XS, S, M, L, XL. The usage of non-standard stencils would nullify time economy and make price drop impossible as this means creation and testing of new stencils each time we get an order for a personalized size.
Discounts on some mirror costumes and accessories made by the new technology are up to -50%.
---
Read more on that: 2020 Christmas Price Drop: -50% Off on Mirror Costumes with the New Technology

---
New Transformable Photozone: LED Infinity Mirror Dodecahedron Wall
---
A large futuristic photozone with LED Infinity mirror dodecahedrons that can be transformed from a glowing wall into a cloud installation is an ambitious project our research and development department has been working hard on for months.
This LED installation consists of 22 Infinity mirror dodecahedrons of different sizes. They are arranged in the form of the wall to serve as an interactive photozone, not just a light-up LED decoration. Powered by the mains it can work as long as you need it for your purposes, We've tested it two times when collaborating with local party organizers.
---
22 LED dodecahedrons have 250+ Infinity mirrors. They create an impression of a dazzling cloud or a wall. Infinite rainbow voids with changing colors hypnotize. When lights are off you can see your own reflection in an Infinity dodecahedron. All this makes this glowing LED installation a perfect party photozone for those who are tired of stale ideas in LED design.
[meta_gallery_carousel id="24009″]
---
Add here an interactivity option: light effects can change along with your movements if you'll use a Kinect and a PC and set everything ready for the show. Guests' motions will be tracked and transmitted on dodecahedrons in real-time.
Read more on that:
Party Photozone Ideas 2020: LED Infinity Mirror Dodecahedron Wall
Photo Report: LED Infinity Mirror Dodecahedron Wall as a Party Photozone

---
---
Interactive VR Project with Generative Graphics
Interactive VR project is a new creative task our developers' team is currently working on. They experiment with the projection of generative graphics on different planes. There can be one, two forming a corner and four, surrounding a person with VR controllers.
---
People are playing with interactive VR ever since it's appeared. We've been inspired by brands like Adidas with their Running Cube holographic projection and Hakanai project. We wanted to make a multipurpose interactive project that can be used for different occasions. Not just for pure generative art performances, but also for exhibitions, launch events to showcase products, concepts, and brand ideas.
Another obvious option of such an interactive body tracking VR project is providing fun at parties, festivals, and such.
---
The essence of the project is VR body tracking combined with generative motion graphics. Coordination is reached with the help of a motion-sensing input device Kinect, VR controllers, laser projectors, a PC with Touch Designer and Team VR software, and drivers. Naturally, you'll also need to have a white surface or transparent light projection nets to project graphic effects on.
---
Performers or party guests will have VR remote controllers in their hands to control luminous generative graphics effects on a surface in real-time. Moving images and generative animation effects can be synchronized with music and dance moves to create an outstanding show. If the action takes place inside a transparent cube made of projection drapes, the audience is able to spectate the show from 4 sides of the glowing cube.
Although motion graphics is being generated in real-time, all light effects are pre-recorded and you'll be able to choose motion graphics effects from the library and create your own playlist for a show or an event.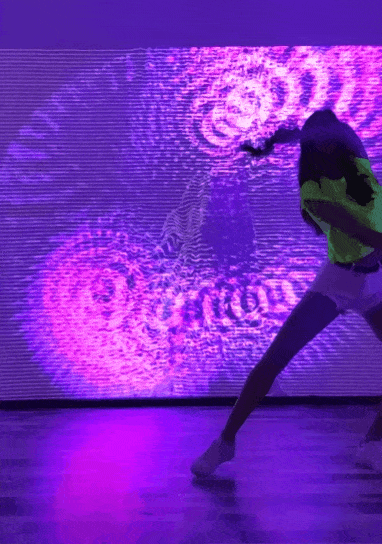 ---
First, we've experimented with the projection on a single plane – white wall surface in our case. When we succeeded we moved to the next step – interactive projection on two planes forming a corner. Now we plan to create a VR project with motion graphics projection with four surrounding planes, like a luminous cube. So keep checking our updates.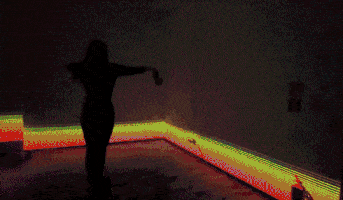 ---
---
Real-time Projection of Video Effects on LED Costumes
---
For those who wanted to use HD LED costumes they already have to the fullest and avoid additional expenses, we've introduced one more solution. You can project video effects right on your costumes in real-time.
Smart HD pixel costumes that can be used here are, for example: LED screen wings, vests, and jackets, HD LED dresses, Smart LED cage costumes, or even Smart pixel peacock fantails or masks. You just need to find a projector, take your LED costume, and get ready to create your next brand new light performance.
---
Read more on that: Real-time Video Effects for LED Costumes
Wireless Synchronization between Several LED Costumes and Music
---
This year we've also worked out remote and wireless synchronization option between several light-up costumes and music. It's a great possibility if you have several LED costumes, for example, LED ballerina tutus. And you want to create a complicated pixel show without the necessity for dancers to switch light effects manually. They can focus on their performance and a technician with a PC will do the rest.
Synchronization option does not necessarily mean the same light effects switching simultaneously. You can go further and create a light show with different effects changing at the necessary time on your glowing LED outfits. There are two options on how to do that:
The first one is to create show lists and upload them to each SD-card of each LED outfit involved in your show. Then you just make those show lists play remotely via a PC.
The second option is to send the number of an effect you want to play on all your Smart pixel costumes remotely. This one is for a synchronous show. Just make sure to switch light effects simultaneously not to lose synchronicity. At the same time, you can make the necessary music play on your PC.
---
Read other articles with 2020 summed up for ETERESHOP team:
2020 Summed Up: Big Names, Bright Projects
---