Self-isolation and quarantine is true torture for active people who aren't used to sitting at home and doing nothing. It's always better to get yourself busy with an interesting and useful task. That's how we've come up with an idea of
DI
Y kits
: we've managed to turn many of our popular LED and mirror products into

DIY costume sets

format.
DIY Kits of LED and mirror costumes perform several tasks:
They are perfect time killers - what else can be desired when you stuck at home?
You don't need to keep looking for ideas of how to entertain yourself on quarantine – start making things with your own hands. And we are ready to provide you with materials, detailed instructions, tools, and any assistance from our team.
They help you save money - make your costumes with your own hands, don't pay for this work.
Tasks that require special tools and knowledge will be done by us, in advance. All the remaining points are yours to explore.
They will help you with the maintenance of your costumes in the future.
By making a costume with your own hands you'll know it's construction and weak points to successfully use it and repair if necessary.
Things are changing fast during the COVID-19 outbreak and people are

being forced to adap

t. Self-isolation, remote work, not seeing your friends and elderly relatives, sad news around – all this easily gets on nerves. No wonder that you
crave to do something.
We at ETERESHOP understand you like no one else. We are not used to sitting at home, wasting time doing nothing. Our urge to create results in projects like
DIY Kits
. Plus we need to pay our bills of course ;)
We've had DIY 3D Mirror Masks in our catalog before, but now we expanded the line of products you can make at home. They include not only mirror, but popular and new LED costumes and accessories as well.
We'll do the crucial tasks that influence the quality of the whole costume.
Things like cutting mirror tiles, soldering charging boxes, the firmware that requires complicated tools, robots and knowledge will be done by us, in advance.
You'll have 2 complexity levels to choose from: easy-to-do and medium.
Medium level includes the training stage with usage of a training kit.
You'll get all the detailed step-by-step instructions, tools and materials with each DIY kit.
Tools and materials are included in the full price of the DIY kit. So you won't have to bother about ordering any additional tools and going out to shops.
You'll get 24/7 tech support.
We'll help you at any step of your work and consult you. You'll get full service for DIY kits of our products, just like we provide for non-DIY products.
We guarantee that your DIY product will be finished.
If you come across any hardships that cannot be solved with the help ofour 24/7 support, we guarantee to finish your DIY outfit free of charge and send it back to you.
You can choose one of
2 complexity levels available
depending on your budget and interest.
1. Easy-to-make:
You don't need to have experience and special training to create such costumes, masks, or accessories. It'll be enough for you to use our detailed instructions to assemble your future outfit. It's one of the best ways to
pass time on quarantine
.
2. Practice required:
To assemble and make such costumes you'll need to acquire special knowledge and practice first. That's why we send a training kit with the main set for the medium level. It's a more time-consuming option, but if you are ready to spend some of your time for training you'll be qualified enough to create your own costumes, masks, and decorations in the
future
, paying just for a set of necessary materials.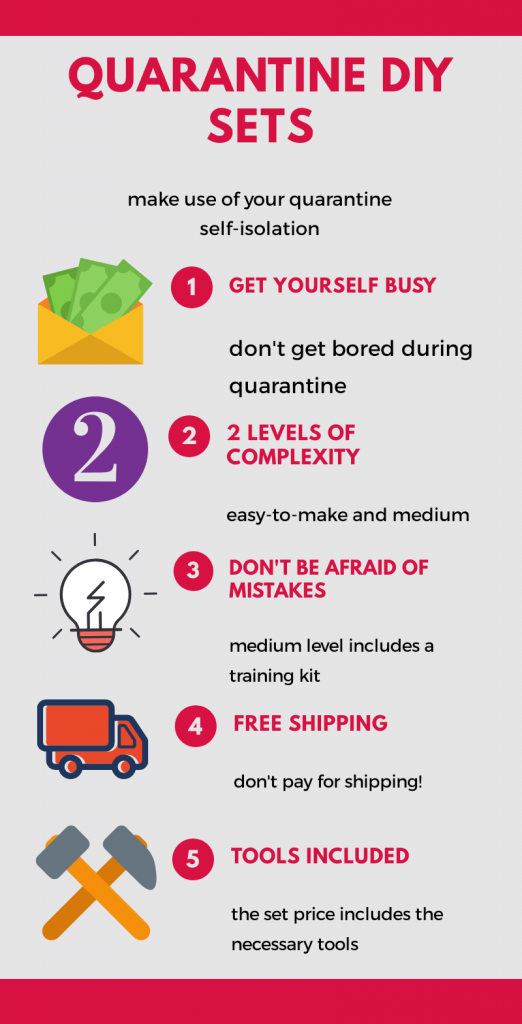 Examples of DIY costume sets by ETERESHOP:
Let's see how this all can be implemented on a couple of examples.
DIY Mirror Man Costume Kit
One of the most popular mirror costumes by ETERESHOP is a mirror man costume. Their hand-made production seems relatively easy, yet requires accuracy, precision, and patience not to destroy the whole thing.
We'll cut mirror tiles for the whole costume with a laser and sew the fabric base of a mirror man suit.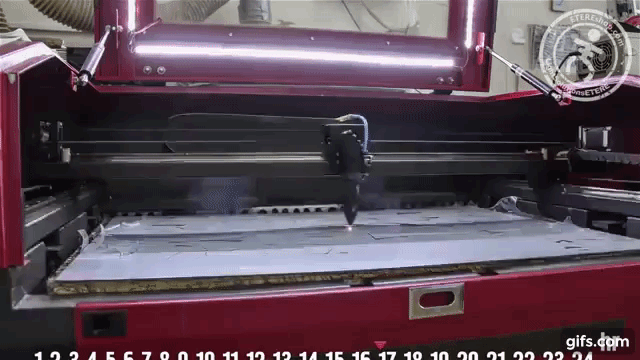 Laser cutting mirror tiles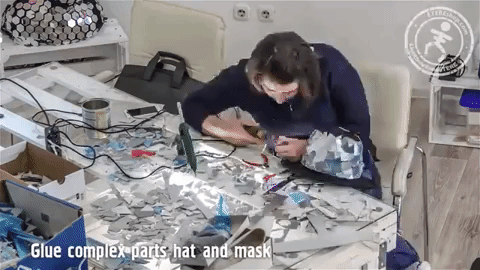 We'll also stick mirror pieces to the mask, shoes, and gloves of a mirror man. These items have bends, angles, and tiny details and you need to have a knack to finish them quickly and easily. Plus you need a rotary tool to finish some parts.
Luckily, you can choose the medium level for this DIY costume set and train using the
training kit
provided with it to learn how to stick mirror tiles carefully, without leaving glue stains and destroying the look of the costume.
So, here are two levels available:
Easy-to-do level:
attach mirror tiles to the mirror man jacket, trousers and balaclava.
Medium level:
use the training kit first, then attach mirror pieces to parts of a mirror man costume: trousers, jacket, balaclava + accessories if needed.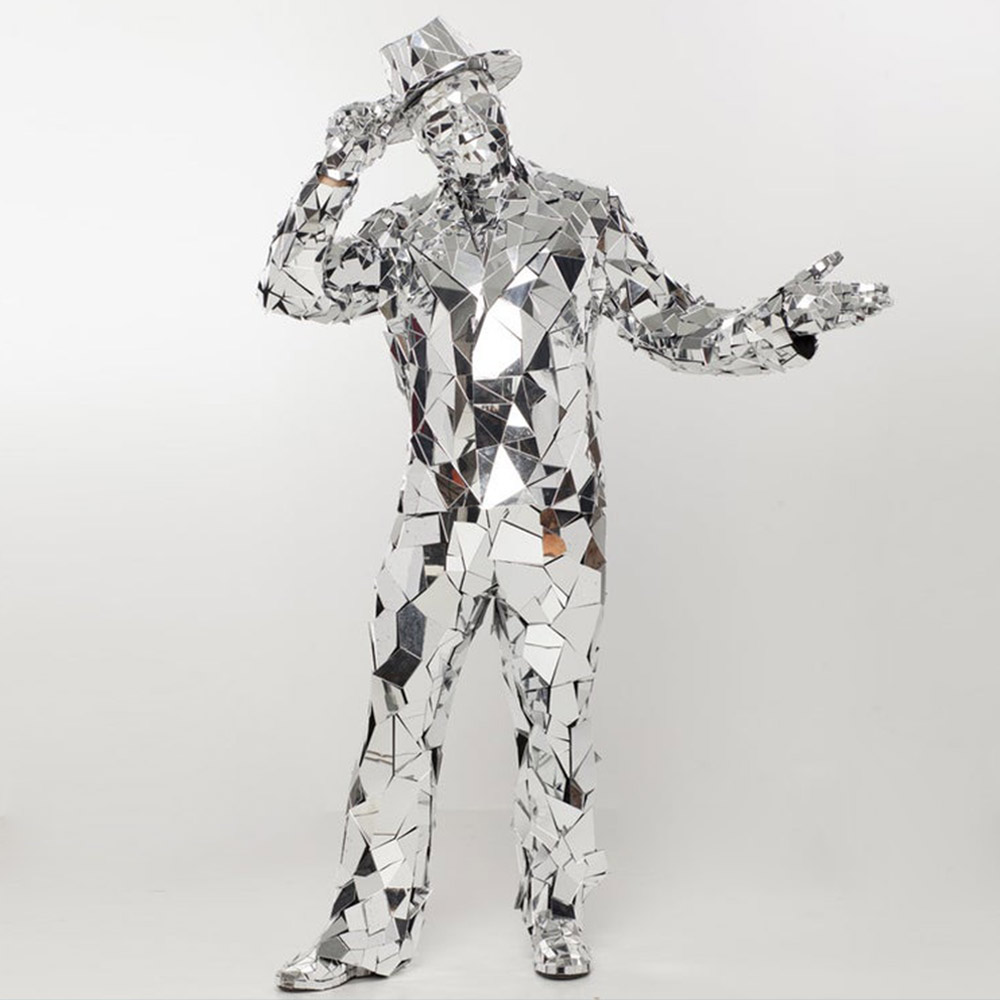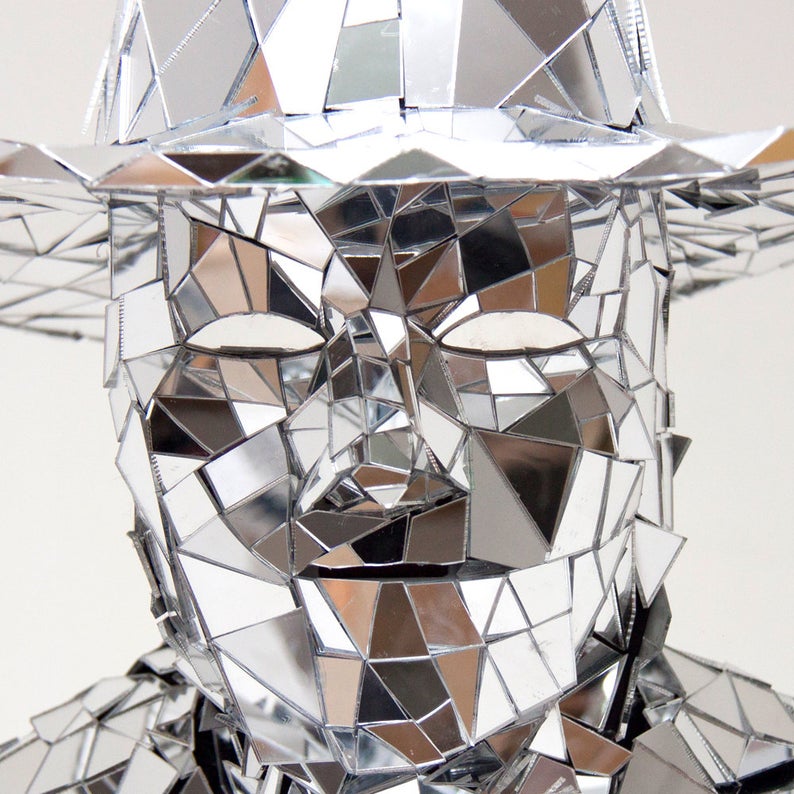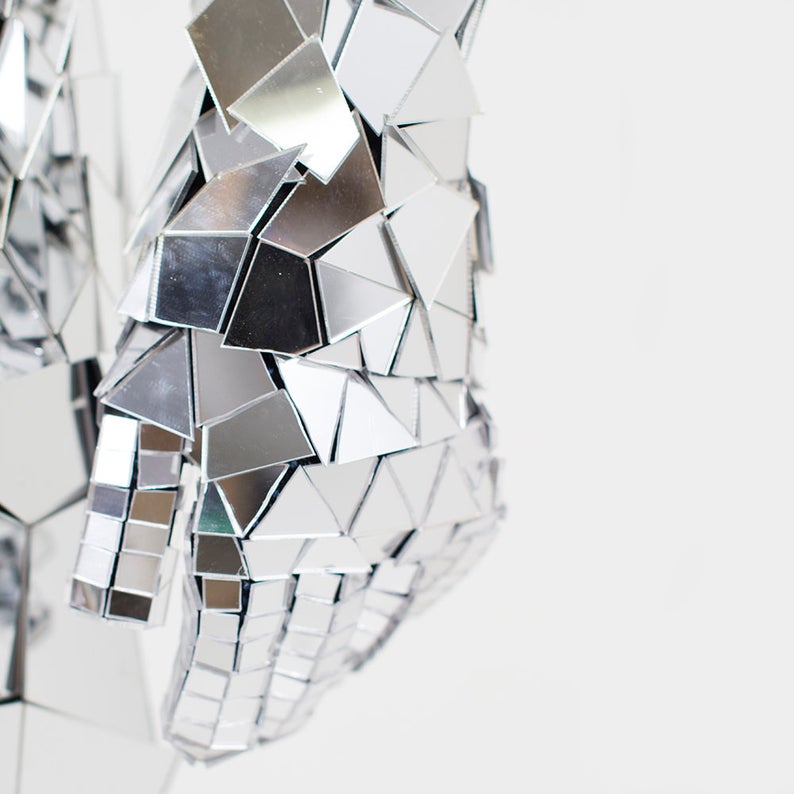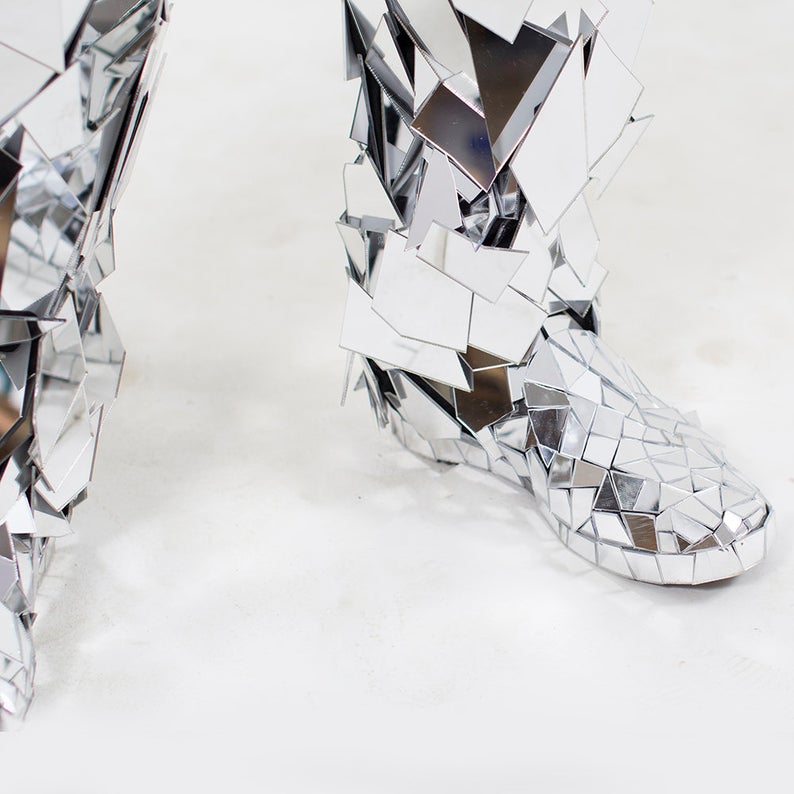 DIY costume of a mirror man
includes all the necessary tools for work
: stationery knife, silicone glue gun, sandpaper, wire cutters. Their cost is included in the total price, so you won't need to order anything additional, especially in times of self-isolation when living a house is not advisable.
If we take LED products as an example, the Smart LED flag is among the most popular of our fresh items.
What we'll do from our side:
Soldering charge boxes

Firmware of connectors

Preparing the flagpole

Sewing the base and battery pockets

Soldering the main (power supply) and the DATA wire (the wire that transmits info from controllers)
i.e. all the tasks that require usage of complicated tools and additional training.
You'll have to do the following tasks:
Cutting and soldering the LED strip (alignment)

Chalk marking the fabric base and attaching LED strips to it according to those marks

Soldering shrinkage and all the connectors + additional supply

Girding LED strips to the fabric flag base

Braiding all wires with a black wire braid

Final assembling of the LED flag + testing
This DIY LED flag set includes necessary tools as well: soldering station with a dryer, solder, silicone glue gun, wire cutters, stripping tongs, scissors, multimeter, stationery knife, tape measure, awl.
Once you order the DIY costume set, you'll get detailed step-by-step instruction on how to use these tools and materials to make your own large Smart pixel flag.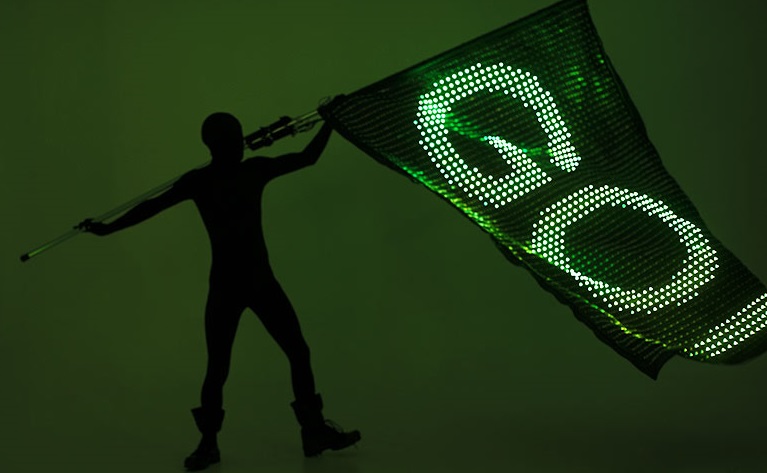 Large Smart Pixel Flag by                                   ETERESHOP
We create all those costumes and accessories available as DIY sets from scratch, have much experience, and will help you succeed and make your own LED or mirror costume, no matter which level or product you choose and what's your background. You'll get full service and 24/7 support. In case you cannot finish the production of a product by yourself,
we guarantee to finish your DIY outfit free of charge and send it back to you
.
Many projects, shows, events, and festivals either went online or were postponed due to the COVID-19 outbreak until autumn or other dates. This means that lots of activities and people hungry for fun and stress relief after hard times of quarantine await for us. Get ready for this with us.