A modern LED dance show is not only a great way to impress and captivate the audience, but also a perfect solution for those who'd like to have a total control over their performances. Just scroll down for five more biggest advantages you'll get from creating your own light up shows.
1. The Benefits of Wireless Technologies for LED shows
Feel free to put on your LED show wherever you like: in the middle of a street, on a beach or under the big top. All of these is possible due to the use of wireless technologies and powerful rechargeable batteries.
1.1. Make a statement with custom light up outfits for singers, dancers, and entertainers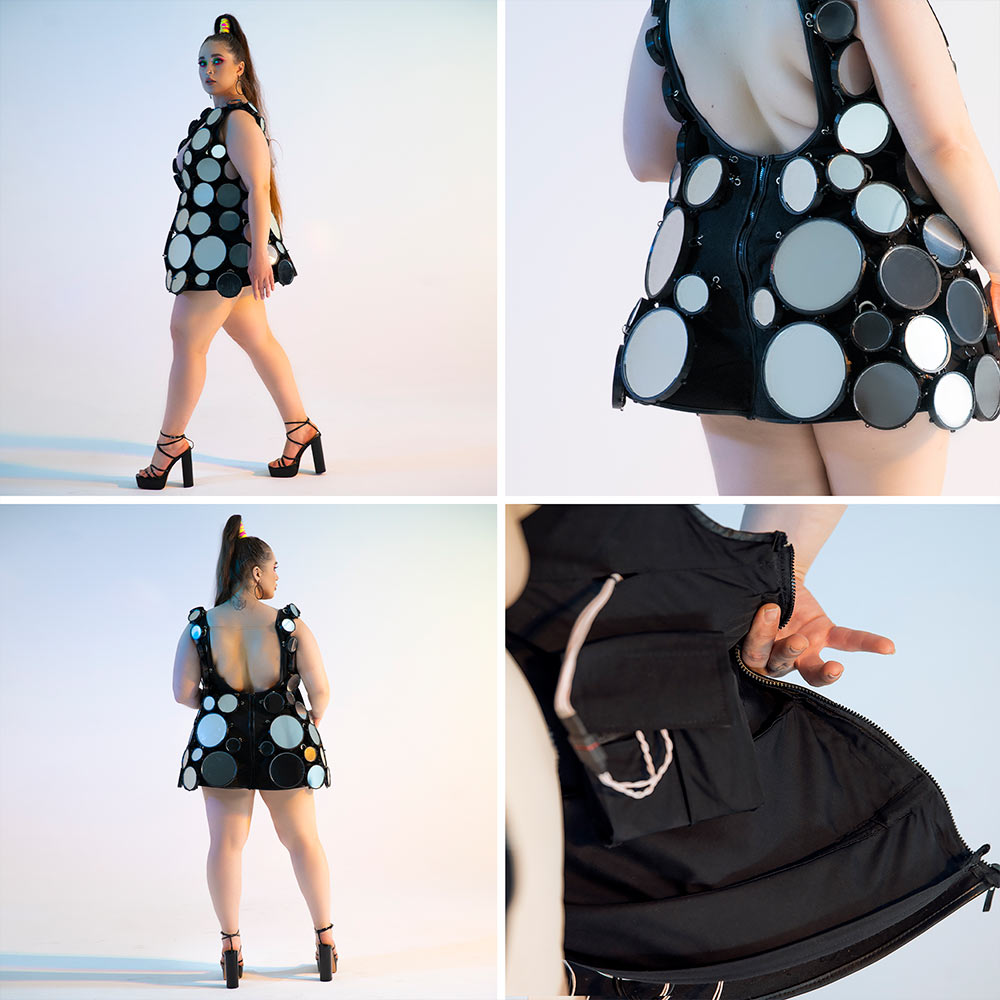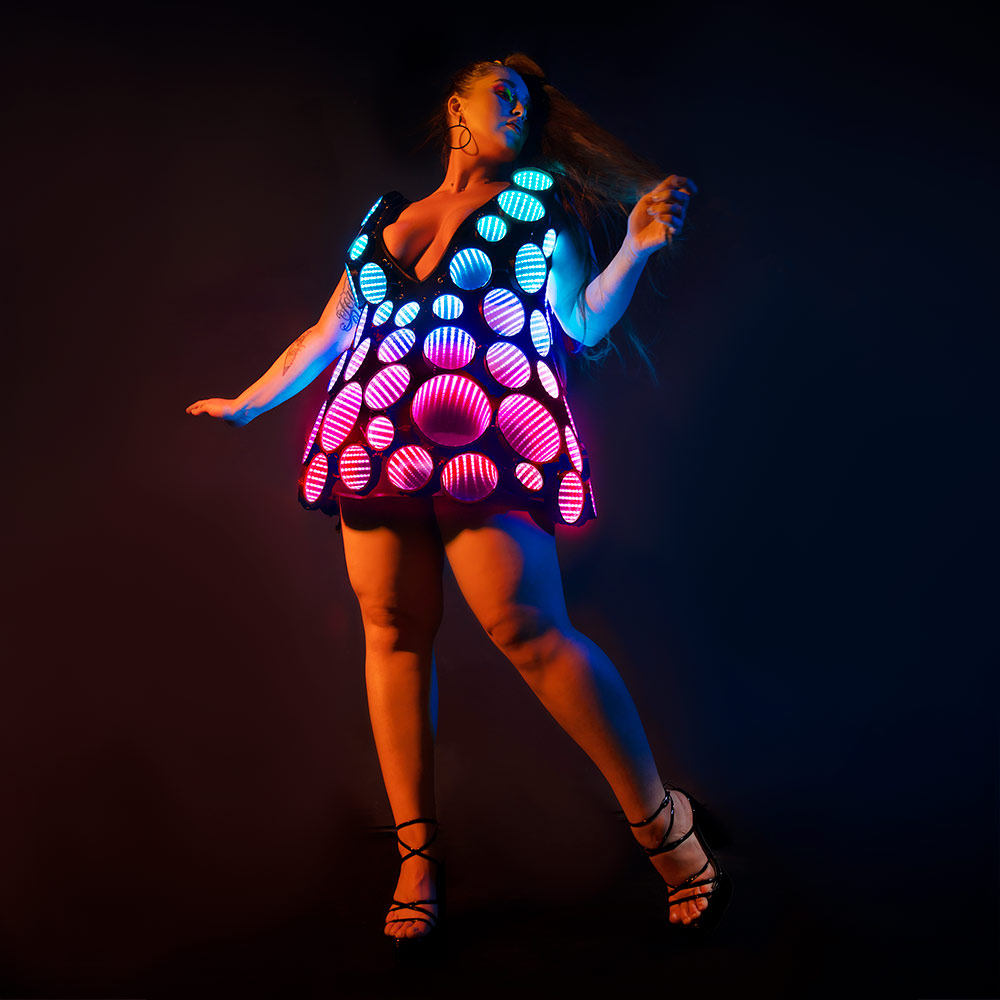 Emphasize your choreography and give a lot of energy to the dance, synchronizing your LED outfits to music. The use of powerful batteries can ensure up to two hours of unbreakable performance. Apart from it, LED costumes can be easily adopted for a great variety of shows by simply choosing another set of astonishing light effects. 
Some of the light up outfits can have a water-proof design, which makes it possible to use them even in the water, for e.g. for LED flyboard performances!
Have a look at the  LED flyboard show with the light up outfits by ETEREshop.
1.2. Use Wi-Fi for signal transmission and control over light up costumes and props
Our light up costumes and LED installations can have several control options, including remote control via Wi-Fi or an RF controller.
Giant LED infinity mirror dodecahedron installation by ETEREshop for light up performances, nightclubs, parties, DJs and go-go dancers with remote control via Wi-Fi and possibility to synchronize it to music, and other LED decorations and outfits involved in the show.
Move with confidence – all the light effects at your LED dance show are under your control.
2. Main advantage - the freedom of direct interaction between the artist and lighting equipment
Sometimes even a well-programmed show or super professional console cannot feel the next movement of an artist at a certain time and react to it on time. Now the performers can control some of the lighting equipment themselves and shape the video content directly from the stage, issuing online commands with the help of their own movements.
Watch Armin Van Buuren's team using MYO armbands for awesome real-time light effects and powerful interactions with the audience.
3. Convenience of preliminary programmed shows
3D projection installations such as a 360-degree projection cube allow to use a preconfigured library of content with a wide choice of effects that can be customized according to your wish. Just press the "start" button – and enjoy! 
The interactive projection cube by ETEREshop features VR controllers that track the moves of the dancer and make all the 3D effects and footage respond according to her movements in real time
4. The possibility of synchronizing your light up costumes with one another
The LED costumes can be programmed in such a way that they can be synchronized with one another for a totally captivating show. So, basically no additional decorations or lighting equipment are needed – well programmed and quality LED outfits will make the show themselves!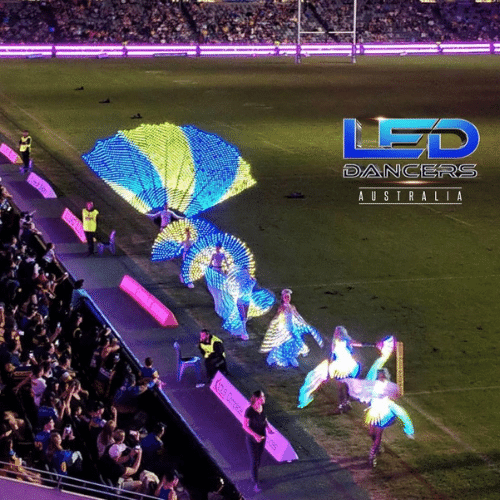 Watch the video from the clients – how they synchronize costumes with each other:
Have a look at how light effects can be synchronized on several LED costumes – huge light up butterfly wings by ETEREshop ready for the show.
5. Synchronize your LED costumes with stage lights, screens and footage
The modern wireless technologies allow to synchronize light up costumes with stage effects and footage for a totally overwhelming experience. 
Watch an idea of a LED dance show with multiple technologies in use – programmed LED dance, projection mapping, and synchronization of LED costumes and light effects.
Our list of advantages can be actually extended up to a dozen, but there is one extra advantage, which we consider to be by far much more important than the rest ones. Using LED outfits and installations is a sustainable way to organize performances and shows. Why? Light up costumes and installations with LEDs consume much less energy in comparison to traditional stage lights. Moreover, there is no need for a great number of props and decorations on a stage, which considerably cuts down your expenses and efforts. And finally, you can also create a great variety of different shows adopting one the same set of LED costumes or LED installations to your particular needs.  
So, create your own unique and unforgettable light up performances, and be sustainable on top of it!
6. Check out the programmable LED suits for light shows
We hope this article was useful for you. We'll be pleased if you share it on social networks.