The performance scene is transforming all the time with new technological inventions, trends, and social changes. An audience is always seeking for something new and unusual. But such a form of performance art as busking or street shows is a tradition that dates back to antiquity and is a socially accepted form of art in many parts of the world and doesn't seem to become obsolete. So…
How to earn with he street performing if you plan to move your indoors shows to the streets?
Which ups and downs may await you in this way, what to bear in mind - that's what we're going to dwell on in this article.
Lockdown 2020 had (and still has) a huge impact on current situation in event entertainment sphere. Most outdoors events with mass gatherings this spring and summer were cancelled due to the coronavirus outbreak and lots of artists were sitting without any work. Some countries are starting to remove some of the restrictions and we can hope for a gradual return to normal. We are working on an article based on a series of interviews with our clients who represent event agencies and groups of performers from all over the globe to draw a real picture of current situation in entertainment and showbiz sphere and how they survive the crisis.
*Photos used in this article doesn't belong to us and being used an examples. No copyright infringement intended.
Pros & Cons of moving your perfomances outside:
+ lots of space, no limits by the ceiling if you work large props;
+ lots of sunlight and natural lighting;
+ you can gather lots of people around you without being limited by the number of seats;
+ immediate feedback from the audience;
– weather is changeable and you need to be able to pack your equipment quickly;
– the crowd is unpredictable;
– you can't occupy the niche if you are an amateur, there's lots of training and learning involved;
– competitors nearby;
The human statues market is undeniably crowded one in large cities like London or other European capitals, but it's still one of the most popular busking activities in the streets. In most cases it's not enough to paint yourself with silver or gold paint, you need to present something never seen before. At the same time, there's a lot of people that do it but there's very few that do it professionally. So if you are a professional artist ready to work on your personage, posture, interaction with the crowd, you have a chance to be noticed and become a trading mark of a place and/or an event.
Busking is just one of the options for living statues. Noways, they are often an inseparable part of weddings, presentations, corporate events, resort and hotel animation acts. Selfies lovers adore such attractions.
If you are working in a ready-to-wear costume of a living statue, it's easy to transport in a bag, so you are mobile and can adapt to the situation quickly. But get ready to literally and figuratively sweat a lot, as it takes much more than it seems.
Street Theatres and Performances
Street theatres work either according to a debugged script or improvise a lot. Depending on the audience they are working for, their decorations and costumes may be of different style, but usually, they are quite volumetric and bright. One more peculiarity is that props for street theatres are often custom-made for a specific show to match the script or a specific holiday theme. Such artists, with designed costumes and experience, are in demand among planners dealing with large parties, mass gatherings, and festivals especially themed ones: Christmas, New Year, St. Patrick's Day, Valentine's Day.
Universal or single-purpose, props for theatrical performances should be of high-quality to survive different weather conditions, transportation, and exploitation. Costumes and decorations no one else has, attract more glances, especially during the holiday season when shopping malls, parks, and other locations are crowded with animation artists and performers in similar outfits.
If you are a stilt walker and move your performance outdoors, you are no longer limited by the ceiling. Stilt walker costume is a great outfit to perform in the crowd: people see you from a distance, stilts itself attract attention and in the combination with an impressive costume street stilt walker look even more imposing.
Giant stilt walkers often perform at kids' parties, anniversaries, weddings, and thematic holiday celebrations like Christmas and New Year. Stilt shows gather crowds around and often work among crowds of people. The towering giant figure is another selfie trap worth hiring for an event.
It's not a problem to transport stilts and get ready for the performance quickly. Add bright details to your costume and surpass other performers with the less elaborate outfit. But don't underestimate the skills and practice it takes to become a professional stilt walker. Constantly balancing, sometimes in heave and/uncomfortable outfit, being ready for unexpected movements of onlookers with no rest for a long time – that's part of downs you'll face while making people happy with your acts.

Fire shows are a classic, while light and pixel shows are relatively new forms of street show entertainment thanks to the rapid growth of technologies. Pixel shows popularity started to flourish after talent shows of recent years all over the world when dance pixel show teams won the main prizes.
Performances with any time of additional lighting involved are evening/night time types of shows. It's 
a great option to finish an outdoor party
 or any other type of celebration. Bright light or fire show usually becomes a culmination of an event. 
Add branding with logos and corporate colors
 if costumes and props allow that and 
'sell' your outdoors light show to corporations
.
Experiment with combinations of forms and materials to refresh your light show and try to enter the market with something new to occupy the niche in your area.
Light shows can include not only LED costumes but also pixel accessories that may become trademarks of your light show: LED drums, fans, veils, fantails, and more.
Shows that presuppose plasticity and agility always attract attention. The physique and abilities of the human body mesmerize crowds.
But since it's not a new form of street performance and because of high competition, you need to look for new details to add to your performance to stand out from a crowd.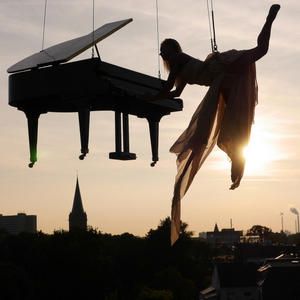 Flying objects, luminous or gleaming costumes, props of unusual forms, playing with elements like fire or water…you are limited by your imagination, physical qualities, and safety precautions only. 
Aerialist shows require special equipment that needs to be installed in advance. That makes aerialist performances a better choice for resort and holiday entertainment. Gymnasts and jugglers are less dependent on conditions, so they have a wider choice of occasions to perform at, from basking in the streets and to posh receptions at weddings and anniversaries.
Annual parades like St. Patrick's Day parade in NY city and London, New Orleans Mardi Gras, Edinburgh Fringe Festival, Mummers Parade require long term preparations, your costumes and presentation need to be unique as you can't repeat yourself each year or be just like anyone else – you won't be noticed and invited to the next year's parade or carnival. 
Showing your performance skills and preparation approach may be seen by your future potential clients. So you have no other options but to show your best. Finding your style, the zest of your show as well as costume designers, working out props, and movable scenery may take up to several months to complete but the result is worth it.
One more idea is to 'sell' the parade
 idea to the local government. Create one for free and earn from it in the future if they'll want to repeat it each year in the same format.
Artem Nebylitsin from Russia came up with one more idea that is another lifehack for you. He created a 
visual studio
using the best props he had in his arsenal. This studio is a space for visual shows that uses innovative laser and video technologies, including 3D mapping. You can come and have a photo- or a video shoot in this location. Or you can adapt to the new reality of entertainment and 
create your own studio with props you have
 and earn on it.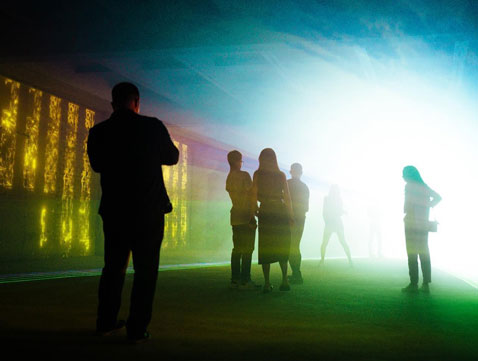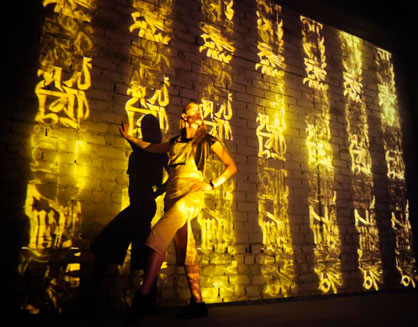 Choose your props and location for street shows wisely

. Mind weather and light conditions, safety precautions, the typical audience of the place, etc.

 

Get a busking license or official permission to perform in the streets if it's necessary for your area

. Make sure you don't break the law by your street show and you won't be asked to leave the location a couple of minutes you start.

 

Be open and engaging, ready to improvise. Y

our audience may be unpredictable and to make them interested you need to be flexible and innovative.

 If you are not a professional group of artists paid by clients who ordered the show, 

make money collection as easy as possible

.

 

Stay unique:

 outperform your competitors by innovative performance costumes, acts, and approaches to your street shows.
We do understand all the hardships that coronavirus brought to all industries, the entertainment industry being the first one affected. Our company, which has a staff of over 50 people was effected by the lockdown as well. We actively try to fight outcomes and help local doctors with free respirator masks.
It's a non-commersial article and it's not intended to upset anyone, but rather to encourage all of us to stay motivated in post-lockdown time and share ideas.