You could have seen face masks on world's most prominent catwalks almost each year. Air pollution, mask trend in Asia, seasonal cold…masks became an inseparable part of our life.
Situation has changed dramatically this spring with an outbreak of COVID-19.
But since world loves exaggerations and hype, it's no wonder that the surgical mask has not only turned into the vital necessity – along with antibacterial wipes and hand sanitiser – but is today's most coveted fashion accessory.
---
You'll find the form to subscribe to our emails at the end of this article to get more news like this.
---
Face Mask Trend
Instagram influencers and fashionistas all over the globe are exploiting this sudden fashion as a new opportunity to draw attention to their blogs. Logos and prints of such brands as Louis Vuitton, Chanel complete the picture.
Bloggers are severely criticized for such photos but this, naturally, draws even more attention to their mask-related blog post. So, mission accomplished, likes received, brands advertised.
Influencers say the intention behind their posts is to ask their followers to stay safe, however, some social media users feel it somehow diminishes the serious nature of the outbreak.
---
Mirror Mask as a Separate Fashion Trend
ETERESHOP team has presented mirror face mask collection on a number of fashion shows and festivals last fall. We wanted to explore festival mask trend with shiny materials that are our speciality – acrylic mirror tiles of various sizes, shapes and colors. Decorated with chains, gems, feathers and spikes they looked like top Burning Man style accessories.
Who would have thought that a face mask would transform from just a fashionable accessory into a vital necessity in just a couple of months…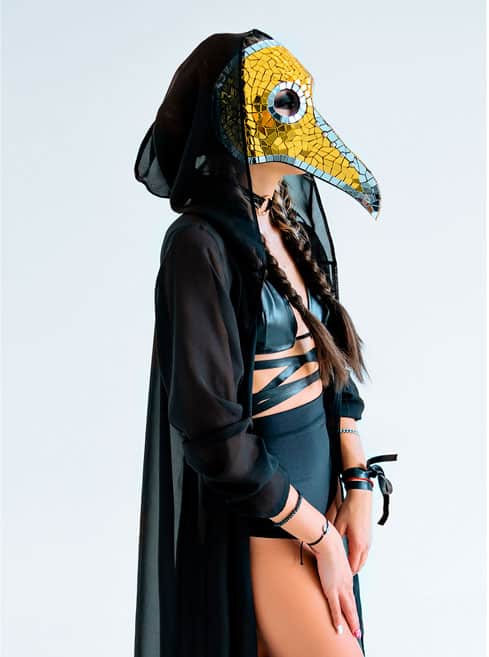 Pandemic, famous viruses and diseases – people are looking for more information on these topics since COVID-19 outbreak. No wonder that 'Plague Doctor mask' is among trending queries during the last few weeks.
ETERESHOP has already made gold, silver and black masks of a Plague Doctor. They are decorated with spikes and a chain. Unconventional shiny materials make a Plague Doctor mask look not gloomy, but add up a flare of so popular flirting with death theme in fashion design.
We often make our mirror mask in various colors upon client's request. And in general, all mirror face masks can be customized in terms of accessories and some materials.
Infinity Mirror Respirator by ETERESHOP respirator looks great even when infinity mirror parts are off as they are still shiny and light reflecting. When they are on they look like infinite rainbow voids, so you cannot take your eyes off this respirator mask. Smart light up effects are really hypnotic.
---
London Edge 2019
London Edge fashion show and trade fair took part in September 2019. ETERESHOP has presented newest mirror outfits and accessories, including silver and gold face masks. All products were well-received and we've made some more mirror mask after this event.
You can find our report on ETERESHOP participaction in London Edge Fashion Show here.
---
Belarus Fashion Week 2019
Mirror face mask by ETERESHOP became a prominent part of Belarus Fashion Week last October. They've completed models' looks on the catwalk.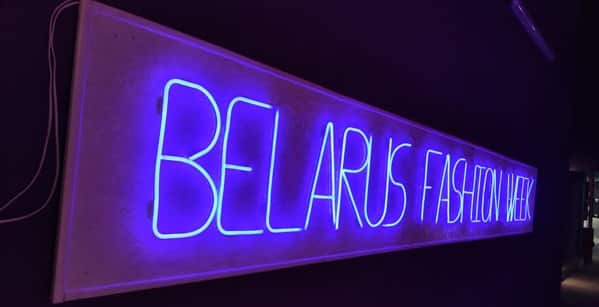 [meta_gallery_slider id="18564″]
[Best_Wordpress_Gallery id="27″ gal_title="BFW 2020 Backstage"]
---
Avantgardista 2019 Fetish Fashion Show
Fetish fashion show Avantagrdista 2019 took place in took part at Kohlebunker in Munich, Germany and lasted 3 days: from November, 8 till November, 10. Light up and mirror costumes and accessories dominated the show.
[meta_gallery_slider id="18516″]
You can find our detailed photo report from Avantgardista Fetish Fashion Show here.
---
Face Mask is a New Fashion Trend
Fashion face masks started to appear on red carpets and fashion catwalks outside Asia a couple of months ago. Back then world fashion weeks still took place. Nowadays, when word's top fashion shows and events are cancelled amid the coronavirus outbreak, we can see face mask looks invasion in social networks.
Self-isolation is not a reason to forget about beauty. Fight panic with style and get ready for festivals and offline events, when we'll all get back on track. Moreover, if you are a video blogger on self quarantine or have to move any possible events to online, you can complete your look with a fashionable face mask and go viral!
All mirror masks by ETERESHOP mentioned in this article can be ordered and customized, if necessary.⠀⠀
Stay strong, wash your hands and don't panic.
---
In case you have any awesome and crazy ideas about your future disco ball mirror costumes or sketches, you can always rely on us with their realization. Contact us via email, WhatsApp or the chat form in the bottom right corner.
---