Dancers, gymnasts and acrobats, DJ's and musicians, flyboard riders, party hosts, animation artists, festival organizers and fashion designers are always searching for new ways to amuse their clients. In today's article you will find out how you can increase your revenue and better your craft using the latest word in stage attire – light up (LED) clothing.
Want to know how to turn your stage costume into a money making machine?
KEEP READING
---
This is a long read article with lots of images, gif files and videos. Therefore if your internet connection is slow please be patient and wait a couple of seconds for the article to load. Thank you.
WHERE TO BEGIN?
START MAKING MONEY
ERRASE YOUR DOUBTS: why LED costumes are better

For better or for worse – costumes definitely affect your performance as they are seen as the main non-verbal element of your character. Sometimes it becomes a decisive factor of your success or failure, so you shouldn't be careless in your choice of stage outfit. Let's have a look at some reasons why more and more entertainers choose to use LED clothing instead of their regular wear.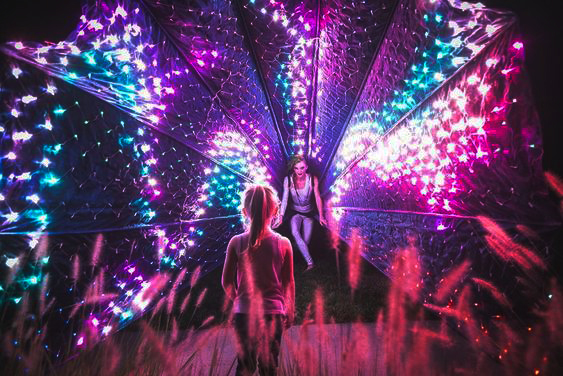 It's an upgrade. You and your team may be the best, when it comes to pure technique and physical abilities, but sometimes it's just not enough. So instead of going over your limit, you can take it easy and take your performance to a whole new level by simply throwing an LED outfit into the mix. This way your act will definitely be seen, remembered and talked about. Your audiences just won't be able to resist the temptation of following your luminous hypnotizing movements like a moth in the flickering light.
Little Girl enjoying LED Peacock Tail performance
It turns your efforts into coins. Creating a show takes a lot of effort: from choreography and make up to endless hours of rehearsals and practicing. The bigger the production – the more resources you have to accumulate. If you are able to deliver the same performance several times your hourly rate will obviously increase. The problem is that with a simple setting your performance can be limited to one specific theme or setting, and, as a result, it will require more time, money and effort to transform it. But with light up clothing you can easily make it slightly different each time! With LED clothing, however, it's a piece of cake and you don't need to spend even a cent on it, only press a couple of buttons.    
Dancer performing in Smart 500LED Peacock Fan Tail costme by ETEREshop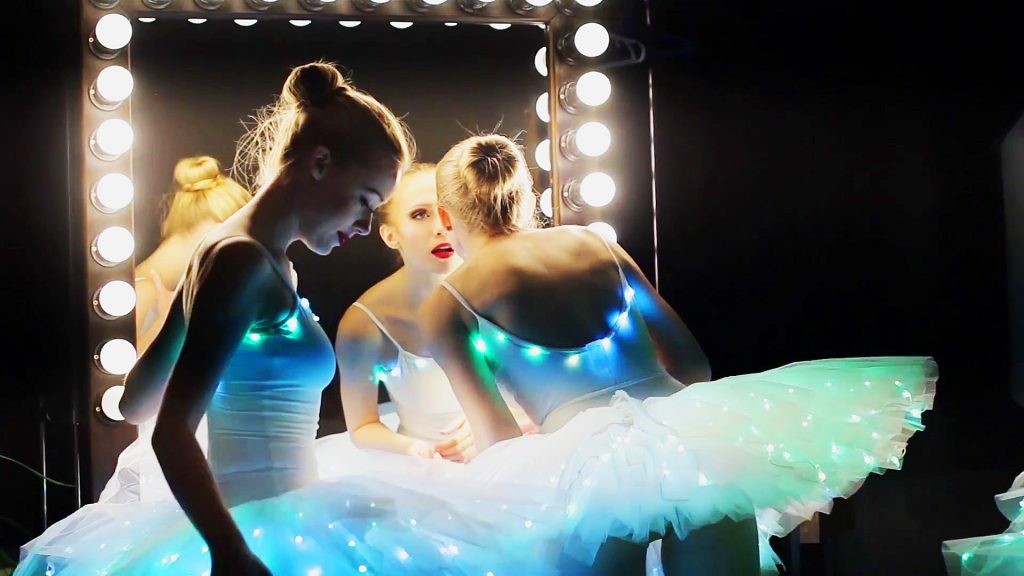 It's a healthier option. A nice professional tutu costs around 499$ – 749$ however it is limited to one specific style. LED version of it costs around 600$ but can be programmed to change colors and to be as bright or as simple as you want it to be to the point where you can use it as a regular tutu while rehearsing when you don't need that additional glow and "wow" effect.
Ballerinas backstage in LED tutus by ETEREshop
It's viral. It's always more entertaining to watch a live performance then a prerecorded one. But people just don't seem to be able to resist the grudge to re-watch light up dance performances over and over again on YouTube. And we get it–it's just mesmerizing and makes you wonder how they did this. Probably the main reason why such videos get millions of views.   
It's versatile. LED outfit is a perfect mix of creativity and practicality. Firstly, full LED set with a LED mask covering your face, head or both will save you countless hours and hundreds of dollars spent on hair and makeup. Meanwhile the elements of the costume can be divided and distributed between several artists. You can also synchronize your LED suit with the stage and music to create an actually holistic performance. Most of light up costumes are also unisex, which is perfect if you have people of both genders in your team. In the meantime, it's still as easy to transport and wash as a regular costume. 
It will give your opponents a run for their money. Many of your competitors are already doing the same things as you. Therefore you have to be smarter if you want to win the race. People love everything new so it's your task as an entertainer to bring them something that they can at least appreciate. Seems difficult but in reality it took just a couple of LED strips and a 2-year-old to break the internet with a simple but unique glow costume. Since its first release in 2013 more than 20 million people have watched the video of a little running figurine on YouTube, which made LED Stickman one of the most popular Halloween costumes that year. In other words – invest your resources wisely and the result will not be long in coming.
It will broaden your horizons. How? If you still have no idea how to put your LED costume into good use, continue reading and find out how other entertainers integrated LED wear into their craft. Who knows – maybe one of them could be you.
---
Are you looking for more technical characteristics of top LED costumes? Check out this article.
---
BECOME LIT
(LED costumes for dancers: hip-hop, go-go, modern, belly dance)
Two years ago a small team of professional dancers from Ukraine was standing on the stage of the 12th season of America Got Talent. They just performed and were nervously waiting for the result. One of the judges, a famous model Tyra Banks, pressed a button, and it rained golden confetti. The name of the crew was "Light Balance" and they got the "golden buzzer" that day, which meant that they were advanced straight to the live broadcast of the show. Subsequently they ended up getting the 3rd place in this prestigious competition as a result of their resoursfulness in their stage costume design.
They weren't the first dance team to do so. Back in 2011 a dance group called "Team iLuminate" paved the way by achieving the same results. Besides being a dance team and securing the 3rd place in one of the most prestigious competitions in the world both teams still have a lot in common.
Firstly, the videos of their performances are getting tens of millions of views on YouTube. Secondly – they both successfully established their position in show business and put on shows in Las Vegas and on Broadway, collaborating with Warner Brothers, Nike, Volkswagen, Coca-Cola and many other famous brands. But the most vivid similarity and, probably, the main reason of their success is because both teams based their performances around LED technologies and 'glow in the dark' costumes which made them one of the first dance crews to popularize the new genre of entertainment – light up dance.
The main reason why Tyra pressed that golden buzzer was because she didn't expect to see what had been shown to her. The dance was not only brilliantly choreographed, but also phenomenally executed. And remember – "Light Balance" wasn't even the first team in LED suits to conquer that stage, which once again proves a simple point – choose light up clothing if you want to be seen.
Here, at ETEREshop we make costumes for all kinds of dancers and, as a former dancers ourselves, we know how to do it right. Not to be unfunded you can go and visit our shop, or follow the links below for a specific dance type wear:
---
BURN THE STAGE
(Light up costumes for light up shows, acrobats and circus performers, actors)
Dancers aren't the only artists, who saw the opportunity and hastened to snatch it. Shows such as LED Dream, Tri Luminous Lightshow, Illuminated, Loooop and many more made the best out of the possibilities that LED props provide and created a new spectacular genre of entertainment – light up show.
Not only that, but acrobats and circus artists from Cirque du Solei  and even actors from Hyperian theater in Disneyland have already appreciated the benefits of light up clothing by integrating them into their performances.  
If your craft is meant to be shown on stage, light up costumes is something that you should consider purchasing. They will look great both at the tiny gloomy stage of your local strip club and in the bright daylight of carnival week in Rio de Janeiro due to the fact that LEDs can be adjusted to be as bright and colorful as needed.
And acrobats or gymnasts can appreciate the ergonomics and flexibility of such a fit since it has all the qualities of your regular leotard, but with LED twist.
ETEREshop provides all kind of LED wear for big and small productions to help you create one-of-a-kind experience that your viewers will never forget. Check out the links below.
---
PUMP UP THE JAM
(Light up costumes for DJ's and musicians)
Musicians and DJ's are also not strangers to luminous wear. Yes, their main goal is to make their performances pleasing to the ear, but why not kill two birds with one stone and serve your fans some eye candies as well? Besides, it's never a bad thing to be the center of attention on your own show.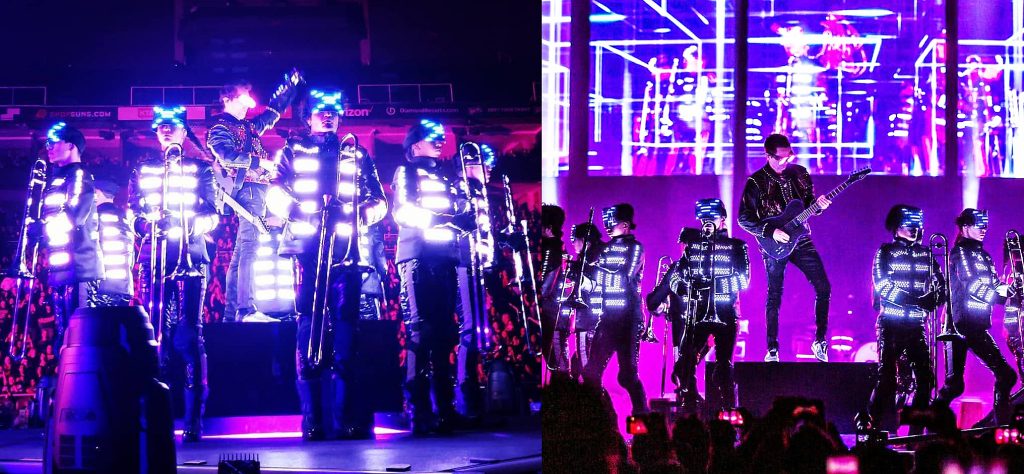 Guitarists, drummers, saxophonists and violinists all over the world are already using light up clothing to draw more attention to their performances.
Some of the go-to products in this category include a LED light jacket and a LED vest. They are unisex, can easily be worn as your usual leather jacket and, when needed, be turned into a blazing attention grabber, splashing different colors and effects, including texts and logos.
So if you're ready to hype up the crowds not only with your music, but also with your looks – follow this link.
However if you'd like to keep your identity a secret during the set, or try on a different persona while exiting your fans even more, try following DJ Marshmello's example by using one of the LED masks. They're fun, light, easy to wear, glow in the dark but won't affect your ability to see or breathe. In addition they go with all kinds of outfits and will bring a new wave of attention to your character and craft. Meanwhile more expensive versions, that have higher LED's density can also display different effects, texts or emojis, which certanly makes them even more versatile.  
Click here to see some LED masks and helmets options on ETEREshop.
---
DIVE DEEPER. FLY HIGHER
(LED outfits for watershows and flyboard performers)
In autumn 2012 a French water-craft rider Franky Zapata was bored and decided to create something crazy. So he made a device, which can carry you over water like a small portable magic carpet attached to your feet. After that he presented it to the public at the jet ski World Championship in China. He called it FlyBoard and, as a result, sold around 2500 units that year.  
These days Flyboard shows like Zapata team or McQueen show gather thousands of onlookers who came to enjoy their performances. So if you're a flyboard performer, or your show is connected to water, LED waterproof suit is basically a must in your wardrobe. You don't have to "reinvent the weal", but you can transform it into fabulous profitable spectacle, that can be performed both day AND night.  
Click here to get your LED Flyboard and Water Show Costume today.
SHOCK YOUR GUESTS
(LED costumes for party hosts, animation artists, guest meeting, stilt walkers)
Not literally though. LED clothing is absolutely safe to wear and to touch, so don't worry about that. Instead, if you're a party host, an animation artist or a promoter what you SHOULD worry about is your appearance or appearance of your entertainers.
There will be no second chance to make a first impression, so it's better to show your clients something that they've never seen before. And there is no easier way to make your guests turn their heads than wearing a light up clothing and accessories.
The options are endless: from simple light up dresses all the way to SMART LED otfits such as EVA foam LED light dress or Do-Maru light up dress, all depending on your budget and persued objectives.
The benefits of the latter is in its ability to display all kinds of effects due to the high density of LED lights, including logos, brand names or slogans, being a perfect conversation starter and advertisement especially when it is captured in photos and videos. So you better put your money where your mouth is (literally), before your clients move on to something more amusing.
Another know-how word in LED wear is so called Air screen costume or LED fan. It's basically a couple of fans behind your back spinning so fast that they create an optical illusion or a hologram right in the air. The design allows displaying any kinds of images, including video animation of your brand or product. It is also very light, so you can easilly wear it for hours without getting tired. In addition, it makes almost no noise, which can be crucial to certain types of events. The technology is still not particularly common, so you can be one of the first pioneers to try it out. 
Stilt Walkers deserve special mention. These giants are definitely standing out from the crowd and drawing tons of attention therefore you won't find a better place to put your message on and with such LED outfit it becomes as easy and entertaining as it can be.
Click here to check out LED Stilt Walkers Costumes on ETEREshop.
---
CREATE YOUR UNIVERSE
(LED costumes for festival organizators, fashion designers, cosplayers, social media influencers and dreamers)
It may take more than 7 days but the results will surely pay off. Let your imagination fly and see where it gets you. That's exactly how Burning Man festival started, which is famous for their breathtakingly creative glow costumes and art exhibitions. In 2018 it attracted more than 70.000 artists and dreamers from around the world and made revenue of approximate $4million. The success of the festival can be fit into one simple phrase, said by one of the attendees: "Burning Man is about 'why not' overwhelming 'why'".
Fashion brands, shows and designers like Alexander McQueen and Richard Nicole, Anrealage, Ying Gao, Avantgardista, Vega Wang,  found a way to literally stand out from the crowd utilizing LED outfits in their runaway projects and collections. However this direction in fashion design is still pretty new but in the meantime extremely trendy and up and coming.
Not so long ago light upcostumes were exclusively associated with aliens, space ships, and the movie "Tron". But today many celebrities wear LED clothing not only during their show sets, but also show off their LED light dresses and LED outfits on the red carpet and at the fashion events such as Met Gala.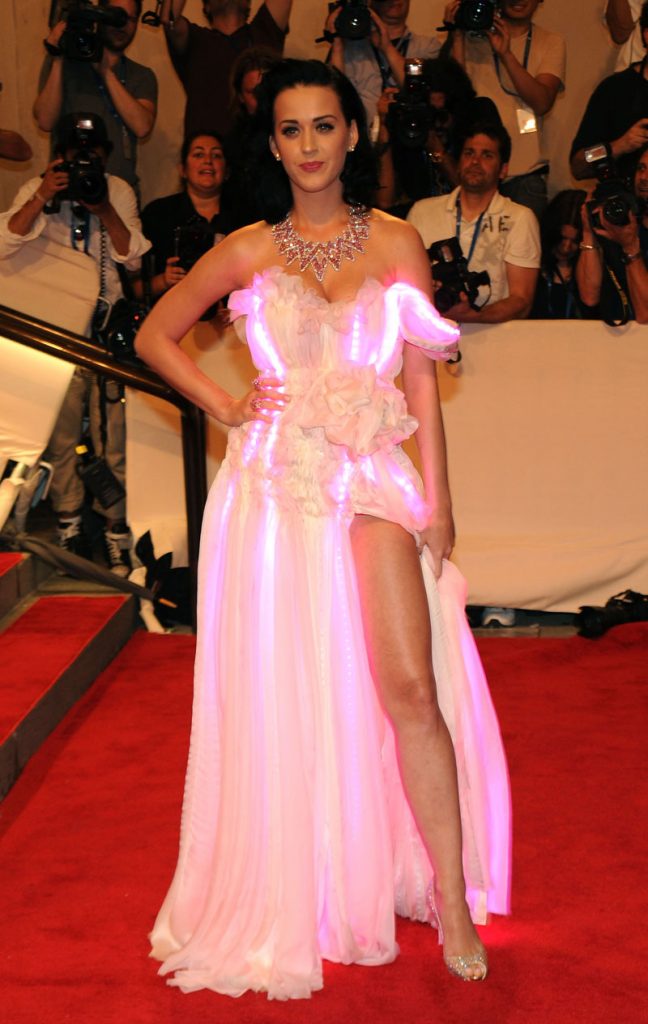 ---
Check out our TOP-17 of best LED dresses of 2019 here.
Social media influencers and cosplayers are not far behind them, introducing more and more LED elements into their costumes. One of the benefits of a light up costume is that it allows you to impersonate well know and beloved characters, but in a unique and clever way which, of course, is an easy way to skyrocket your numbers.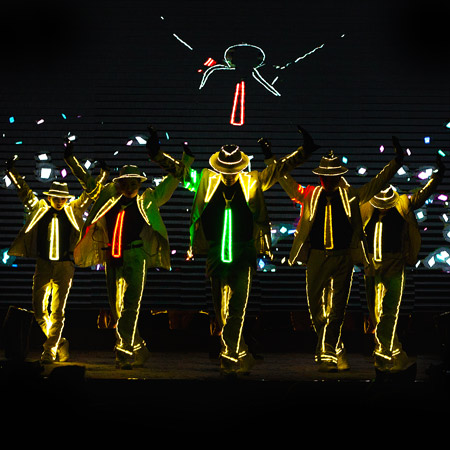 Here at ETEREshop we can create any type of LED clothes and accessories based solely on your idea. If you're ready to realize your vision please contact us at sales@etereshop.com or via text messages in WhatsApp (+375333584411).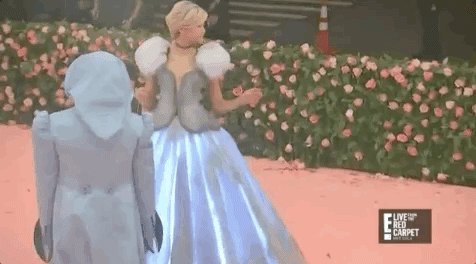 In conclusion I would like to share with you a quote from a US military lieutenant colonel Allen Sworth who once said: "A good costume, like good speech or good dialogue or good business, should perform certain definite functions. It should cover and if desirable, enhance the appearance and abilities of the person wearing it".
Dress smart. Invest wisely. Evolve. Adapt. Create. Be different. Be yourself.
---
WANT TO STAY UPDATED ON THE LATEST LED TRENDS?
---