Entertainers, show producers and event agency owners are constantly in need for something new for their shows. Nowadays an audience is so worldly-wise that you shouldn't expect them to devour anything bright and shiny with their eyes too easily.
There need to be something more in your outfit and show to distract them from smartphones. You need to surprise them and make want to engage in your performance. Make them want to come closer, touch your costume, take a picture with you or shoot a video for their Facebook or Instagram page to gain more likes or even go viral on the Net. These are some of modern keys to a successful show .
Disco ball-like light reflection on mirror costumes can be exactly what you need to grab audience's attention. Keep reading to learn more and see examples of other performers who have taken advantage of this trick already.
You'll find the form to subscribe to our emails at the end of this article to get more news like this.
---
It's a long read article with lots of photos, gif images and videos to illustrate this material and inspire you. So if your Internet connection is too slow it may take awhile to load, please, be patient. ?
---
Contents:
---
In spite of the name, mirror costumes aren't made of real mirror, although they have the same reflectivity. Pieces used for production of shiny outfits and glitter accessories are made of high quality acrylic mirror. Each tile is carefully cut with a laser and has rounded edges to guarantee safe usage with no scratches. Top quality acrylic mirror is 10 times stronger than glass, shatter, UV and weather resistant and doesn't age like real mirror. All this make it ideal for use of design projects like those that we work on everyday at ETERESHOP.
---
Mirror Man Costumes
Costumes of a Mirror Man, Mirror Lady and a Mirror Family are extremely popular among entertainers performing as living statues while meeting guests, posing for photos or attracting attention during presentations, weddings, opening ceremonies, parades and other events. 
---
As the list of occasions they are used at isn't short, conditions for shows can be numerous as well: sunlight or even fire if you perform outside, lasers, LED panels and soffits in concert halls or night clubs, some usual artificial light sources in malls. 
ETERESHOP team creates Mirror Man costumes since 2012 and we've refined our technology of production to the best quality. Mirror tiles are attached to breathable fabric and costumes have detachable lining that can be washed. 
Watch the video on how to create a mirror man costume:
Disco ball characteristics are revealed in motion of a living statue or a light source. Even a simple dance with no professional choreographic assistance will look great. And if you're a professional dancer in a disco ball mirror man costume it's a perfect combo. 
Have a look at examples of gleaming mirror men dancing below: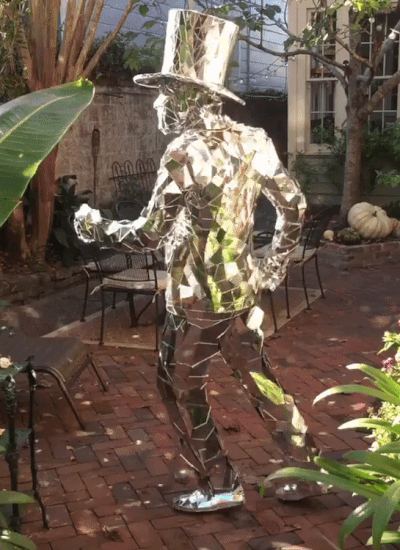 ---
Flexible and Transformer Mirror Costumes
Flexible discoball mirror costumes were designed for dancers, acrobats and aerialists. They move a lot and need an appealing outfit that won't restrict their movements and will be safe bot foth for them and for their viewers. Flexible costumes are ergonomic, enable anonymity and create an effect of a moving disco ball. Matched by a 3D mirror mask or a balaclava they cover artist's body like second skin.
Cosplay costume of a discoball mirror Catwoman is a variation of a flexible stage mirror outfit. It's a combination of a mirrored cat mask and a unitard with a long sexy zip.
Transformer mirror costume represents another variation of a flexible disco ball costume. It consists of 6 independent parts that can either be worn separately or attached to one another to form a solid disco mirror leotard. In that case you'll get larger mirror reflecting surface to catch all the light beams around.
Just like any other costumes covered with mirror tiles, flexible and transformable flexible stage costumes show their reflecting disco ball-like qualities in motion during dancing, acrobatic performances or just walking among quests.
Have a look at flexible and transformer mirror clothing in motion and static:
---
Check out the list of disco ball costumes for your show here.
---
Mirror Dresses, Bodysuits and Accessories
Mirror as a material for glamorous and sexy outfits perfectly matches one of the top trends in fashion – metallic, sequin and other glittery shines. Be it a dress, corset, harness, bodysuit or boots – all can be mirrored with shiny acryl. Mirror clothes look appropriate under soffits on red carpets in case with long silver or gold gowns, at night clubs if you want to shine in a sexy mini or are about to perform in gleaming bodysuits or accessories.
The smaller the tiles on your outfit, the softer shining of the look you'll get. Long metallic gowns are oozing gold and silver glamour, while a mirror choker or a harness will add up kincky sexy shine.
Long mirror dresses are especially popular among singers, musicians and actresses. Mirror tiles radiantly glow in spotlights and lights of soffits creating glowing effect around the figure of a performer. Short dresses look more appropriate at night clubs, parties and fun events. 
Have a look at glowing mirror dresses on our clients:
---
---
Check out more on this topic:
---
Mirror Masks
2D and 3D mirror masks are unisex, light and enable anonymity. These mask are often used in night club performances, on festivals, corporate events (you can make a custom order of your corporate logo personage) as well as to mach the total mirror look. Just one mask in the spotlight can make you look like a walking living disco ball.
Have a look at mirror masks in different lighting condtions on our clients:
---
---
Light Sources and Their Impact on Disco Ball Reflection of Mirror Costumes
Mirror wear will shine or gleam in any light conditions except for complete darkness. But to achieve the best effect it is advisable to choose bright and/ or colorful lighting solutions such as lasers, LED panels or LED stripes, soffits, fire or, simply, sunlight. There is no universal lighting setup: depending on the size and layout of the venue, the funds available and the preferences of the owner, the tools can vary widely. Let's have a look at the most common lighting conditions you'll be using your mirror clothing in and their influence on the produced effect.
Soffits:
Light sources at night clubs, restaurants or theatres are usually more than enough for an artist to create an unforgettable wow-effect with a mirror outfit, be it a costume of a mirror man, flexible mirror leotard or just a 3D animal mask. Small fancy restaurants may have no strobes in their arsenal, but if there is even a small stage for musicians, it surely must be able to create a spotlight effect. 
If you are not sure what kind of lighting conditions you'll be performing in, you can always grab a portable source of light with you (see the next point).
Lasers and LED lights:
That's what will definitely live up your show if the scene is too dark, the day is rainy, you need to add corporate colors to your show or just some 'juiciness' to your performance. If the light source is multi-color your disco ball effect will have a wide range of colors to light up an event.
Grab a LED panel, LED light fans, an LED mask, veils or even light up wings with you and be sure to own the night.
Sunlight:
It seems so obvious, isn't it? Bright sun beams are like natural spotlights for a performer dressed in mirrored clothes.
Stage costumes by ETERESHOP are made of acrylic mirror tiles that are UV resistant, so shine like a crazy diamond and be sure about the quality of your costume.
Fire:
Sparkles, forks of flame and sparks add notes of mystery to a show. The contrast of dark layout and bright splashes of fire reflected in numerous mirrors of your costume is something that observed for hours. If you are a flow artist or perform in fire shows, consider investing in mirror clothing, accessories or a mirror mask.
---
Check out more on this topic:
---
In case you have any awesome and crazy ideas about your future disco ball mirror costumes or sketches, rely on us with their realization: Contact us.
---